The latest in a dishearteningly regular series of breastfeeding controversies appears to have come to a positive resolution.
This time, the setting is not a cafe, a public pool or Facebook -- but a Walmart in Spruce Grove, Alberta, Canada, where staff recently made the mistake of refusing to print a photo of a mom, Kayla Andre, nursing her young son.
Needless to say, the couple was offended. Andre told CTV: "Breastfeeding is natural, it's normal, it's beautiful... My photo has no sexual connotation at all, and here it is getting denied." In the end, CTV reports, her husband decided to have the photo printed at a different store.
Story continues below photo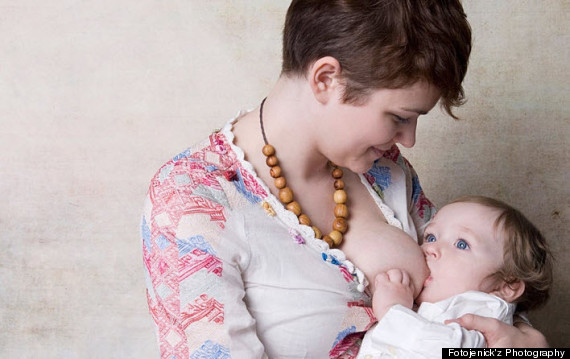 Since the event, Walmart has seemingly recognized its error; in an effort to make things right, their representative Alex Roberton told CTV -- and Andre personally -- that the company had "made a mistake," stating in no uncertain terms that "that photo should have been printed."
However, before receiving this news, Andre had taken matters into her own hands. Like many mothers who have been shamed for breastfeeding in the past, she planned a nurse-in to be held at the store on Thursday. Now that the new mom has been"pleased and shocked and surprised" at the store's response, the demonstration is being held as planned -- with a slightly different goal. In an e-mail to HuffPost Parents, Andre explained that it is now a celebration of the fact that Walmart recognized its mistake.
On the nurse-in's Facebook page, she wrote:
"We will be there ... to celebrate breastfeeding and show others that Walmart is a reasonable company who listens to their customers! They have clarified their policy and that is something to celebrate!" She later added that Roberton had told her Walmart would offer gift certificates for photo printing to anyone who came for the nurse-in.
"We are excited and pleased that Walmart has taken the time to listen to our concerns," she told HuffPost. "This is a big step towards the normalization of breastfeeding across Alberta and Canada."
Related