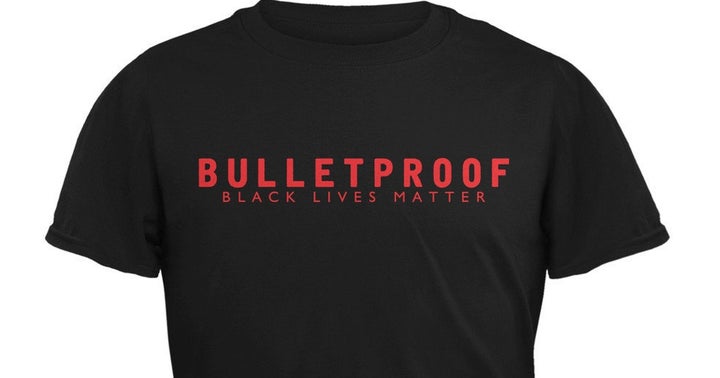 Walmart is dropping the online sale of T-shirts and hooded sweatshirts bearing the message "Bulletproof: Black Lives Matter," it announced Tuesday night, following a complaint from the country's largest police organization.
The national Fraternal Order of Police had called the message "offensive" in a letter to the giant retailer earlier that day.
The 325,000-member organization has since issued a similar letter to Amazon complaining about the same products, as well as about shirts and sweatshirts bearing the words "Hands Up, Don't Shoot."
"Commercializing our differences will not help our local police and communities to build greater trust and respect for one another. Turning a buck on strained relationships will not contribute to the healing process," FOP President Chuck Canterbury wrote to Walmart CEO C. Douglas McMillon.
Canterbury told McMillon that he was "concerned" that selling the shirts would "damage your company's good name" among FOP members, as well as among other "active and retired law enforcement officers."
Shortly afterward, Walmart issued a statement to The Washington Post announcing it was dropping the products because of "customer complaints." It will continue to sell other products bearing the words "Black Lives Matter."
"Like other online retailers, we have a marketplace with millions of items offered by third parties that includes Blue Lives Matter, Black Lives Matter and All Lives Matter merchandise. After hearing concerns from customers, we are removing the specific item with the 'bulletproof' reference," said the statement.
The "Bulletproof" shirts were being sold through the Walmart website by third-party vendor Old Glory Merchandise, which was not immediately available for comment.
On Wednesday, Canterbury sent a similar letter to Amazon and its CEO, Jeffrey Bezos ― who also owns The Washington Post.
"Because I believe you share the FOP's goal of increasing the bonds of trust between the men and women of law enforcement and the communities they serve, I wanted to let you know that my members are very upset that you and Amazon are complicit in the sale of this very offensive merchandise," Canterbury wrote to Bezos.
Black Lives Matter merchandise on Amazon's site comes from several different third-party sellers. Shirts saying "Hands Up, Don't Shoot" were still available on the site Wednesday. "Bulletproof: Black Lives Matter" shirts were not for sale.
Amazon was not immediately available for comment.
The Fraternal Order of Police has clashed frequently with the Black Lives Matter movement, which was born when Trayvon Martin's killer was acquitted in 2013 and has been fueled by the deaths of other black men at the hands of police. The FOP has claimed that the movement is anti-police and places officers' lives in danger. Last year it began to push for classifying attacks on police officers as hate crimes.