A horrific video, taken by an investigator hired by Los Angeles-based Mercy for Animals, puts Walmart in the hot seat with claims that the company buys pork from alleged animal abusers.
The video, below, depicts the ripping off of piglets' testicles and tails allegedly without painkillers, and the repeated slamming of sick piglets against the ground until they are near death; then they are tossed aside. Piglets are also shown suffering from unattended, open bleeding wounds, and a mother is depicted inflamed and bleeding from constant birthing.
The nonprofit's goal is to urge Walmart to ask its pork suppliers to phase out small pens for pregnant sows, known as gestation crates. Animal rights groups criticize the crates, claiming that they are so small that mothers can hardly move and cannot lie on their sides and that the pigs suffer from open wounds and pressure sores from touching the cage bars and lying on the concrete floor. The video shows sows with large sores, one banging her head against a crate, and another incessantly biting the bars.
The video, narrated by animal rights activist and former "Price Is Right" host Bob Barker, was filmed from December to March at Minnesota-based Christensen Family Farms, which describes itself as the country's third-largest pork producer. It was filmed with a hidden camera by an undercover investigator who was hired as a farm employee, the nonprofit's executive director, Nathan Runkle, told The Huffington Post.
After Mercy for Animals showed the video to Costco, the retailer on Monday joined a growing list of food providers asking their suppliers to phase out gestation crates. Craig Wilson, Costco's vice president of food safety, told the Associated Press on Tuesday that the timing was a coincidence as his company had been considering the matter for a while.
Walmart is the largest retailer in the United States who has not made this request of its pork suppliers.
Since Mercy for Animals released the video on Tuesday, it has collected more than 30,000 signatures on its petition directed at Walmart, Runkle told HuffPost. Each time someone signs the petition, it is emailed directly to a number of top Walmart executives, Runkle said.
And the nonprofit plans to keep the pressure on Walmart. It will bring a 10-foot inflated pig with sores in a gestation crate (photos below) to Walmart's headquarters in Bentonville, Ark., next week. The following week, the group plans to kick off a nationwide tour with the inflated pig that will begin in Los Angeles.
"We're hoping that Walmart will do the right thing quickly and that this tour will not have to continue for very long," Runkle told HuffPost. "But we are prepared to exert enough pressure and visit as many cities as it takes to get Walmart to agree to phase out gestation crates as their competitors have already done."
In response to the controversy, Walmart representative Deisha Galberth Barnett issued the following statement to HuffPost: "We currently offer gestation crate-free pork products in a number of stores across the U.S. We have been having and will continue on-going discussions with our suppliers, NGOs and food safety experts to find ways to increase that number. We believe in offering our customers a choice."
"Pigs are just as capable of feeling pain and distress as dogs and cats," Runkle said. "If pork producers confined dogs or cats as they do pigs, they would face substantial jail terms. We will continue to expose publicly the hidden costs of animal abuse until this company does the ethical thing."
WARNING: GRAPHIC. Watch Mercy for Animals' undercover video:
View photos of Mercy for Animals' undercover investigation and the nonprofit's inflatable pig: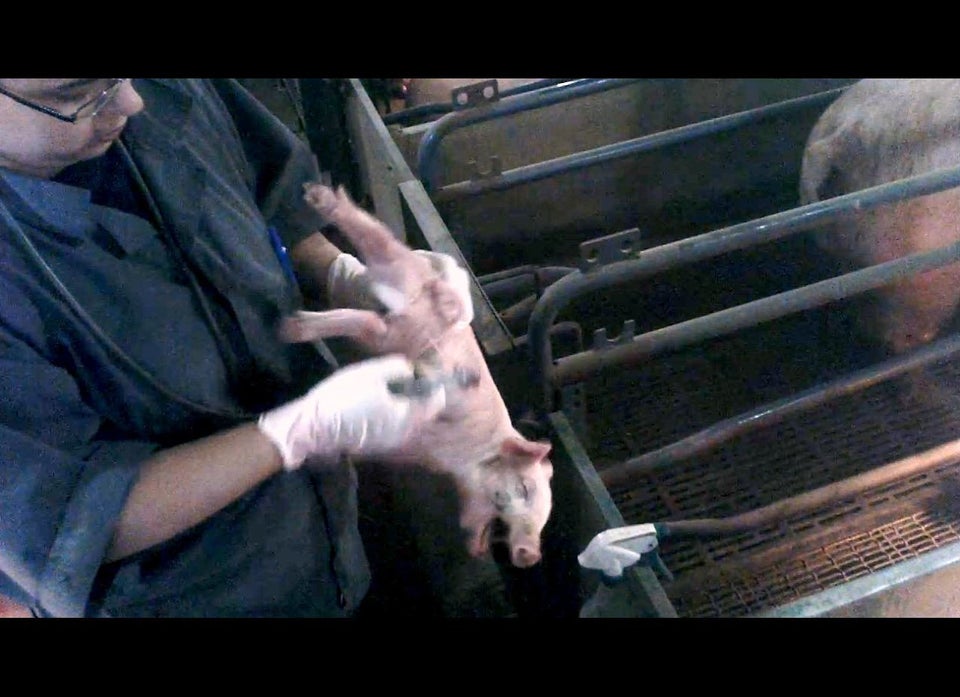 Mercy for Animals 2011-2012 Pork Industry Investigation
Popular in the Community