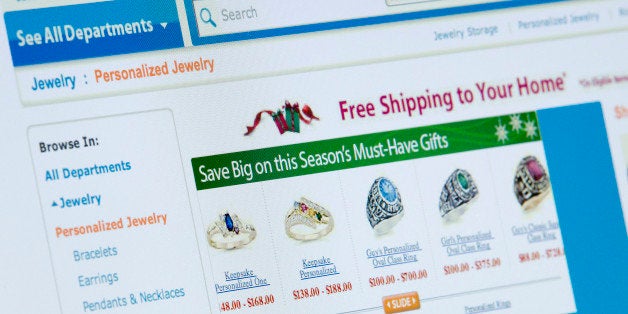 Walmart has amassed a trove of personal data on 60 percent of adult Americans -- possibly over 145 million people -- according to estimates from a report released Tuesday.
The retailing giant collects information on what shoppers buy, where they live and what they like via in-store Wi-Fi, Walmart.com and other company apps, according to the report. The analysis was prepared by three pro-worker advocacy groups, The Center for Media Justice, ColorofChange.org and SumOfUs. Information on shoppers allows Walmart and more than 50 third-party sites to profile customers and infer things like relative age, income, gender and race in order to target people for specific products and deals, according to the report.
"This is part of a growing trend that leaves American consumers -- particularly consumers of color and poor consumers -- really vulnerable to violations of their online privacy," said Malkia Cyril, the head of the Center for Media Justice, a left-leaning media rights advocacy group. In order to compile its figure, the report's authors used a Walmart statement in which the company's CEO said that 60 percent of Americans shop at the store each month. The authors then used U.S. adult population estimates, and assumed the company had information on all shoppers based on statements about Walmart data collection.
Walmart E-commerce Spokesman Dan Toporek disputed some of the report's findings, noting that most of Walmart's stores aren't Wi-Fi-enabled and that the company doesn't track shoppers in stores. He said the company takes pains to protect customer privacy and mostly uses customer data and passes it along to third-party sites in aggregate rather than individually. So for example, the company knows that people who buy detergent are more likely to also buy fabric softener, he said, allowing the company to target deals accordingly.
"We use that to deliver a better customer experience," Toporek said. "Third parties don't see that individual information."
While the strategy of using customer information from price scanners and loyalty cards to target customers isn't new, what's striking here is the large amount of data retailers now have at their fingertips, said Eric Bradlow, the co-director of the Wharton Customer Analytics Initiative at the University of Pennsylvania's School of Business.
"It's industry agnostic, everybody is in the game. The Googles of today, the Facebooks of today, the Yahoos of today have hundreds of data scientists working for them now trying to mine the data for useful information for the company," said Bradlow, who studies the ways companies analyze and use consumer data. "To the degree that they can share that information legally, to the degree that they can share that information without the customer backlash, they will."
Walmart is building its own "massive data warehouse" and analytics team, according to Bradlow. The efforts may be aimed in part at transforming the company's struggling e-commerce business and helping it catch up to online retail giants like Amazon, Businessweek noted Tuesday.
"We want to know what every product in the world is. We want to know who every person in the world is," Walmart CEO of Global E-commerce Neil Ashe told Women's Wear Daily earlier this year. "And we want to have the ability to connect them together in a transaction."
Walmart is one of a growing number of retailers, including Target, Nordstrom and Brooks Brothers, that are leveraging customers' digital footprints in the service of crafting targeted ads, sales and promotions. In one example made famous by The New York Times last year, Target knew a customer was pregnant based on her shopping data before she told her father.
Despite the prevalence of so-called Big Data collection, it's pretty much unregulated, according to the report. A handful of states in the U.S. have laws on the books requiring sites to be more transparent about data collection, the report noted, and in Europe, lawmakers have proposed legislation to limit businesses' ability to profile users.
The risks of this lax approach to enforcement are high, the report's authors claim. One of the third-party sites where Walmart consumer data may end up, according to the report, boasts a database with information tied to 80 percent of U.S. email addresses. The trove of information it supposedly contains makes the site an extremely useful tool for online scammers if it was ever hacked, said Ian Davey, the report's principal author and the CEO of Technologis, a mobile security consulting company.
"Whose server is actually secure today?" Bradlow, the Wharton professor, said. "So you say your data is safe, and maybe it is and maybe it isn't -- and I think that concerns a lot of people today and rightly so."
In addition, retailers may end up using the data to discriminate even if that's not their intention, according to the report, though the authors didn't find any evidence of Walmart or other retailers currently doing this. Cyril said that if the data ends up in the wrong hands, it could put low-income and minority shoppers in danger of discrimination for things like targeted sub-prime loans. "All of these are known practices, they're not far-reaching predictions," she said.
"The issue isn't purely whether one should use personal data to market discounts," Cyril said. "I don't want a discount that puts me at risk of discrimination."
Related
Popular in the Community