Over the past decade, Walmart has attempted to transform its image from a big-box purveyor of bargain goods sold by low-paid workers to a vanguard of corporate environmentalism, with solar-paneled stores regularly feted by the Davos set.
But for a retail behemoth whose business model still depends heavily on pollution, Walmart's green policies are more akin to a face-lift than surgical reconstruction, according to workers and advocates calling on the company to add an environmentalist to its board of directors.
"Walmart is really good with the PR stunts about how sustainable they are," said Mary Pat Tifft, a 29-year employee at a Walmart in Kenosha, Wisconsin. "But I have grandchildren, and I'd like to leave them a healthy Earth and I'd like their children to have a healthy Earth, too."
Tifft, 62, is a member of OUR Walmart, the nonprofit workers' group that advocates for higher pay and better corporate policies at the notoriously union-averse retailer. Over a year ago, the group purchased about 40 shares, putting it comfortably above the $2,000 baseline required for a shareholder to submit a resolution. Now, OUR Walmart has proposed putting an environmental expert on the board to ensure that the company's lofty promises to shrink its carbon footprint and pollution output amount to more than just talk.
But the Bentonville, Arkansas-based firm says that Rob Walton, patriarch of the company's billionaire founding family, already provides environmental safeguards. Walton serves on the board of directors of Conservation International, a nonprofit to which the Walton Family Foundation has given millions in what critics call a years-long "greenwashing" campaign. He also holds the title of co-chair of the Arizona State University Global Institute of Sustainability, to which the family foundation gave $27.5 million in 2012.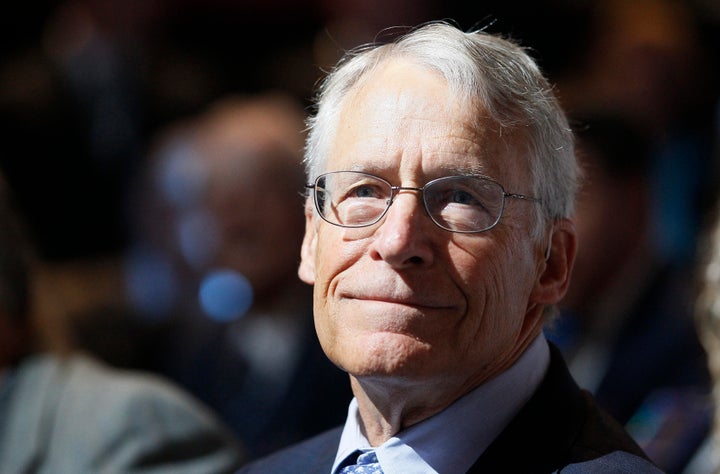 "Our Board currently has one member with significant expertise in environmental issues," Randy Hargrove, a Walmart spokesman, told HuffPost in an email. "Therefore, we believe that adopting the policy described in this shareholder proposal would unduly limit the ability of the [nominating and governance committee] and the Board to review and select potential nominees who, in their judgment, have the combination of experience, skills and characteristics that are best suited to oversee the company's complex, global business operations and oversee the company and its management in achieving the company's strategic priorities and evolving business objectives."
By 2025, Hargrove said, the company is on pace to achieve zero waste to landfill in four of its larger markets and reduce emissions by 18 percent. Plus, Walmart recently launched Project Gigaton, an initiative to provide companies in its supply chain with a toolkit for reducing greenhouse gas emissions.
"Walmart is working with suppliers and committed to reduce emissions by one gigaton from the production and use of the products we sell between 2015 and 2030, equivalent to taking more than 211 million passenger vehicles off U.S. roads and highways for a year," Hargrove said, noting that the effort was highlighted in a contributor post published last month on HuffPost by the corporate sustainability coalition We Mean Business.
"Walmart, for obvious reasons, decides to go with the measure that hides the fact that their own renewable energy projects have declined despite all the fanfare about putting solar on their rooftops."
Yet as Walmart pushes ahead with the new program, the company's U.S. operation has reduced its capacity for zero-emissions energy. In 2016, Walmart received just 2.4 percent of its electricity in the U.S. from its own renewable energy projects, down from 3.2 percent in 2013, according to a new analysis by the Institute for Local Self-Reliance. That's far below the 25 percent figure Walmart touts in its latest sustainability report. To assess the company's true energy mix, ILSR ― a watchdog group that's tracked the impact of big-box stores on communities since the 1990s ― reviewed data submitted by Walmart to the nonprofit Carbon Disclosure Project.
"What we look at is what percentage of power is your own, from solar on rooftops of stores or renewable power that's specifically purchased, so we're not confusing changes to what's on the grid overall with what Walmart has done itself to improve its power mix," Stacy Mitchell, the ILSR's co-director, told HuffPost. "Walmart, for obvious reasons, decides to go with the measure that hides the fact that their own renewable energy projects have declined despite all the fanfare about putting solar on their rooftops."
For all of Walmart's efforts to polish its environmental record, some smudges remain. In May 2013, the company agreed to pay $82 million in fines to the Environmental Protection Agency after pleading guilty to illegally dumping hazardous waste in California and Missouri. In February, Walmart settled charges in the Bay Area that it falsely labeled plastic bags as biodegradable for nearly $1 million.
The retailer, now the nation's largest grocer by far, has made considerable strides in reducing food waste ― a slow-burning crisis in a country where 1 household in 7 lacks regular access to healthful meals, but where nearly 40 percent of all food goes uneaten. Most of that uneaten food ends up in landfills, where it rots and produces greenhouse gases, according to an analysis by the Natural Resources Defense Council.
Last year, Walmart donated 611 million pounds of food to charities and has repurposed more than 25,000 tractor-trailers' worth of food as compost since 2009. But aside from a small experimental program, the company has refused to stock imperfect or blemished fruits and vegetables on its shelves, a move that food waste activists say would transform a broken industry that routinely sends misshapen but edible produce to the landfill.
Walmart's grocery aisles seem particularly prone to unsustainable business practices. The company recently came under fire for stocking canned tuna from suppliers such as Thai Union. The Thailand-based seafood giant owns the brand Chicken of the Sea and supplies Walmart's Great Value brand. The company is notorious for using fish aggregating devices, which draw lots of fish to a small area, making them easy to catch. The devices, sometimes called "fish magnets," severely hurt fish populations and trap other creatures, such as sea turtles and sharks, in waiting nets. The firm also uses so-called "long lines," which can stretch up to 80 miles and bear thousands of hooks.
"Though Thai Union is currently considering measures to clean up its supply chains, it's thanks to pressure from activists and consumers ― not industry laggards like Walmart," said John Hocevar, the oceans campaign director at Greenpeace, which spearheaded the effort against Thai Union. "If Walmart spent anywhere near as many resources taking action as it does delaying and greenwashing, our oceans would be healthier and the workers that supply its canned tuna would be earning a living wage."
Before You Go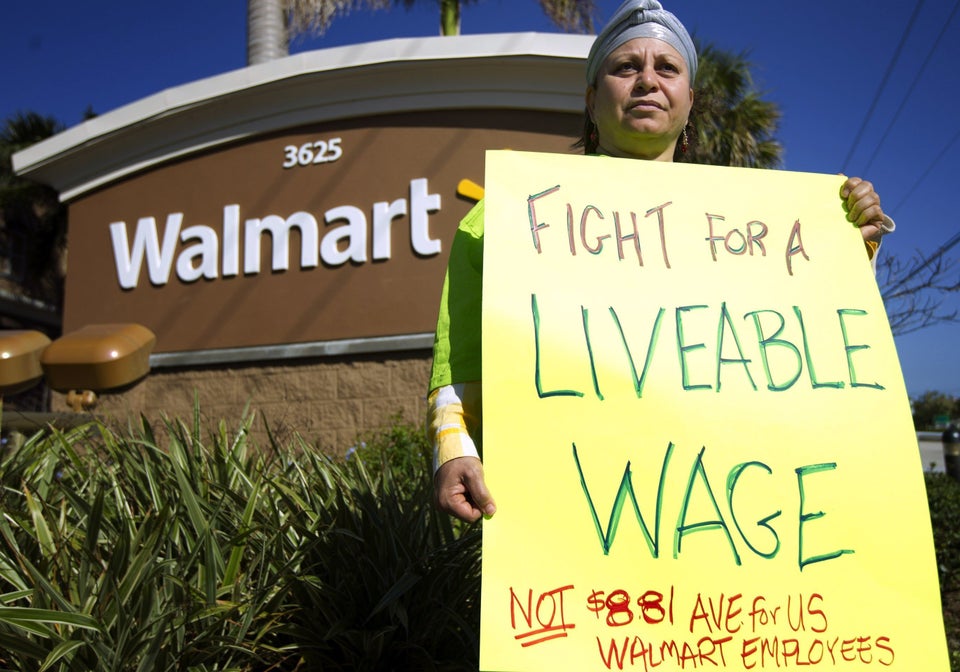 9 Things Walmart Would Like You To Forget
Popular in the Community