 WASHINGTON -- Representatives from the world's largest private employer and other Fortune 500 companies joined worker advocates, trade groups and government officials in a closed-door forum on Wednesday to discuss labor standards in the food supply chain.
The powwow in the nation's capital made for some unlikely bedfellows. Billed as a workshop on "ethical sourcing standards," the forum brought representatives from the likes of Walmart, Philip Morris and Coca-Cola together with labor groups known for their sharp criticism of large multinational corporations, such as the Coalition of Immokalee Workers. The forum was co-sponsored by Walmart, the human resource firm Manpower Group and the anti-human-trafficking Katie Ford Foundation.
The workshop was closed to the press, and many participants, including Walmart, chose not to publicize their involvement. Dan Viederman, the CEO of Verite, a fair labor advocacy group that coordinated the event, told HuffPost that organizers decided to keep the forum closed so that representatives of government, companies and non-governmental organizations "can feel comfortable with one another."
"It's a group that potentially can achieve concrete change," Viederman said, describing the response to invitations as "really enthusiastic." Although Viederman wouldn't disclose specific participants, a preliminary agenda sent to HuffPost listed attendees from the U.S. Department of State and the Department of Agriculture; PepsiCo, General Mills and Target; and the United Farm Workers, Oxfam and the National Council of La Raza.
"Walmart is committed to strong ethical sourcing standards for suppliers and we have worked diligently to help ensure the products we sell are produced in a way that provides dignity and respect for workers in our supply chain," Lopez said. "As part of this commitment, we are looking to develop a program for suppliers that will include education, training and resources to help ensure compliance with our standards."
If American retailers and food producers have become more conscious of the labor practices within their supply chains, it's largely because of the pressure brought by some of the groups in attendance Wednesday. For instance, Oxfam and the Farm Labor Organizing Committee, which also sent a representative, last year jointly released a blistering report on working conditions in North Carolina's tobacco supply chain.
Walmart's involvement took some labor and human rights activists by surprise. A representative of one international labor rights group told HuffPost it had declined the invitation, leery of the Walmart sponsorship, and feared too few actual workers would be represented. In the end, a number of labor organizations chose to attend.
At least two worker advocacy groups showed up, even though they weren't invited: Warehouse Workers United, which represents workers in Southern California, many of whom help move Walmart goods, and the National Guestworker Alliance, which advocates on behalf of foreign guest workers in the U.S. Both groups have waged months-long campaigns blasting Walmart for what they say are harsh working conditions deep in the company's supply chain.
"We came here today to think about ethical sourcing and supply chain standards and human rights in an age of subcontracting," Saket Soni, executive director of the National Guestworker Alliance, said outside the forum.
Organizers apparently took the surprise guests in stride, allowing two workers to address attendees.
Javier Rodriguez, a warehouse worker who came to Washington from Southern California, went on strike last week to protest conditions at the warehouse where he works as a temp. Ana Rosa Diaz, a guest worker from Mexico, walked out of a crawfish processing plant in Louisiana earlier this year claiming she was shorted on pay and forced to work under threat of deportation. The Labor Department later issued fines and back pay orders of $248,000 against the company, CJ's Seafood, and Walmart dropped the company as a supplier to its Sam's Club stores.
At Wednesday's forum, Rodriguez and Diaz told their stories to an audience that included Walmart executive Rajan Kamalanathan, who heads the company's ethical outsourcing initiative. Both Rodriguez and Diaz described the experience as productive.
"I saw his commitment to try and work with us," Diaz later said of Kamalanathan.
Before You Go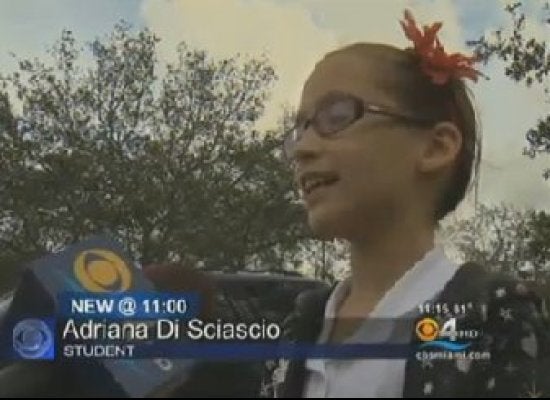 Nightmares That Involve Walmart
Popular in the Community