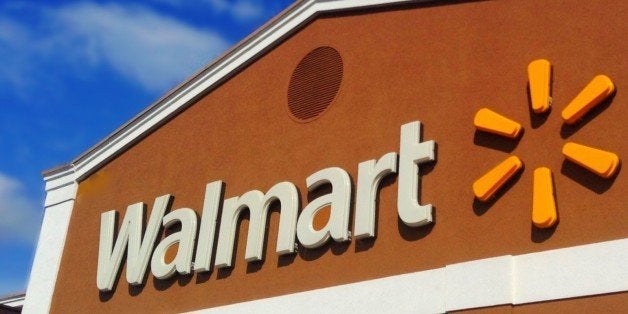 July 14 (Reuters) - A Wal-Mart Stores Inc employee sued the retailer on Tuesday, saying its prior policy of denying health insurance benefits to the spouses of gay employees violated gender discrimination laws.
The lawsuit, filed in U.S. District Court in Boston, seeks nationwide class-action status.
Wal-Mart, the largest private U.S. employer, began offering health insurance benefits to same-sex spouses last year, after the Supreme Court in 2013 struck down part of the Defense of Marriage Act that denied federal benefits to married gay couples.
Jackie Cote, an office manager who has worked at Walmart stores in Maine and Massachusetts since 1999, said in the lawsuit that her wife, Diana Smithson, developed cancer in 2012 and that the denial of insurance led to $150,000 in medical debt, hampering her recovery.
Cote and Smithson were married in Massachusetts in 2004, the same year a court ruling made the state the first in the country to allow gay nuptials.
Smithson worked for Wal-Mart until 2008, when she left to care for Cote's elderly mother, according to the lawsuit. The company then repeatedly denied requests by Cote to add her wife to her insurance policy.
When Cote brought her claims to the U.S. Equal Employment Opportunity Commission, Wal-Mart said federal anti-discrimination laws did not apply to lesbian, gay, bisexual and transgender employees, so it did not have to offer benefits to their spouses.
Cote's lawsuit called the policy a form of gender discrimination because the wife of a male employee would receive health insurance, and even after the 2014 change, Wal-Mart workers still live with the uncertainty of losing spousal coverage.
"Benefits provided by Wal-Mart as a matter of grace ... are not secure and could potentially be withdrawn just when large health care costs are incurred," the lawsuit says.
A Wal-Mart spokesman declined to comment except to say its benefits coverage before the 2014 change was legal.
Cote is represented by Gay & Lesbian Advocates & Defenders. The rights group is seeking to certify a nationwide class of current and former gay Wal-Mart employees who were legally married before 2014, when the company began covering same-sex spouses.
The Supreme Court last month said the U.S. Constitution provided same-sex couples the right to marry, making their marriages legal in all 50 states.
The case is Cote v. Wal-Mart Stores Inc, U.S. District Court for the District of Massachusetts, case number 15-cv-12945. (Reporting by Daniel Wiessner in Albany, New York; Editing by Alexia Garamfalvi and Lisa Von Ahn)

Related