Walmart has deleted an online listing for hiking boots with a red "KKK" on the tongue, telling Business Insider it would review how the "inappropriate merchandise" got on its platform in the first place.
"We have a process in place designed to prevent third-party sellers from offering inappropriate items on our platform," a spokesperson told Insider. "We are reviewing how this happened and will apply what we learn to further improve our rules and processes to prevent the sale of inappropriate merchandise."
Walmart was alerted to the entry by the Council on American-Islamic Relations, a civil rights group that over the weekend thanked the company for "dropping" the "oddly/poorly named 'KKK' boots."
According to a photo of Walmart's online listing shared by CAIR, the boots were described as "Harsuny Men's Tactical Military Hiking Ankle Boot Outdoor Trekking Shoes" and showed a black pair with the "KKK" highly visible near the top of the tongue. The model was available in black or tan.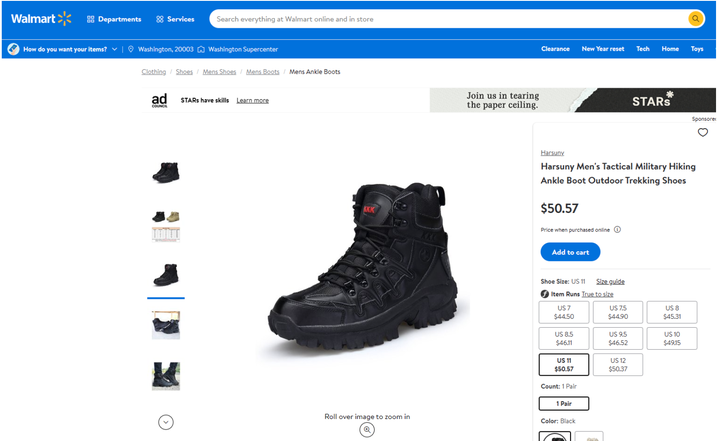 "KKK" is often shorthand for the white supremacist group Ku Klux Klan, which prompted Walmart's response.
"The item is inconsistent with our values and violates Walmart's prohibited Product policy," a spokesperson told the New York Post this week.
HuffPost couldn't locate a footwear or apparel company named Harsuny. A Walmart spokesperson had no additional details when contacted by HuffPost.
Popular in the Community