At a rally Thursday against a new Walmart "Neighborhood Mart" moving into Los Angeles' Chinatown, employees argued the retailer's low wages have driven them to depend on food stamps and Medi-Cal, California's Medicaid program.
"This is my Medi-Cal card. I would like to thank my fellow citizens of California for providing benefits that my employer won't," Walmart employee Greg Fletcher said at the rally, which was held at the welfare office that serves downtown Los Angeles.
Walmart employees and labor organizers who gathered for the rally -- organized by the Los Angeles Alliance for a New Economy (LAANE) and OUR Walmart, a labor group fighting for improved Walmart working conditions -- said they end up relying on Medi-Cal because they cannot get full-time hours to qualify for benefits.
As organizer James Elmendorf put it, "Walmart asks for taxpayers to subsidize their bad business practices."
Fletcher, who works with his wife at the Walmart in Duarte, Calif., presented a blown-up photo of his California benefits card and said that both he and his wife depend on Medi-Cal. "What does it take to be full time? I want to be full time," Fletcher said. "I already work full-time hours as a part-time associate, yet I get none of the benefits."
Cesar Michel, a welfare worker at the Department of Public Social Services office, the site of the rally, said that he and his co-workers were "terrified" when they heard Walmart was coming to Chinatown.
"We know and have seen that Walmart has encouraged its employees to apply for welfare and Medi-Cal at some of our offices," he said. "Yet Los Angeles can't afford the cost of more Walmart jobs. With huge budget cuts and reductions in staff in the past few years and more likely to come, we already are stretched thin at DPSS."
Walmart employees also shared accounts of staff numbers being cut almost in half -- leaving overwhelming workloads for those who are left -- as well as stories about disregarded injuries on the job and stories revealing intimidation and retaliation from managers looking to cut hours and employees.
The final speaker at the rally was Cynthia Brambila, a single mother and grocery worker at Vons on Sunset and Virgil. She spoke about her "love" for the job and said that it provides full benefits and enough money to take care of her daughter. She expressed concern that a Walmart in Chinatown could jeopardize good jobs like hers.
Walmart spokesman Steven Restivo told The Huffington Post that it is "simply not true" that Walmart encourages its employees to apply for public assistance. "We have health plans as inexpensive as $15 per bimonthly pay period. And the majority of our employees nationwide are full time and qualify for benefits," he said.
Restivo added that Walmart will hire about 65 employees in its Chinatown store and that Walmart's average hourly wage in California is $12.69.
However, the organizers of the rally say that accounts from employees do not reflect that figure. Many said their earnings were more in line with a study that found Walmart's average hourly wage is $8.81.
Elmendorf, deputy director of LAANE, told HuffPost that Thursday's rally was the first of more to come in a fight against Walmart in Chinatown and in Southern California as a whole, as the country's largest retailer gears up to build more stores in Los Angeles, Orange County and San Diego.
Click through photos and transcribed testimonials read by Walmart employees at the rally: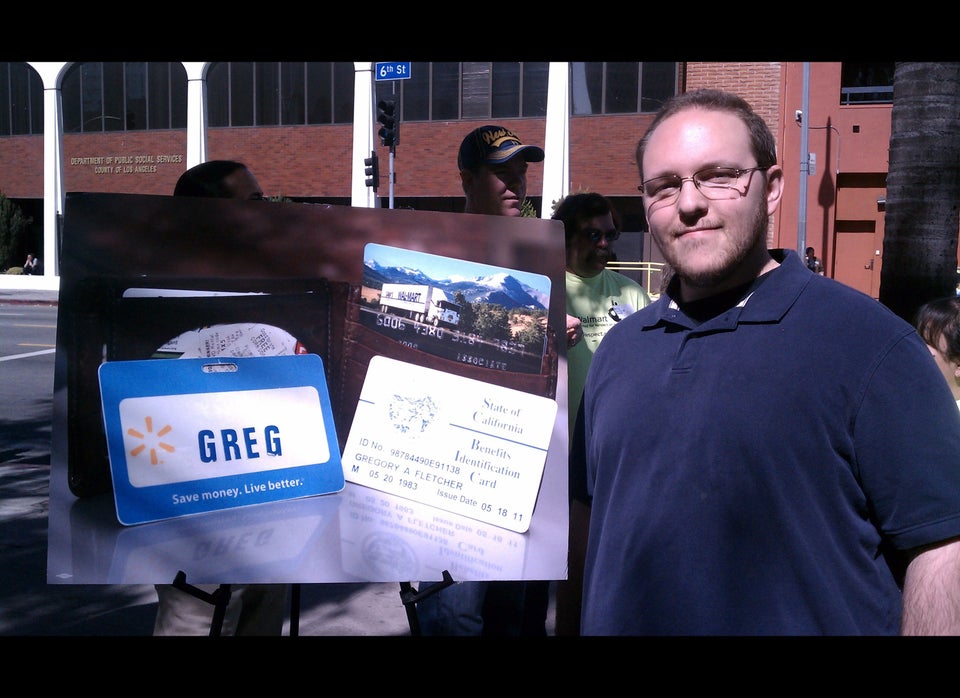 Popular in the Community