WASHINGTON -- On Tuesday, a Walmart executive rebuked the D.C. Council in an op-ed in the Washington Post, declaring that the company would scuttle plans for three stores if the city enacted a living-wage law targeted at big-box retailers. The bill, which passed a council vote on Wednesday, would require a $12.50 minimum wage for workers at companies with more than $1 billion in global sales.
For those who follow Walmart's labor disputes, that $12.50 living wage seemed quite close to another figure commonly associated with the world's largest retailer: its average store worker wage, as reported by the company.
According to Walmart, full-time store workers now earn $12.78 per hour on average, or 28 cents higher than the proposed D.C. mandate. That's an average wage -- quite different from a starting wage. But considering the Walmart footprint leans heavily suburban and rural, a $12.50 starting wage in one of the most expensive cities in the country wouldn't seem too out of whack with Walmart's self-reported wage data.
Walmart's $12.78 figure probably presents a misleading picture of what store workers actually make. As the company itself notes, the $12.78 calculation excludes part-time workers, and it includes department managers who are paid hourly and probably earn a good deal more than cashiers, stockers and sales associates.
It's hard to know how much this skews things, because Walmart doesn't disclose how much of its workforce is part-time or how much those workers actually earn.
The company only says that a "majority" of its workers are full-time, or logging 34 hours or more per week. So, in theory, 49.9 percent of store workers could be part-timers, temps or seasonal workers who would drag down the average wage if they were included in the company's math. (Similarly, Walmart will only say that a "majority" of its workers get company-sponsored health care benefits, declining to offer an exact figure.)
For folks like Ken Jacobs, the chair of the University of California, Berkeley Labor Center, the company's balk at a $12.50 starting wage in D.C. suggests that the typical store worker actually earns a good deal less than $12.78.
"If Walmart wants to claim poverty and say they can't pay $12.50 an hour, they should say what they're paying," said Jacobs, who's analyzed Walmart wages and benefits over the years. "It's very misleading. The question is, who is being included in that mix and who's being excluded. If you're including managers and excluding part-time workers, by that very fact it shifts it to much higher than it is."
Walmart spokesman Kory Lundberg told HuffPost the reported average wage and the minimum wage proposed in D.C. weren't a fair comparison to make. He pointed out that even unionized grocery store workers often start near the minimum wage.
"Obviously, there's a big difference between an average wage and a starting wage," Lundberg said. "Wherever we operate, we pay competitively. You can't hire good people if you're not paying a competitive wage, whether it's in Washington, D.C., or rural Iowa."
Asked why the company won't include part-time workers in its average wage figures, or disclose how much of the workforce is actually part-time, Lundberg said, "At this point it's just a decision we've made."
Dan Schlademan, director of the union-backed Walmart foe Making Change at Walmart, put it this way in a statement to HuffPost: "Walmart can tell you whatever you want to hear, and you can't check their numbers because they won't tell you how they got them."
"Walmart's wages really are a mystery," Schlademan said. "They've never revealed their methodology behind their wage numbers, other than to confirm that they don't count hundreds of thousands of part-time and temporary associates in their averages, who make up a significant portion of their workforce."
With exceptions like Costco, wages are generally low throughout the retail industry, be it at Walmart, Target or mom-and-pop stores. According to the Bureau of Labor Statistics, retail sales workers earned on average around $11.35 an hour last year, with cashiers at $9.81. Workers within the industry are increasingly finding themselves on part-time schedules, as well.
Last year, HuffPost published internal Walmart documents detailing the company's wage policies, showing the limited raises many workers see over time. A cart pusher who started out at $8 per hour, for instance, can expect to be earning about $10.60 per hour after six years and a promotion. The company told HuffPost last year that half of its hourly associates in the U.S. make less than $10 per hour.
Asked if Walmart objected to the living wage bill because the company couldn't sustain a $12.50 starting wage, Lundberg said it was more about all retailers being held to the same standards, rather than the largest companies having to play by different rules.
"What it comes down to is a matter of fairness," he said.
HuffPost Readers: If you're making $10 an hour or less, we want to hear about how you're getting by: the things you're cutting back on, the programs you're relying on, or whatever else you want to share. Give us a call at 408-508-4833, and you can record your story in your own words. Please be sure to include your name and phone number. Or you can send us a note at openreporting@huffingtonpost.com. We will never publish your name or any identifying details without your permission.
CORRECTION: An earlier version of this article incorrectly stated the average hourly wage of full-time Walmart workers as $12.87. The correct figure is $12.78, according to the company.
Related
Before You Go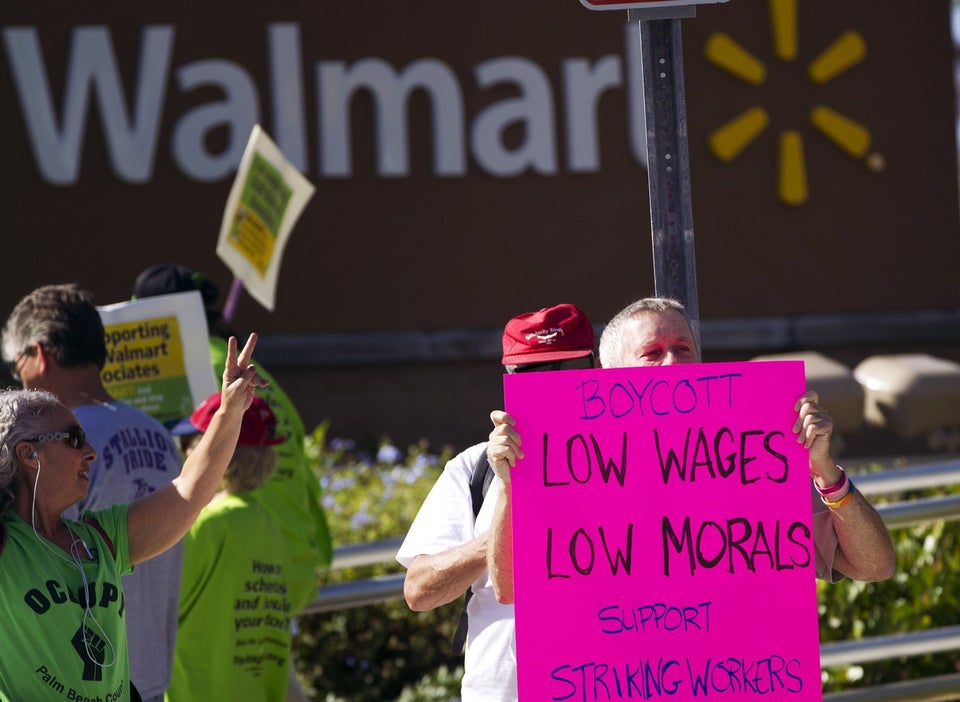 What Minimum Wage Haters Won't Say
Popular in the Community