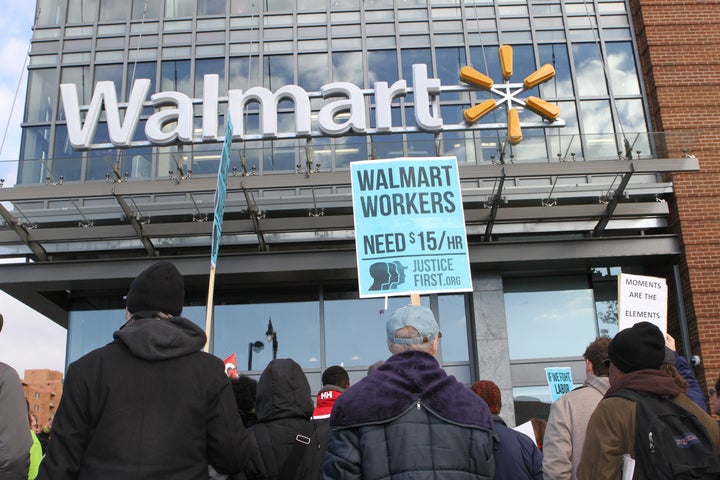 A new story out by Bloomberg Businessweek shows that the company was so worried about the organizers, who operated under the name Organization United for Respect at Walmart (OUR Walmart), that it hired military contractor Lockheed Martin in 2012 and 2013 to keep tabs on them.
Emails obtained by Bloomberg Businessweek say that Walmart brought in Lockheed security analysts to monitor protesters, some of whom worked for Walmart and some of whom did not. From what's available, it seems like they spent a lot of time on Twitter:
Christian Blandford, a Lockheed analyst, was monitoring the social media of activists in Bentonville for Walmart's 2013 shareholder meeting. He sent his updates to Walmart and copied Mike Baylor, who's named as a project manager on Lockheed's Wisdom website. On June 4, at 6:30 p.m., Blandford sent this update about the artist and activist Favianna Rodriguez to seven Walmart and five Lockheed managers: "Favianna tweeted that OUR Walmart is preparing for action 'walmart headquarters.' Tweet is 9 minutes old as of this e-mail."
The protesters apparently caught on to this. One, OUR Walmart organizer Angela Williamson, told Bloomberg Businessweek that she sent out fake tweets about her location, to throw off those watching her.
It's hard to form a union at any company, but it's nearly impossible at a huge company with thousands of different stores. This is especially true when a company's management is as anti-union as Walmart. The retail giant's business model relies on keeping costs low in every aspect of the operation, and unionization would likely mean Walmart would need to pay much higher wages and benefits to every one of its 2.2 million employees.
In 1997, the company created a handbook, "A Manager's Toolbox To Remaining Union Free," which contains tips and tricks on how to stop "a union organizing attempt before it ever gets started." Many of the tactics, it seems, are still in use.
But there are still attempts by associates to organize, and checking out public Internet activities isn't the only way that Walmart keeps tabs on its workers. There's also reportedly a hotline at Walmart headquarters in Bentonville, Arkansas, that managers are supposed to call if they notice "low morale or organizing among their employees." Those become priority stores for extra training, per Bloomberg.
What does "priority" mean?
A separate article about Walmart's anti-union efforts in The Atlantic earlier this year says that, "[o]ne former Walmart store manager tells the story that after discovering a pro-union flyer in his store's men's room, he informed company headquarters and within 24 hours, an anti-union SWAT team flew to his store in a corporate jet."
It's no surprise that OUR Walmart organizers haven't gotten very far in their efforts. This year, there may be some protests on Black Friday, but organizers have a new tactic: 1,000 people have signed up to fast for 15 days in the fight for a $15 wage. 
Walmart responded to a request for comment on this article by sending the following statement to The Huffington Post: 
"We are firmly committed to the safety and security of our 2.2 million associates as well as the 260 million customers we serve each week. It's important to remember that Walmart is the largest company in the world with 11,500 stores in 28 countries. Unfortunately, there are occasions when outside groups attempt to deliberately disrupt our business and on behalf of our customers and associates we take action accordingly."
Calling all HuffPost superfans!
Sign up for membership to become a founding member and help shape HuffPost's next chapter