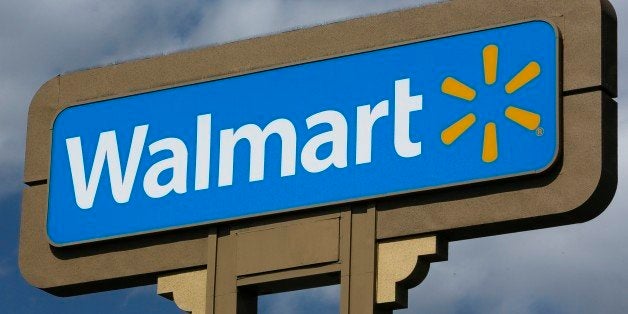 Last year, the worker group OUR Walmart began circulating petitions in Walmart stores calling for a $15 minimum wage and consistent, full-time hours for store employees. The petitions preceded the third consecutive year of Black Friday strikes at the world's largest retailer.
Management at one store in Massachusetts had a carefully crafted response to those petitions, according to a document provided to The Huffington Post. Described as "talking points" to be delivered at worker meetings last fall, the remarks appear meant to allay any concerns about pay and scheduling.
In the talking points, dated Sept. 22, 2014, and posted here, management appeared to pitch a series of Massachusetts minimum wage hikes, which began Jan. 1 of this year, as a good thing for the store's workers:
"You should ... know that here in Massachusetts, Governor [Deval] Patrick recently signed a law that will, in fact, increase the minimum wage from the current $8.00 per hour to $11 per hour by 2017. The rate increases will go into effect on January 1, 2015 with a $1.00 increase each year. Recall, the federal minimum wage [is] at $7.25 today."
Kory Lundberg, a Walmart spokesman, said the company merely wanted to explain the Massachusetts minimum wage hikes to employees. Lundberg said the talking points were put together to answer workers' questions after they'd been approached by labor organizers.
"We do that all the time to get correct information to our associates, because they don't always get that from outside groups," Lundberg said.
A worker from the store in question, who requested anonymity to protect colleagues, said the message came across as insulting.
"How poor an argument it is to say you'll be getting a raise in two years, so stop agitating for it," the worker said, alluding to the full hike in 2017.
After a spate of state ballot measures passed in November, the minimum wage in the majority of states, including Massachusetts, is now higher than the federal level. The Republican Congress, meanwhile, is blocking a proposed increase of the federal minimum to $10.10.
As HuffPost has reported previously, those averages likely present a misleading picture of what Walmart workers actually make, since they don't include part-time workers. Though it doesn't disclose an exact figure, Walmart has said the majority of its workforce is full-time.
In that one particular Massachusetts store, just 39 percent of associates are full-time employees, according to the talking points. (At the request of the worker who obtained the memo, HuffPost agreed not to name the store, and its location has been redacted from the posted document.) OUR Walmart has described a lack of steady hours as a top grievance of the employees it represents.
Lundberg said this particular store was an outlier in its rate of part-time workers, noting that most stores are majority full-time. The Massachusetts store, he said, is a smaller location that doesn't carry groceries and isn't open 24 hours a day.
"That's why that number is so much different from what you would see" elsewhere, he said.
In the memo, Walmart suggests the high quotient of part-timers in the Massachusetts store is by worker choice.
"[M]any are students, hold other jobs and/or have family commitments that preclude them from seeking full time employment here," the memo reads. "As such, we have many associates with the ability to work only a few days per week. It's difficult to be full time if an associate can only give Walmart limited availability."
Yet the memo goes on to acknowledge that scheduling is largely beyond workers' control. Managers assign hours in part according to sales, it explains: "It's important to understand that retail businesses schedule hours based on customer traffic, sales, full time or part time status, and associate availability. It's a complicated mix and can change. It's not something that stays constant because all those factors can change, especially sales, which can change due to seasons, holidays, competitive openings and the like."
Walmart is hardly the only big-name company to be accused of making its employees work erratic and insufficient hours; those are common complaints in the food and retail industries. (See Starbucks, which revamped its scheduling practices after a devastating New York Times feature detailed one single mother's varying hours as a barista.) Retailers now commonly rely on software that doles out work hours based on complex equations that figure in projected sales, among other factors.
Bloomberg's Renee Dudley has reported extensively on the common sight of bare shelves in Walmart stores, a problem Dudley has linked to not enough workers on the floor. A report last year from the firm Cleveland Research called the company's recent investments in labor "almost non-existent."
Anthony Rodriguez, a Walmart worker and OUR Walmart member in Rosemead, California, said several of his colleagues lost hours after the most recent holiday season. Rodriguez said he's a part-timer seeking full-time work; he picked up a few more hours after a sit-down meeting with his boss, though his hours still vary. Overall, he described the scheduling as a frustration.
"It fluctuates in and out. Sometimes it's days. Sometimes it's night. Sometimes it's weekends. They just keep changing it," Rodriguez said. "I have to be flexible for them, but they won't be flexible for us."
Last year, Walmart launched a program called Access to Open Shifts, which lets workers look into the company's internal scheduling system for available shift slots. The program is aimed at giving full-time status to employees who want it. OUR Walmart, which is backed by the United Food and Commercial Workers union, has applauded Walmart for rolling out the program.
The talking points also cautioned employees about signing the OUR Walmart petition: "We encourage you to always know what is at stake if someone asks you to sign something. Your signature is important and signing documents can have legal consequence."
Popular in the Community