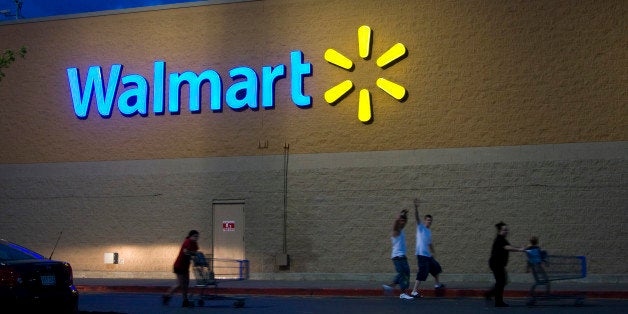 Thanksgiving Day is a holiday where family and friends gather together and express gratitude for everything in their lives. But those who work at Walmart have little to be thankful for, at least when it comes to their employment.
At a time when income inequality is increasingly rampant in this country, Walmart leads the way in bad-paying jobs. The nation's largest employer is making $16 billion in profits off the backs of its 1.4 million workers. Most of them make less than $25,000 a year and are not able to count on a steady stream of work or pay each week.
Meanwhile, Walmart's owner, the Walton family, is the country's richest. Their wealth totals $150 billion, as much as 43% of American families combined. That's just not right in a nation that prides itself on equality, opportunity and fairness. Walmart workers are fed up and in 2011 formed OUR Walmart (Organization United for Respect at Walmart). And this holiday season they will be speaking out through the largest set of protests yet.
On Friday, just hours after many Walmart workers are forced to cut their Thanksgiving short to come in and work, company employees will stand up to corporate retaliation by participating in one of 1,600 planned protests nationwide. The Teamsters, other unions and thousands of like-minded Americans will join OUR Walmart members in calling on Walmart to raise their wages and provide full-time work hours.
They will be standing up for fellow workers like 67-year-old Rosa Valenzuela, who was fired just a month short of her 20th anniversary at Walmart. When she raised her voice about the company's substandard wages and working conditions, the retailer created excuses to terminate her, going so far as to cite a day she reportedly clocked out two minutes late as a reason. Ridiculous!

Others told lawmakers during a Capitol Hill briefing last week about Walmart's corporate vindictiveness. Evelin Cruz, a former Walmart employee and OUR Walmart member, said "Walmart fired me for speaking up for better wages and hours, but I'm still fighting today because my former colleagues ... deserve better."
While workers who have pressured Walmart to improve pay and procedures have been disciplined, the company rakes in billions each year. Meanwhile, U.S. taxpayers are forced to subsidize Walmart's business plan by covering the $6.2 billion tab for the corporation's employees who earn so little they qualify for public assistance. There is simply no reason the public should be picking up the bill for America's wealthiest family!
Earlier this month, Walmart employees in the Los Angeles area gave the corporate giant a taste of their frustrations when they held two sit-down strikes at stores. They also protested the company at an intersection near one of the stores, resulting in 25 arrests. Some even joined Teamster-supported striking port truck drivers at the twin ports of Los Angeles and Long Beach, who haul goods that end up on Walmart's shelves.
Low-income workers from coast to coast -- from Walmart retail clerks to contract food workers in federal buildings to truck drivers - are rising up now because they realize the American public is with them on the issue of fair pay. Four of the nation's most conservative states voted Nov. 4 to increase the minimum wage because the people realized the amount being offered just wasn't enough. Hardworking Americans deserve to be able to put food on the table after toiling all day, but many still can't.
That's why workers at more than 2,100 Walmart stores nationwide have signed a petition calling on Walmart and the Waltons to publicly commit to paying $15 an hour and providing consistent, full-time hours for its employees despite the possible consequences to themselves. And it's why the Teamsters and others interested in workplace fairness need to support OUR Walmart members and show this shopping titan on Friday that what they are doing is not OK.
Investing in one's workforce is the right thing to do -- not only for employees, but for companies as well. Higher salaries mean more money to spend at places like Walmart. It also makes it a lot less likely that companies will have to sponsor food drives for their own workers.
Calling all HuffPost superfans!
Sign up for membership to become a founding member and help shape HuffPost's next chapter