If state governors follow through on plans to oppose the expansion of Medicaid under Obamacare, one substantial group of low-wage workers appears vulnerable to going without medical coverage: people who work at Walmart.
The world's largest retailer recently outlined a new policy that will exclude from health coverage newly hired employees who work fewer than 30 hours per week, as The Huffington Post reported this month. Experts described that move as an attempt by Walmart to shift the burden of providing health coverage to the government -- specifically, to Medicaid, the insurance program for the poor.
Obamacare includes a dramatic expansion of Medicaid, one that will potentially extend health insurance to as many as 10 million people by 2016, according to the most recent Congressional Budget Office estimates. It would achieve this by expanding eligibility to include individuals with annual incomes up to 133 percent of the federal poverty limit -- currently $14,856.
A primary mission behind Obamacare was to ensure that people in low-wage service sector jobs -- which typically do not include health benefits -- would gain some form of medical coverage. But in a landmark ruling this year, the Supreme Court gave states the right to opt out of the Medicaid expansion. Republican governors in Texas, South Carolina, Louisiana, Mississippi, Alabama, Georgia, Oklahoma, Maine and South Dakota have subsequently signaled plans to do just that.
Many of these states share two traits: A large number of Walmart jobs, and extremely tight standards for Medicaid eligibility. In Texas, where more than 150,000 people work at Walmart, according to the company -- the largest number of any state -- an employed parent who earns more than 26 percent of the federal poverty line, or $4,963 a year for a family of three, is deemed ineligible for Medicaid. Jobless parents must make even less to qualify -- no more than 12 percent of the poverty line. Unless they are disabled, childless adults do not qualify in Texas regardless of their income.
After Walmart's new policy takes effect in January, many part-time workers who stand to be denied company health benefits would eventually qualify for Medicaid once the Obamacare expansion takes effect in 2014. About of half of the roughly 1 million hourly Walmart employees in the United States earn less than $10 an hour, the company has previously disclosed.
But if states now threatening to forgo the Medicaid expansion follow through on those plans, many Walmart employees -- along with others in low-paid, service-sector positions -- run the risk of slipping through the cracks: They are likely to work too few hours to qualify for company benefits, yet earn too much to qualify for Medicaid under their states' restrictive standards.
Have you worked at Walmart? The Huffington Post wants to know about your experience. Send us an email here.
In Texas, the absence of the Medicaid expansion combined with Walmart's new policy could prove "extremely damaging," to the company's workers, said Vivian Ho, a professor of health economics at Rice University in Houston. "I would hope for a state as large as Texas, Walmart could consider designing a particular policy as a function of what's going to happen with Medicaid."
Walmart has yet to publicly declare whether it plans to adjust its health plan in states that forgo the Medicaid expansion. The company declined requests for comment, citing a policy not to respond to questions from HuffPost.
Clark, who was hired on a part-time basis in March, said she earns $7.65 an hour and doesn't know if she'll be assigned enough hours per week to ever qualify for Walmart benefits. Even if she becomes eligible, she said, the costs associated with company insurance seem insurmountable. "If I were eligible, I wouldn't be able to afford it and my rent, bills and baby," she said, citing what she described as high deductibles.
Clark recently became pregnant, prompting her to enroll in Medicaid to gain prenatal care, but she is uncertain whether she will remain eligible after her baby arrives.
"After my baby is born, I'm looking for a new job," said Clark. "I can't support myself and my family on odd hours and a $7.65-an-hour pay rate."
While other major retailers have often excluded part-time workers from their health plans, Walmart has in recent years attempted to distinguish itself as a relatively generous provider of coverage. In 2006, while facing public accusations that it short-changed workers, Walmart expanded its benefits to make it easier for part-time employees to qualify, while also introducing health insurance plans with lower monthly premiums.
Though some critics fault Walmart for allegedly saddling its employees with high deductibles that discourage workers from enrolling, the company's health care options are more comprehensive than many offered by other national service sector chains.
In 2009, amid deliberations over President Obama's proposed national health care reform, Walmart again staked out a position that distinguished itself from other retailers: The company endorsed an employer mandate, a legal requirement that American companies furnish health coverage to employees. That stance put the retail giant on the same side as traditional adversaries like the Service Employees International Union and in direct opposition to the U.S. Chamber of Commerce, which lobbies for major businesses.
At the time, the Chamber of Commerce accused Walmart of supporting the mandate as a means of pursuing a self-interested motive: sticking competitors with additional costs of compliance.
A version of the employer mandate became a central component of Obamacare: By 2014, all large employers must offer health insurance to employees working at least 30 hours a week or pay penalties. Given that Walmart already offers coverage to employees who work more than 30 hours a week, the company will likely have an edge over competitors, many of whom now find themselves scrambling to adapt to Obamacare's mandate.
Some American businesses such as Darden Restaurants -- which owns Red Lobster and Olive Garden -- have threatened to cut employees' hours below 30 hours a week rather than absorb the costs of extending health coverage. Some experts construe Walmart's reduction of benefits for part-time workers as a similar cost-cutting maneuver, shifting the expense of coverage to taxpayers via programs such as Medicaid.
"Businesses are doing what's in their best interest based on the law, and I don't fault them for that," said Ken Janda, the CEO of Community Health Choice, a Houston-based nonprofit that provides managed health plans to low-income families, including Medicaid recipients. "But the implications are that [in states that reject Medicaid] we're going to have more people uninsured."
In an internal informational memo offering answers to frequently asked questions about its new health care policy, Walmart characterizes its decision to eliminate coverage for new hires who work fewer than 30 hours per week as an attempt to adapt to the president's health care reform.
"We are changing our benefits-eligibility requirements to better align with the Patient Protection Affordable Care Act," reads the memo, referring to the formal name for Obamacare. The memo was distributed earlier this year via the company's in-store computer system, according to an employee who received it and who shared a copy with HuffPost on the condition that he not be named. "Requiring associates to meet a minimum number of hours on average to become benefits-eligible will allow us to continue providing quality affordable health care coverage to associates similar to other retailers," the memo states.
Under the 2013 policy, Walmart reserves the power to eliminate coverage for employees whose average hours fall below their requirements -- something that happens frequently and at store managers' discretion, according to workers. This policy applies only to part-time workers hired after the middle of January 2011.
Given that more than 37 percent of Walmart's American workforce typically leaves the company every year and is replaced by new hires, a majority of the roughly 1 million people who now work at Walmart on an hourly basis could become vulnerable to losing benefits under the new policy.
Four people who have recently worked as salaried managers in Illinois and Iowa told HuffPost that Walmart required their stores to hire only part-time workers, while ensuring full-time workers comprised less than 30 percent of their payrolls.
In Texas, elected officials are concerned about how to respond as Walmart and other businesses pare down eligibility for their medical insurance plans.
"From an economic point of view, the health care law does encourage businesses to get out of the business of providing health insurance," said John Zerwas, a Republican state representative and an anesthesiologist who opposes Medicaid expansion in Texas. "The federal government should step back and look at how they can remedy this without asking states to shoulder the costs."
In Texas, the state's Health and Human Services Commission estimates that participating in the Medicaid expansion will cost state taxpayers more than $15 billion over a decade. Gov. Rick Perry (R) has vowed to skip the Medicaid expansion, citing such costs. Perry's office directed HuffPost to a press release when asked about Medicaid expansion.
Under Obamacare, the federal government would fully finance the Medicaid expansion for the first three years and still pay the vast majority thereafter, with its share dropping gradually to 90 percent by 2022.
Some Texas lawmakers have accused Perry of putting at risk some of the state's most vulnerable people -- low-wage employees such as those who work at Walmart.
"Walmart has never treated its employees in such a way where they could access affordable health plans based on their wages," said Garnet Coleman, a Texas state representative who is part of a team of state legislators that worked with the White House on the Affordable Care Act. "This is what the argument for the Act was all about. The law was designed to pick up those folks. But it doesn't work without the Medicaid expansion."
Coleman, a Democrat, added that the poorest Texans would be most affected by a failure to expand Medicaid. Those with incomes at the federal poverty limit and up to four times that standard -- a ceiling of $92,200 a year for a family of four in 2012 -- will be able to buy subsidized health plans through so-called insurance exchanges established under Obamacare. But those with incomes below the federal poverty standard -- including some part-time Walmart workers -- will not be eligible for subsidies through the exchanges.
Some doctors in states whose governors are opposing Obamacare worry they will shoulder the burden of poor patients arriving in their hospitals and clinics without health insurance, as private employers trim down their plans.
"It will be pure hell for doctors and hospitals if patients are thrown off the private insurance rolls and don't get Medicaid," said Eric Fishman, an anesthesiologist at WellStar Kennestone Hospital in Marietta, Ga. Over the course of 15 years in private practice, Fishman said he has frequently provided free care to uninsured workers -- including some who worked for Walmart.
The company "has revenues and profits in the billions of dollars," Fishman said, "yet they have no problem passing on the cost of medical care for their employees onto the government and onto the backs of physicians and hospitals. Walmart executives and shareholders should be ashamed of themselves."
Related
Before You Go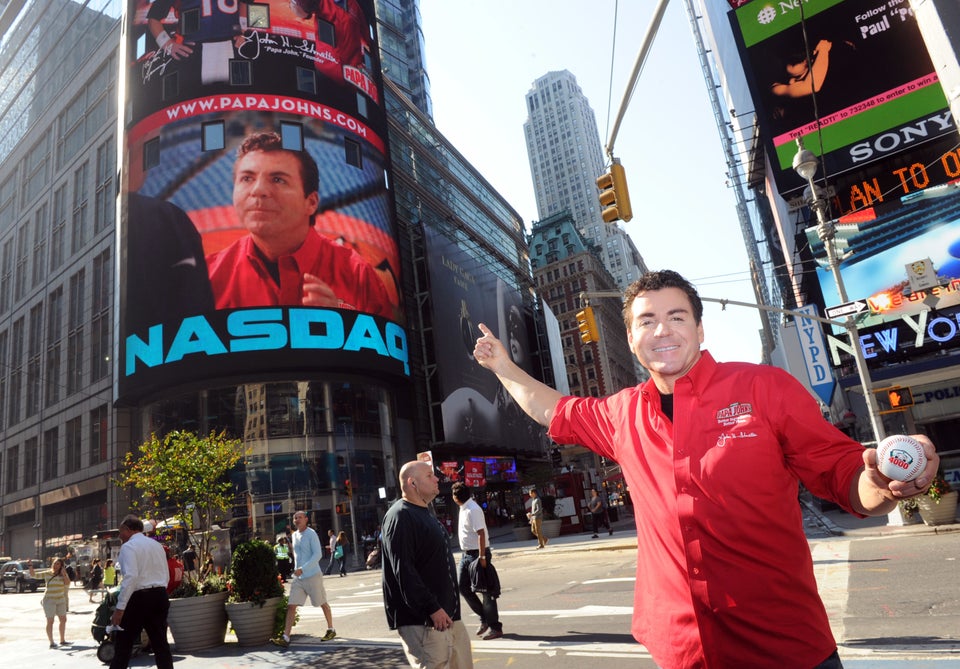 Anti-Obama CEOs Whose Companies Have Thrived Under Obama
Popular in the Community