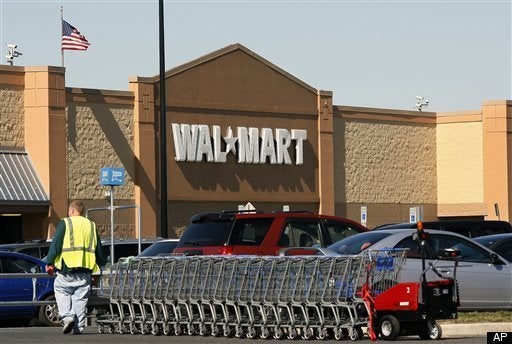 (Lisa Baertlein) - Two tiny Walmart.com stores are making Southern California malls their home for the holidays, launching the latest salvo in the war for online retail dominance.
The temporary stores are a first for Wal-Mart Stores Inc, which experiments with store concepts in various markets hoping they will drive shoppers to its website.
"The Walmart.com stores are just a small test we're conducting during the holiday season to offer local customers easier, more convenient access to products," Wal-Mart spokesman Lorenzo Lopez told Reuters.
"There are no plans to expand these stores at this time," said Lopez, who added that the stores are not a way to sneak into urban markets that have not welcomed the retailer.
The world's biggest retailer already operates stores within miles of the temporary Walmart.com locations, where shoppers can purchase items from the shelves or sit down with a laptop and shop a vast array of products on the chain's website.
Wal-Mart and online retail giant Amazon.com Inc are heading toward an eventual face-off, said Bill Smead, chief investment offer at Smead Capital Management.
"This is the battle of the titans," said Smead.
Wal-Mart has prowess compared to other brick-and-mortar retailers when it comes to pricing, while Amazon has great technical know-how and is seen as a low-cost leader online, said Smead, who holds Wal-Mart in his firm's Smead Value Fund.
Both Walmart.com stores will be open from November 1 until December 31. They are located in malls operated by Australia's Westfield Group, which counts Wal-Mart as a full-time tenant in two other shopping centers.
The test store in Westfield's Horton Plaza in downtown San Diego is about 3,000 square feet, roughly 1/60th of the size of a typical Walmart supercenter.
An even smaller 1,000 square-foot shop at Westfield Topanga mall in the Los Angeles suburb of Canoga Park is sandwiched between a Macy's and a GameStop.
The brightly lit Canoga Park shop has a limited assortment of potential holiday gifts, including tech gadgets and toys.
Richard Kadeg, 40, bought Activision Blizzard Inc's "Call of Duty: Modern Warfare 3" at the Walmart.com store to avoid Tuesday's long, release-day line at GameStop.
"I still would have preferred to get it at GameStop," said Kadeg, who gets loyalty points with each GameStop purchase.
While he wasn't convinced to check out Wal-Mart's website, Kadeg did say the shop might appeal to others -- like Robin Duran, who lives in the small town of Sweet Home, Oregon.
"It's kind of hard to order online unless you know exactly what you want," said Duran, 51, who likes the Walmart.com store idea.
The single mom -- who also shops Amazon.com -- has bought everything from car tires to toys from Walmart.com. She's a frequent user of the "site to store" service, which lets her order items online and have them shipped for free to a Walmart store 20 minutes from her home.
(Reporting by Lisa Baertlein in Los Angeles and Jessica Wohl in Chicago; Editing by Bernard Orr)
REAL LIFE. REAL NEWS. REAL VOICES.
Help us tell more of the stories that matter from voices that too often remain unheard.
BEFORE YOU GO