 Walmart is violating campaign finance law by encouraging workers to donate to a PAC backing the company's favorite political candidates, according to a complaint filed with the Federal Election Commission on Monday.
This policy violates an FEC rule against companies making campaign donations directly to candidates, parties and political committees, according to the complaint. It was filed by Public Citizen, a consumer-rights group; Common Cause, a lobbying group focused on government accountability; and OUR Walmart, a labor group advocating for Walmart workers. They allege Walmart is trying to get around the law by using company money to "unduly" encourage workers to donate to its PAC.
Though Walmart employees are not required to donate to Walmart's PAC, the company's policy "flies in the face" of the law that requires donations to be voluntary because there's such a large incentive, said Craig Holman, government affairs lobbyist for Public Citizen, who authored the complaint. He added that because the matching funds go to a charity run by Walmart, "this is actually very directly, very self-serving for the Walmart corporation."
Walmart representatives disagree.
"We are confident that our matching program is lawful, and that the FEC will find this complaint brought by groups not affiliated with Walmart lacks merit," Brooke Buchanan, a Walmart spokeswoman, told The Huffington Post before reviewing the complaint.
Walmart's PAC, called Wal-Mart Stores Inc. Political Action Committee for Responsible Government, has raised $2.6 million during the 2014 election cycle, according to data from the Center for Responsive Politics. The PAC's donations are split about evenly, with 49 percent going to Democrats and 51 percent going to Republicans, the data show. Companies and their PACs are allowed to solicit donations from salaried employees with decision-making powers, along with shareholders and the families of those groups.
Corporate PACs are financially separate entities from their affiliated companies. Still, PACs typically fund candidates and legislation that's in the best interest of a company.
Activist groups have accused Walmart's PAC of favoring candidates that voted against minimum-wage increases. At the same time the company is incentivizing managers to give to this PAC by donating money to its own organization for workers in need, Walmart is facing calls from workers and labor groups to raise pay.
Other companies offer to match employee donations to their PACs with donations to charities. Bloomberg News reported last year that Hewlett-Packard, Coca-Cola and others have this kind of program. The practice became popular in the 1980s, and the FEC has since approved various charitable matching programs presented to it -- though not without controversy.
Often the cases are approved by a slim margin, and in some situations the elections commissioners have deadlocked. In the past, some commissioners have argued that any charitable match is really just the company subsidizing a donation to its own PAC.
Walmart's program is particularly controversial for two reasons, according to Holman. For one, it offers a 2-for-1 match instead of a 1-for-1 match. In one case where the FEC considered a 2-for-1 match, three commissioners dissented, arguing that such a large match would "skew the incentives" and "undercut the voluntariness" of the donations, according to Bloomberg. Also, Walmart doesn't give workers a choice of charities for the company to send the matching funds.
"Walmart came up with the entirely new scheme," said Holman, who has written several studies on campaign finance. "This type of matching fund program goes way beyond anything the FEC has ever approved before."
Walmart's situation is indeed rare, but it's not clear it's illegal. Some campaign finance lawyers have been advising their corporate clients that offering a 2-to-1 match is probably okay, said Larry Noble, former general counsel at the FEC. But he said the "twist" in Walmart's case is that the donations flow to a company-run charity. Companies typically let workers pick where the matching funds will go from a slate of outside charities.
"What it does is take away a lot of the merit to the charitable match -- to the extent that there is merit -- which is that you're helping outside charities," said Noble, now of-counsel to the Campaign Legal Center, a nonprofit focused on campaign finance. "(The Walmart charity) being the only choice really makes it a question of whether it's to the benefit of the employee or the benefit of the company."
Though the FEC commissioners probably didn't envision a setup like Walmart's when they first approved charitable matching donations, that doesn't mean it's illegal, according to Jessica Levinson, a professor at Loyola Law School in Los Angeles, who studies election law.
"Does the ratio raise some eyebrows? Yes. Does this directly fly in the face of the statute? I don't think so," Levinson said. "Welcome to the world of campaign-finance laws, where no one knows what loopholes will be used."
Before You Go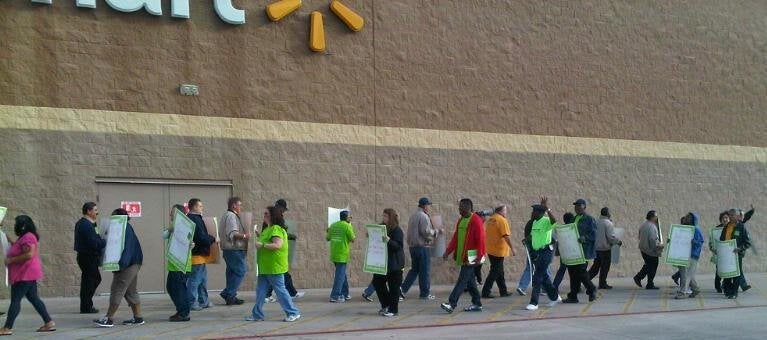 Walmart Workers Strike
Popular in the Community