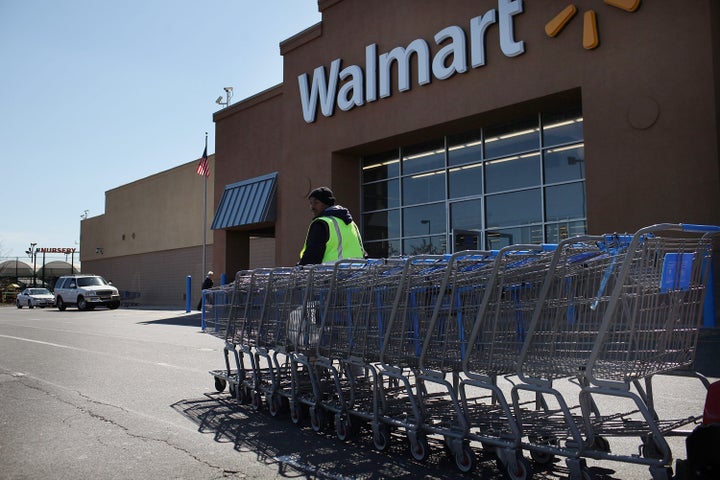 WASHINGTON- If Walmart were to pay its employees a minimum of $12 an hour, what would that wage baseline do to the retail behemoth's famously low prices? According to a new study, probably not much.
Researchers at the University of California, Berkeley's Center for Labor Research and Education argue that such a wage bump for the retailer's lower-paid associates would translate into an extra cost to shoppers of about 46 cents per trip, or $12.49 a year, if the brunt of the increase was passed on to consumers. The study's lead author, Ken Jacobs, claims that the findings support the idea of a "big box" wage ordinance that would set a minimum wage for large American retailers like Walmart who are entering urban areas. Such an ordinance failed to make it into law in Chicago a few years ago.
"It wouldn't affect the competitiveness of their prices, but the benefits could be substantial on the worker side," said Jacobs, who chairs UC Berkeley's labor center. "There's this assumption that if Walmart was to improve its wages and benefits they couldn't exist as they do. But most of what they do to bring down prices is based on the supply chain. Labor is only one part of that picture."
Dan Fogleman, a spokesman for Walmart, said the company already offers good wages, in many cases better than those paid by competing retailers. "At Walmart we create jobs that offer competitive wages, competitive benefits, and the chance to have a career," he said. "Time and again we've seen examples of store managers who started out as associates."
Jacobs argues that since the higher product prices would be absorbed by customers across the socioeconomic spectrum, a minimum wage of $12 would disproportionately benefit working-class people. Walmart employs more than 1.4 million workers in the U.S., and the average wage of a Walmart associate is $11.75 an hour, according to Fogleman.
In recent years, Walmart has made a big push into American cities, where it has been met with resistance over wage issues and the potential impact a big box store could have on local businesses. Unions and working-class advocacy groups have recently held rallies and collected signatures opposing the opening of Walmart stores in Washington, D.C., where the company has settled on four sites. Walmart has also been fighting battles recently in New York City, where politicians and unions have so far managed to keep the retailer out, and in Chicago, where the effects of Walmart's entry into the area several years ago are still hotly debated.
According to Fogleman, associate wages are typically higher in the company's urban stores. Even so, some advocacy groups say the wages aren't enough to live on, particularly in expensive metropolitan areas.
"This report shows that Walmart can clearly afford to pay associates a fair wage," said Jennifer Stapleton, assistant director of Making Change at Walmart, a campaign led by the United Food and Commercial Workers International Union. Stapleton pointed out that the increase "would cost [consumers] less than the cost of a pack of gum at the cash register."
The UC Berkeley labor center produced a 2007 study that found the opening of one Walmart store in an area pushed down local retail wages by about 0.9 percent, a drop that Jacobs attributes to the need for other retailers to compete. For their most recent study, the center made statistical projections based on wage figures that have trickled out in Walmart litigation, in some cases several years ago. Jacobs said he and his colleagues were unable to get up-to-date figures from Walmart.
Popular in the Community