 Think Walmart's CEO-to-worker pay ratio is high? You ain't seen nothing yet.
Walmart CEO Mike Duke's retirement package of more than $113 million is nearly 6,200 times bigger than the average 401(k) balance of a non-executive Walmart worker, which was $18,303, according to a new analysis by Dana Lime at NerdWallet, a personal finance site.
That dwarfs Walmart's infamous CEO-to-worker pay ratio, a source of controversy for the company in the past. Duke, who pulled in $20.7 million last year, made 305 times more than the typical Walmart manager and 836 times more than the median Walmart worker's salary, according to the NerdWallet study. A separate report earlier this year by the salary information site PayScale pegged the CEO-to-worker pay ratio at 1,034.
Walmart's CEO-to-worker retirement ratio was the largest of the ten companies surveyed by NerdWallet. There was really no contest. (Story continues after graphic.)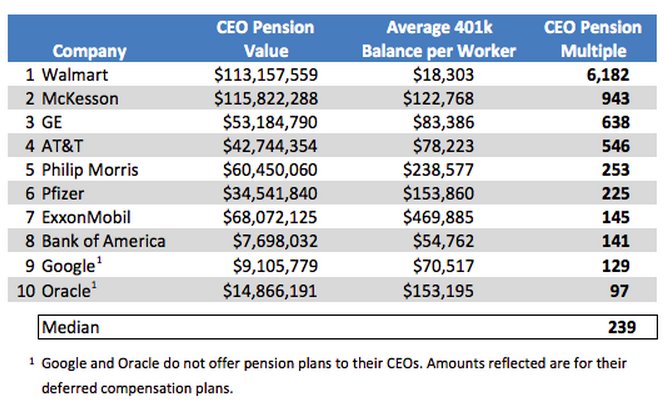 In an interview with The Huffington Post, Walmart spokesperson Brooke Buchanan took issue with the study's description of Duke's retirement package as a pension, noting that it is technically a deferred compensation plan that accrues over time.
"Our CEO has been with us since 1996, and so [the compensation package] is obviously something that's been acquired over many years," Buchanan said.
As for Duke's pay package, that is merely the result of a competitive marketplace and the need to retain top talent, Buchanan said.
"We are the world's largest retailer, and this [the CEO job] is a pretty tough job," Buchanan said. "We want to make sure the right person is in that job. We have a responsibility to our shareholders to have the right people in the job."
Data at FindTheCompany.com show Duke's annual pay began to soar in 2007, mainly due to large awards of restricted stock. (Story continues after table.)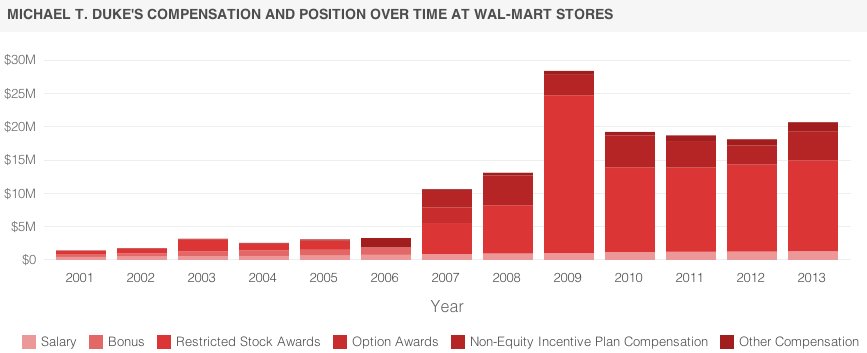 To be fair, many of the jobs offered by the retailer are entry-level, and the company handed out $770 million in quarterly bonuses to sales associates last year, according to Buchanan.
To come up with a CEO-to-worker retirement ratio, NerdWallet used company proxy statements to find the value of Duke's pay and retirement, a Brightscope analysis of IRS data to get workers' 401(k) values, and Bureau of Labor Statistics data for Walmart worker pay.

Related
Before You Go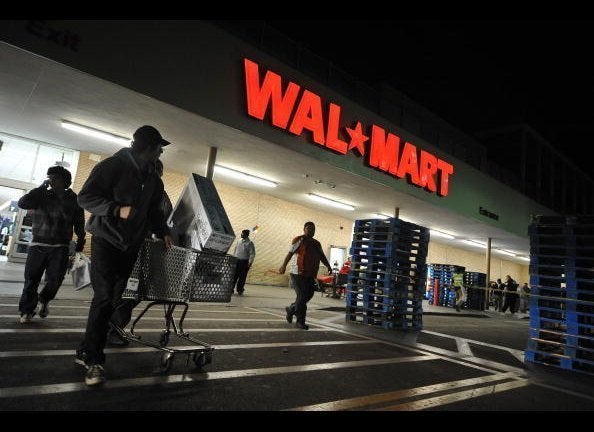 Thanksgiving 2013 Store Hours
Popular in the Community