Would you consider 75 school kids singing "God Bless America" to honor those killed on Sept. 11, 2001, a "flash mob?" One Florida Walmart apparently did.
School kids aged 7 to 10 from Coconut Palm Elementary in Miramar, Fla., were set to sing a rendition of the patriotic song in a local Walmart Tuesday when the manager on duty refused to honor an agreement Principal Terri Thelmas had made days prior, calling the performance "a liability," the Sun-Sentinel reports. Instead, the disappointed chorus took to singing in the parking lot but their trial wasn't over yet. As they concluded the song, police showed up at the scene to respond to a complaint of a "flash mob situation."
"We regret this happened and apologize to the students, parents and the school for this experience," said Kayla Whaling, a Walmart spokeswoman based in Bentonville, Ark. "We're also inviting the kids back to the store to help honor the victims and fallen heroes."
This isn't the first time Walmart has had to apologize for kicking people out of one of its stores. In 2010, Walmart apologized after a voice over the intercom at a New Jersey location announced: "All black people leave the store now."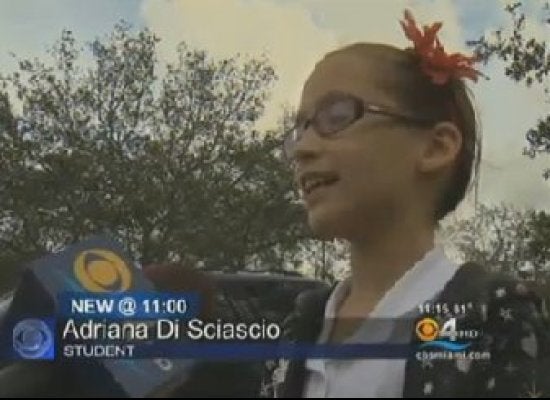 Nightmares That Involve Walmart
Popular in the Community