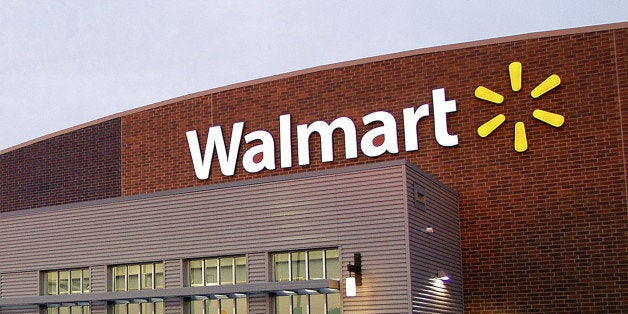 The battle between Amazon and publishing giant Hachette has created an unlikely opportunity for Walmart -- free publicity and a sales bump for Walmart.com.
The world's biggest retailer, long locked in a desperate game of catch-up with Amazon, said on Monday that book sales on Walmart.com are up by 70 percent since last week thanks to Amazon, though it did not provide anymore specifics on revenue.
Web shoppers are turning to Walmart's website because Amazon has drastically slowed down shipping of Hachette books, including ones by best-selling author James Patterson. The online behemoth also stopped pre-orders of books from the French publisher as negotiations stall over e-book pricing.
Amazon's move, perceived by many as a corporate behemoth flexing its muscles, has prompted boycotts by the book industry advocates. In a twist of literary irony, many of those boycotters may instead do business with one of the world's biggest and most reviled companies.
Walmart, meanwhile, slashed 40 percent off up to 400 Hachette titles and advertised faster shipping of the publisher's books.
"We're committed to making it easy for our customers to have access to a broad assortment of the products they want, at the low prices they want – including copies of their favorite books that they might not be able to get elsewhere," Walmart said in a statement forwarded to The Huffington Post by a spokeswoman.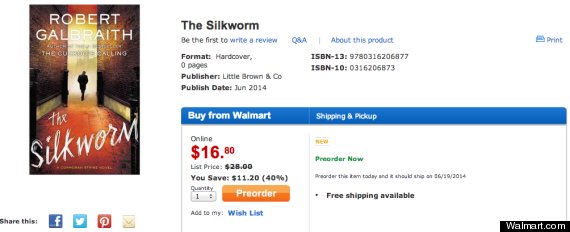 Above: Walmart's discounted copy of the new J.K. Rowling book, with a preorder shipping date of June 19. Below: Amazon's offer to email customers when the book becomes available.


Hachette did not immediately respond to requests from HuffPost for comment.
Amazon spokeswoman Sarah Gelman referred HuffPost to an 549-word statement it put out last week that said the company has a responsibility to haggle Hachette for the lowest possible price, adding: "We are not optimistic that this will be resolved soon."
For Walmart, the standoff provides a rare opportunity to get a leg up on its digital rival.
The Bentonville, Arkansas-based retailer poured money into its @WalmartLabs division last year, buying up a handful of startups as it beefed up its offices in Silicon Valley and poached 150 new hires from companies like Yahoo and eBay.
"Don't think for a second that Jeff Bezos is not a capitalist," Neil M. Ashe, chief executive of Walmart Global E-Commerce, told The New York Times of the founder and chief executive of Amazon. "They're just playing a game, which is, 'We're just going to wait out the world.'"
Still, Walmart has a long way to go.
Speaking at a major tech conference last week, Walmart CEO Doug McMillon admitted, admitted, "we're not as aggressive on some things as we should be."
"Clearly Amazon is teaching the world what's possible," McMillion told the audience.
Another possible lesson: Hachette offerings are still available in your local bookstores.
Calling all HuffPost superfans!
Sign up for membership to become a founding member and help shape HuffPost's next chapter