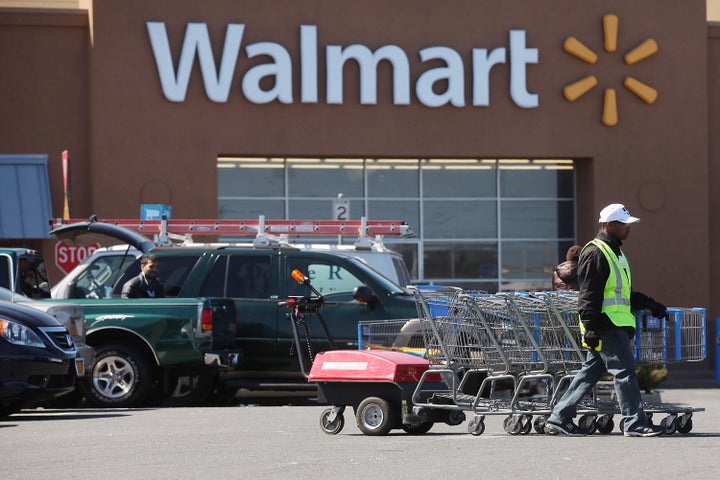 Sex discrimination is alive and well at Walmart, say lawyers who have interviewed thousands of female employees in the years since Betty Dukes and a handful of others first sued the company alleging widespread gender bias.
Although the Supreme Court ultimately overturned the Dukes case last summer -- siding with Walmart that the women did not share enough in common to qualify as a class in what would have been the largest class action discrimination suit in history -- plaintiffs' lawyers haven't given up, and neither have the women.
"When we first began investigating, the discrimination described by scores of women was more unvarnished," said Joseph M. Sellers, the lawyer who argued Dukes v. Wal-Mart before the Supreme Court and is forging ahead with this new litigation.
Sellers and the other plaintiffs' lawyers have not yet been authorized to conduct a new formal investigation into the company's practices. However, based on anecdotal evidence from ongoing interviews with former and current employees, Sellers said that there appears to be more sensitivity in the way issues of gender are spoken about in the Walmart workplace. But in other critical ways, Sellers said the company is still falling short, especially when it comes to fair pay and promotions.
"Walmart seems much more aware of issues of gender discrimination than when we first talked to the women a decade ago," Sellers said. "But I'm not convinced from the interviews we've had so far that it's been much more successful in solving the problem."
In California and Texas, employees from the original complaint, along with more women who have since stepped forward, are filing new suits on the issue. And the number of regional suits is expected to mount in coming months. However, many legal experts think these new suits may share the same fate as the original, in large part as a direct result of the Supreme Court's ruling last June.
Walmart has long denied any wrongdoing. When previously asked about the suit, the company emphasized that its corporate policy forbids discrimination, encourages diversity and ensures fair treatment. However, when contacted last week, Walmart's legal counsel did not emphasize those assertions. Instead, the counsel pointed to the Supreme Court's ruling, saying in these more recent suits, too, the women lack enough in common to call themselves a class.
"The plaintiffs' lawyers have failed to come to grips with the Supreme Court's decision," said Theodore J. Boutrous Jr., Walmart's lead counsel. "This Texas complaint does not come close to meeting the requirements for class certification, and relies on the very same discredited theories and arguments that the Supreme Court rejected when it reversed certification of the nationwide class in the Dukes case last June."
Last week, in Texas, a group of Walmart women filed an expanded class action lawsuit, alleging discrimination against female employees at Texas stores. The complaint was first filed last October on behalf of plaintiff Stephanie Odle, one of the original named plaintiffs in the Dukes case, but now includes six additional named current and former female employees representing a class of more than 50,000 Texan women. The complaint also includes recent instances of discriminatory practices from the past several years. The latest charges lack some of the overt sexism from the original suit, but continue to allege unfair treatment in the workplace.
But in the Texas suit, the most recent charge of discrimination from plaintiff Pamela Collins, a current Walmart employee in Ennis, Texas, has no such colorful language. Although she came to Walmart with 18 years of retail experience, and despite strong performance reviews, Collins alleges she was passed over for multiple promotions, including once for a much younger male colleague with almost no experience. Collins said she repeatedly called her regional and district managers, leaving messages about her interest in a promotion, but neither manager ever returned her phone calls.
The suit charges ongoing, widespread denial of promotions and equal pay to female employees throughout Texas, and cites many specific examples, such as one employee who says she confronted a district manager back in 2003, (after Betty Dukes filed her initial complaint) when she learned that a less experienced male colleague was earning more. The manager told her, "That's just the way it is. Men always get paid more."
Another employee was told that there "were already enough female assistant managers, so she would just be made a deli lead," while store managers in Houston and Abilene allegedly justified paying less to female employees on the grounds that the male employees "had families to support," according to the suit. When an employee at the Abilene store complained, her manager reportedly told her she should be "happy with the money she made."
Last week, Walmart filed a motion to dismiss the California suit, heavily quoting from the Supreme Court's ruling to argue that the plaintiffs still lack enough in common to be considered a class. The Supreme Court ultimately sided with Walmart back in June, ruling as such because the women worked in so many different places and under so many different managers, all of whom have discretion to make decisions regarding pay and promotions.
"Respondents wish to sue for millions of employment decisions at once," Justice Antonin Scalia wrote in the lead opinion for the court in the 5-4 decision last June. "Without some glue holding together the alleged reasons for those decisions, it will be impossible to say that examination of all the class members' claims will produce a common answer to the crucial discrimination question."
The same holds true, Walmart argues, in Texas and California. The plaintiffs' lawyers say that these new regional suits are in compliance with the new class action guidelines determined by the Supreme Court last summer, and that they have the evidence to prove there is enough connecting each woman's claims to certify them as a class. But legal experts think that courts will be likely to side with Walmart after the Supreme Court's precedent.
Brian Fitzpatrick, a law professor at Vanderbilt University who specializes in class actions and just taught a class on Dukes v. Wal-Mart, thinks that the regional class actions are likely to fail for the same reason the nationwide one did: Women at different stores had different managers who made decisions for different reasons.
"Nothing is crystal clear," Fitzpatrick said, "but if I were a betting man I'd say this suit would fail. It's almost Don Quixote-esque."
Scalia's opinion, Fitzpatrick said, essentially means that a region like Texas is still too large. Because of the way that Walmart is structured, the suits may need to be filed on a much smaller scale: manager by manager.
Hal Gillespie, the co-lead counsel on the Texas case, is feeling more optimistic. The court in Texas where the suit is filed is in a conspicuously conservative district that has long-viewed class action discrimination suits unfavorably. In Gillespie's mind, the court's ruling actually paved the way for certain class action suits, so long as they followed the outlines laid out by the Supreme Court.
"I think the Supreme Court decision helps by saying that class actions are permitted under certain circumstances," Gillespie said. "It gives us guidelines and we absolutely have to follow those guidelines but that's fine, that's what we have to do all the time."
But Sellers, another co-lead counsel on the Texas case, acknowledges that the court's ruling was a major blow.
"It's more difficult and expensive and time consuming," Sellers said. "It's going to consume a lot of resources of the legal system to litigate these cases."
Class-action suits were previously the best tool a worker had to fight discrimination at work. While individual suits are expensive and can be exceedingly difficult to prove, a class-action vehicle allowed workers to band together to fight the corporate powers that be. If the courts continue to rule in Walmart's favor, it will be a significant blow to working-class Americans, legal experts say.
"As you make it more difficult for people to win in larger groups and require them to file suits based on smaller ones, economically it becomes unfeasible for some people to make their way to court at all," said Ralph Richard Banks, a professor at Stanford Law School who specializes in employment discrimination law. Ultimately, Banks said, this means that, regardless of the merits, "cases go away."
CORRECTION: An earlier version of this article stated that Walmart's counsel Theodore J. Boutrous, Jr. "declined to repeat" the assertions that Walmart's corporate policy forbids discrimination, encourages diversity and ensures fair treatment. This was incorrect. Though Boutrous did not repeat those claims again in a defense of Walmart's practices, he was not asked to repeat them.
Related
Popular in the Community