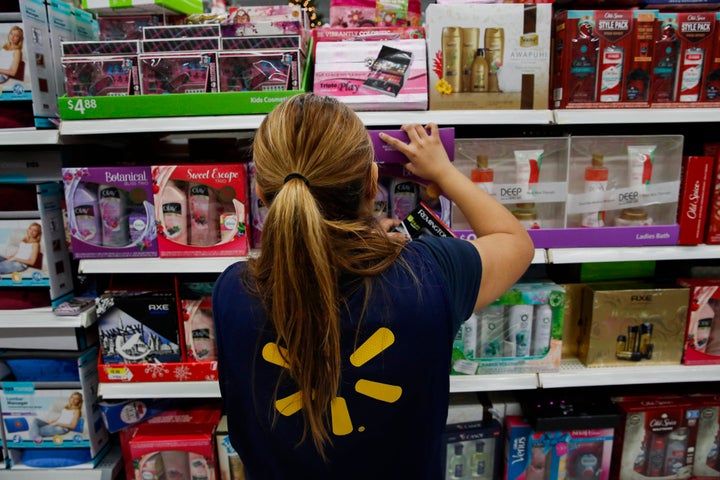 At a time when more and more companies are going out of their way to promote work-life balance, Walmart is punishing workers for having a life outside of work.
Hourly Walmart workers who miss their scheduled shifts because they're sick or having a family emergency risk getting fired under the company's punitive policy on sick leave. The policy is particularly harsh toward women, who most often care for children and family members outside of work.
Each time a worker misses a scheduled shift ― the schedule is worked out three weeks in advance ― they earn a "point." Accrue enough points and you're fired, or as company spokesman Blake Jackson puts it: "You're eligible for termination."
Jackson says that managers have discretion when deciding to hand out points, and if someone has a good excuse for missing a shift, they're not penalized.
But Walmart workers tell a vastly different story in a report released earlier this month from A Better Balance, a nonprofit legal advocacy group. The group surveyed about 1,000 of the company's employees. Eighty-five percent said Walmart regularly punishes people for taking time off because of a disability or serious illness.
The report claims that Walmart often acts unlawfully, penalizing workers who should be protected under various federal laws. Workers said their managers would often ignore notes from doctors ― not even reading them before issuing points.
Katie Orzehowski told HuffPost she missed a few shifts from her job at a Walmart in North Huntingdon, Pennsylvania, after she had a miscarriage last year ― and was docked six or seven points.
When she was back at work and discovered she was still bleeding, her boss said leaving work early would cost her a half point. Later that year, Orzehowski ― who makes $10.20 an hour ― came to work when she had the flu. "I'm thinking, 'Oh jeez, I can't afford to miss work,'" she said.
"It's clear that these are not isolated incidents, but a pattern of similar stories we heard time and again."
"We do not have any information that would support that Ms. Orzehowski advised us of a medical reason for her absences. If that were the case, she could have used those medical records to apply for a leave or accommodation," Walmart said in a statement.
According to the Better Balance report, Walmart has a policy of not retaining, or even looking at, doctor's notes from employees. Orzehowski said she brought in a note. "They'll turn down every excuse you have," she said.
"The stories in our report speak for themselves. And it's clear that these are not isolated incidents, but a pattern of similar stories we heard time and again," Elizabeth Gedmark, a senior staff attorney at A Better Balance, told HuffPost.
"We heard from hundreds of workers who have been punished for absences related to serious illnesses and disabilities. In particular, Walmart's routine failure to accept doctors' notes is a major focus of the report ― and exactly why they claim to not know about a worker's medical condition."
Walmart said it hasn't examined the survey in detail and notes that it cannot speak to the accuracy of the anonymous anecdotes in it.
It's important to consider that Walmart, the largest private employer in the U.S., is not punishing workers for taking paid sick time. Most of these workers simply don't get paid when they miss work ― though last year, the company did start allowing employees to earn paid time off (including vacation and sick time) if they work a certain number of hours.
The company says the point system is necessary to keep workers from calling at the last minute and leaving their colleagues short-handed.
Workers do need to miss work on occasion, and the company has "processes in place to assist them," spokesman Jackson told HuffPost, emphasizing that Walmart complies with federal laws.
"We have countless Walmart associates who successfully partnered with the company to authorize their absences from work," the company said in a statement. "We believe we have the right training measures in place to help communicate our attendance, disability and pregnancy policies to our associates."
"She was on her deathbed when I requested time off to be with her. My request was denied. Walmart said I would be fired if I took the time off. My mother died alone."
Yet even if the points system is administered with high discretion and within the bounds of the law, it still leaves workers in a terrible position.
Employees say the system effectively scares them from taking sick time and adds stress to already stressful situations. Women, who are often responsible for children at home, are in a particularly tight spot. You can't always plan in advance for when your child gets an ear infection or needs to be picked up early from school.
The stories in the Better Balance report are heartbreaking: One worker said her manager threatened that she'd earn points if she took time off to be with her mother, who was getting hospice care.
"She was on her deathbed when I requested time off to be with her," this worker says in the report. "My request was denied. Walmart said I would be fired if I took the time off. My mother died alone in early April 2017. Not being with her when she passed was devastating."
Other employees describe receiving points for taking time off to handle chronic conditions like asthma or emergency medical conditions like a heart attack. A mother got points for taking her son to the hospital when he had pneumonia.
"Giving a worker a disciplinary 'point' for being absent due to a disability or for taking care of themselves or a loved one with a serious medical condition is not only unfair," write the report's authors. "In many instances, it runs afoul of federal, state and local law."
A Better Balance, which has also filed a separate pregnancy discrimination lawsuit against Walmart on behalf of two employees, worked with the labor group OUR Walmart to conduct its survey via Facebook, targeting users who identified as Walmart employees.
Walmart's points policy likely wouldn't comply with state law in Massachusetts, which passed a paid sick leave law just a few years ago. Employers in the state cannot take action against workers for using paid sick leave, explains Amanda Baer, an associate at the law firm Mirick O'Connell in Westborough, Massachusetts, who works on labor and employment issues. (Walmart said that it always complies with local laws.)
The points system is especially tricky, Baer said. "You could have an employee who's one point away from being fired, but gets the flu," she said. "You don't want your sick employees coming to work and getting everyone else sick."
The policy also puts customers at risk: Who wants to get sick because you bought laundry detergent from a cashier with the flu?
The United States is the only developed country that does not mandate that employers provide paid sick leave or maternity leave. But there are a few federal laws that give workers protections when they need time off.
The Family and Medical Leave Act provides 12 weeks unpaid time off to employees at companies with 50 or more workers who have worked there for at least 1,250 hours. That time doesn't have to be taken all at once.
You can use FMLA time for a serious medical condition or to care for an immediate family member with a serious medical condition. Prenatal care and chemotherapy, for example, would both be covered under FMLA. If you're out for three days or more from work, that should be covered under FMLA, explains Emily Martin, general counsel and vice president for workplace justice at the National Women's Law Center.
The key protection the law offers? Job security. "You can't be retaliated against," Martin said. An employer can't threaten disciplinary action. And it's your boss' responsibility to recognize if you might qualify for FMLA, she added.
Yet Walmart told just 23 percent of workers with absences that likely qualified them for FMLA leave that they were eligible for it, according to the Better Balance survey.
The Americans with Disabilities Act also offers job protections for employees with disabilities who need reasonable amounts of time off. Other states and localities have laws in place that protect pregnant women from discrimination.
Last year, Roni Gumbert was fired from the same Walmart in Pennsylvania where Orzehowski works for taking too much time off.
Like most working parents, the 33-year-old needed to leave work to deal with a family issue: Her 1-year-old was getting chronic ear infections, and needed to be picked up early from day care or even taken to the hospital.
Meanwhile, Gumbert was also dealing with her 74-year-old father, who is suffering from Parkinson's disease and early onset dementia. He landed in the emergency room more than once for falling down the stairs at his apartment building. Gumbert's mother, who had been helping with child care, had died suddenly the year before.
Each time she called in or was late, Gumbert was penalized ― receiving a point for missing a full shift and a half point for leaving early or arriving late.
"I talked to the general manager and the store manager," Gumbert told HuffPost. "Nobody was willing to be understanding."
Gumbert, who worked for the company less than a year, said she earned eight points before losing her job.
According to Walmart, Gumbert's manager gave her 10 points for 20 "occurrences," the term for missed or late shifts.
The company wouldn't provide further detail on why certain shifts were exempted, citing privacy concerns.
Other companies are moving toward more understanding leave policies.
Earlier this year, Facebook expanded its leave policy to help workers who need time off to care for sick relatives or for bereavement. The company now gives all employees six weeks of family leave to care for ailing family members, plus three additional days to care for a family member with a short-term illness, like a child with the flu, and 20 days of bereavement leave ― twice as much as before.
"People should be able both to work and be there for their families," the company's chief operating officer, Sheryl Sandberg, said in a Facebook post announcing the new policy. "No one should face this trade-off."
Related
Popular in the Community