Workers at a Walmart-contracted warehouse in Southern California went on strike Wednesday to demand better conditions at their facility, according to Warehouse Workers United, a union-backed group representing the employees.
The walkout is apparently part of a broader strike expected to hit the Walmart supply chain in the run-up to the holiday shopping season, as workers and labor activists try to pressure the world's largest retailer into raising standards in both its stores and its contracted warehouses. Associates at Walmart stores have threatened to strike on Black Friday, potentially disrupting the megaretailer's plans for what is traditionally the biggest shopping day of the year.
The workers in Southern California are employed by a temporary labor agency called Warestaff, which contracts with a warehouse run by the logistics company NFI. Although none of the workers are employed directly by Walmart, the goods that pass through the NFI facility are destined for Walmart stores throughout the U.S.
Kathleen Hessert, a spokeswoman for NFI, disputed the scope of the strike. Hessert said the first shift of the day was only missing two workers, although Warehouse Workers United said two dozen workers from all shifts had joined them on a picket line and agreed not to work.
"[Warehouse Workers United] is distorting all the facts. This company is not what they're portraying them to be," Hessert said. "Workers are supposed to share with their supervisor any safety concerns they have whatsoever. If they're not happy with [the temp company], then there are lots of other means they can share their concerns."
David Garcia was among those protesting. He said he worked at the NFI facility for a year as a temp earning $8 an hour without benefits. Before being let go last month, Garcia was employed as a "lumper" -- someone who loads and unloads containers on the warehouse docks. He typically got around 30 hours per week, he said.
"I was promised a 90-day probation period when I started," Garcia told HuffPost. "It's been a year and they're not talking about me being hired [full-time], or getting any benefits, no raises, not even a promotion for me to start driving a forklift. I've got five kids and a wife to support and that's really impossible with $8 dollars an hour."
Warehouse Workers United, which represents many workers in the Inland Empire area of California, said the facility's workers initially planned to walk out on Thursday but moved their strike up a day.
"More workers were getting called off of work," said Guadalupe Palma, a spokeswoman for Warehouse Workers United. "It's clear workers are being silenced because they called off the most active workers, the ones who've been speaking out on the health and safety problems. A group of them ... were told not to come in."
Warestaff did not respond to requests for comment.
Dan Fogleman, a Walmart spokesman, said the company has taken workers' allegations at the NFI facility seriously, doing announced and unannounced visits to investigate.
"We have spent the last several weeks developing protocols to have independent auditors inspect each of the dedicated third-party run facilities we utilize. We expect to begin these audits in a matter of days," Fogleman said. "We hold our service providers to high standards and remain committed to ensuring workers throughout our supply chain are treated with dignity and respect."
Warehouse workers at Walmart facilities in Southern California and the Joliet area of Illinois initially went on strike in September, complaining of faulty equipment, unsafe working conditions and low pay. Both regions are major shipping hubs for U.S. retailers bringing product into their stores. Although the warehouses do hold some good jobs, much of the work is done by low-paid temp employees who work on "piece rate" and don't have benefits like health coverage or sick days.
As HuffPost reported last year, the complicated contracting arrangements at many such warehouses lead to a lot of finger-pointing when it comes to workers' welfare. Injury and employee turnover rates are high, and many workers complain that they can't survive on the low pay and unreliable scheduling.
Garcia took part in the original strike at the warehouse in September.
"It's just basic things we're asking for," he said. "Working equipment, and dignity. We break our backs every day. With no health benefits, someone gets hurt here they're basically disposed of."
Correction: This story originally described David Garcia as a current employee of Warestaff. He was let go in October. This post has also been updated with Hessert's comments.
Are you a worker involved in a Walmart strike? We'd like to hear from you. Email openreporting@huffingtonpost.com.
Related
Before You Go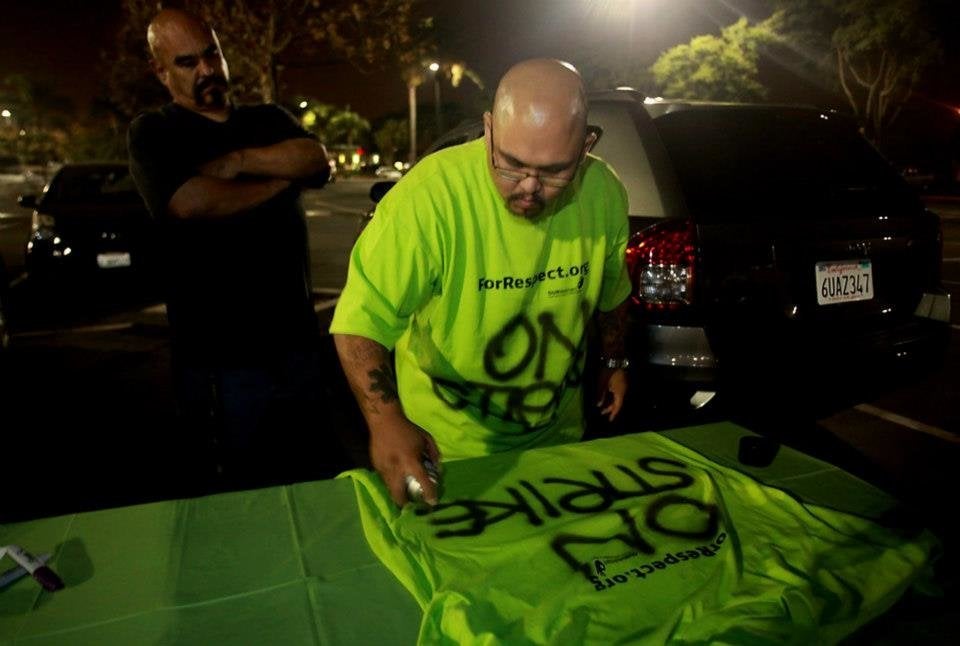 First-Ever Walmart Strike, Oct. 2012, LA
Popular in the Community