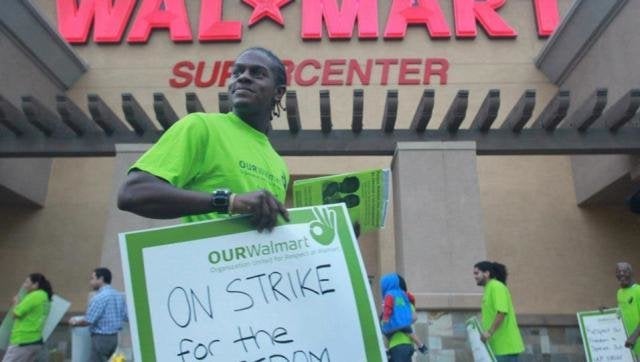 For the first time in Walmart's 50-year history, workers at multiple stores have gone on strike, even though their jobs are not protected by a labor union.
More than 70 Los Angeles Walmart workers from nine stores walked off the job Thursday, workers and labor organizers told The Huffington Post.
About 250 workers and supporters protested outside the Pico Rivera Walmart store, carrying signs that read, "On Strike for the Freedom to Speak Out" and "Walmart Strike Against Retaliation." The workers said their complaints about working conditions and low pay have been met with threats, suspensions and terminations.
The strikers said they plan to return to work Friday. Some of the workers will speak at LA City Hall Friday to relay Walmart's response to the strike. The strike was coordinated by OUR Walmart, a labor group backed by the United Food and Commercial Workers (UFCW) that defends Walmart workers' rights.
Walmart spokesman Dan Fogleman told HuffPost that the protest was insignificant and claimed that less than five workers walked off the job. "This rally is just the latest publicity stunt by the UFCW to seek media attention in order to further their political agenda and financial objectives," he said. "Our stores in the community are staffed up and open for business as usual today. This event is not a factor," he added.
Walmart workers have recently filed more than 20 charges of unfair labor practices across the country with the National Labor Relation Board, according to Dan Schlademan, director of Making Change at Walmart, the campaign behind OUR Walmart. The charges, mostly filed in recent weeks, allege that workers have either been fired or had their hours reduced after activity with OUR Walmart. Workers also allege that they have been told not to talk to OUR Walmart organizers and that doing so could shut down stores, leaving employees without a job, Schlademan told HuffPost.
One of the charges was filed on behalf of Monique Velasquez, a Pico Rivera Walmart employee who participated in the strike Thursday. Velasquez told HuffPost that after becoming active with OUR Walmart, her hours were cut from 30 hours a week to eight. "I'm striking because I was retaliated against for speaking out," she said. Valesquez, a single mother of five children, said that with eight hours worth of pay, she "can't even pay one bill. It's very, very hard." She said that about 30 of her coworkers scheduled to work Thursday at the Pico Rivera store walked off the job with her.
"Anyone who goes against management, you're pretty much putting a target on your back. They intimidate you by cutting hours or picking on you in any way they can," Valesquez said.
On the same day as the strike, about 80 foreign Walmart workers gathered in downtown LA to launch the UNI Walmart Global Union Alliance, Schlademan said. While Walmart in the U.S. remains free of labor unions, the retailer's workers elsewhere in the world are largely unionized.
Foreign Walmart workers met with LA workers to discuss how to effectively organize and advocate for better working conditions (see photos below). The unionized foreign workers were from Latin America, Africa, the U.K. and Canada.
The global alliance and strike come after a series of actions taken against Walmart. In June, thousands of Angelenos marched in what was touted as the largest anti-Walmart protest in history. Subsequently, hundreds of people participated in anti-Walmart marches in Ellewood, Ill., Dallas, San Diego and elsewhere.
Earlier this month, about 30 Southern California warehouse workers who load goods for delivery to Walmart went on an unprecedented 15-day strike. Kicking off the strike, they staged a six-day, 50-mile march, or "pilgrimage," to draw attention to the poor working conditions that they say they can no longer tolerate.
"There is something really happening here. What we're seeing is that people are learning that they can stand up," Schlademan said. "This isn't the end of something. It's just the beginning," he said.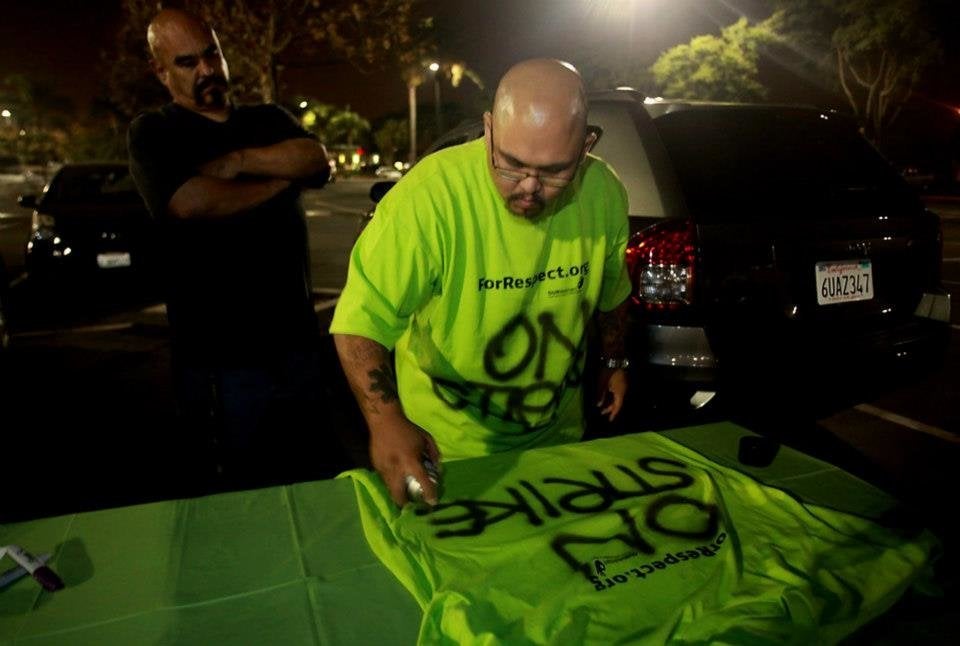 First-Ever Walmart Strike, Oct. 2012, LA
Related
Popular in the Community