The wave of organized Walmart strikes that hit 12 states last week has now inspired more of the company's employees to take up the cause.
On Sunday evening, a band of renegade Walmart employees in Sapulpa, Okla., left work to protest without the aid of national labor groups. Stirred by what they saw on the news, Jeffrey Landry, David Gibbs and Nathan Beck stood outside in the vast parking lot of their Supercenter with homemade signs, beckoning cars to honk.
Unlike last week's strikers, who were nearly all members of the union-backed worker organization OUR Walmart, the Oklahomans had no outside assistance putting together their action.
"I saw what was happening at stores in Dallas and around the country, and I did my research," said Landry, 34, whose homemade sign protested workers' hours being cut. Landry said Walmart slashed his hours a month ago after he involved a regional HR manager in a workplace dispute over department placement.
"They're trying to prove they're in charge by silencing me," said Landry, a father of three who earns $8.65 an hour and has worked at Walmart for two and a half years.
The tiny group of protesters, who also made an appearance outside the store on Monday, originally planned to include 10 employees in their action. At the last minute, seven of the potential protesters backed out, Landry said. "A lot of workers came to the door and watched us, shaking their heads and saying, 'I don't want to lose my job,'" he said.
Have you worked at Walmart? The Huffington Post wants to know about your experience. Email us. Information will remain confidential.
A total of 88 people remains a drop of water in an ocean of workers for Walmart, which is the largest private employer in America with 1.4 million employees. Walmart has claimed that the strikers do not represent the average worker, or "associate." The company cites improved employee satisfaction scores over the past several years and a turnover rate of 37.26 percent -- lower than the retail industry's average of 43.6 percent -- as clear indications of its employee experience.
"We've seen the unions hold these made-for-TV events outside our stores for about 10 years now," Walmart spokesman Dan Fogleman told The Huffington Post last week, "and they want the publicity to help further their political and financial agendas."
Asked via email on Wednesday what he thought of new, independent workers joining the strikes, Fogleman replied, "This doesn't change anything."
Strikers say the reason organized actions against Walmart have been so rare -- as well as why the current strikes remain so small -- is that Walmart intimidates employees who try to organize. According to Beck and Landry, Walmart managers held a meeting on Saturday in Sapulpa to discourage associates from striking.
"The meeting changed the whole atmosphere of the store," said Landry, who wasn't working on Saturday but heard about the meeting through colleagues. "Clearly it intimidated [people]."
Walmart declined to comment on the meeting. In an internal memo obtained by The Huffington Post last week, the company instructed its managers not to "discipline" striking employees but encouraged management to share relevant "fact[s], opinion[s] or experience[s]" about labor organizing, such as saying, "I don't think a walkout is a good way to resolve problems or issues."
The memo also outlined workers' legal right to concerted activity, or non-union labor organizing. Landry found a copy of the document on The Huffington Post while planning the walkout and printed out copies to show his managers in case they did threaten to discipline him.
So far, Landry has yet to encounter problems with management, he said. Upon returning to work Tuesday evening, he found he had been scheduled for a regular number of hours. "They're covering their butts," he said.
Beck, on the other hand, was called in to meet with managers Tuesday night. "They said they couldn't guarantee my job would be protected," he said.
"I'm not scared," said Beck, 20, who hopes his actions will compel more people across the country to join the strikes. "Something big is going to happen. There are a lot of associates on the inside supporting us."
Christina Wilkie contributed reporting.
Support HuffPost
The Stakes Have Never Been Higher
Related
Before You Go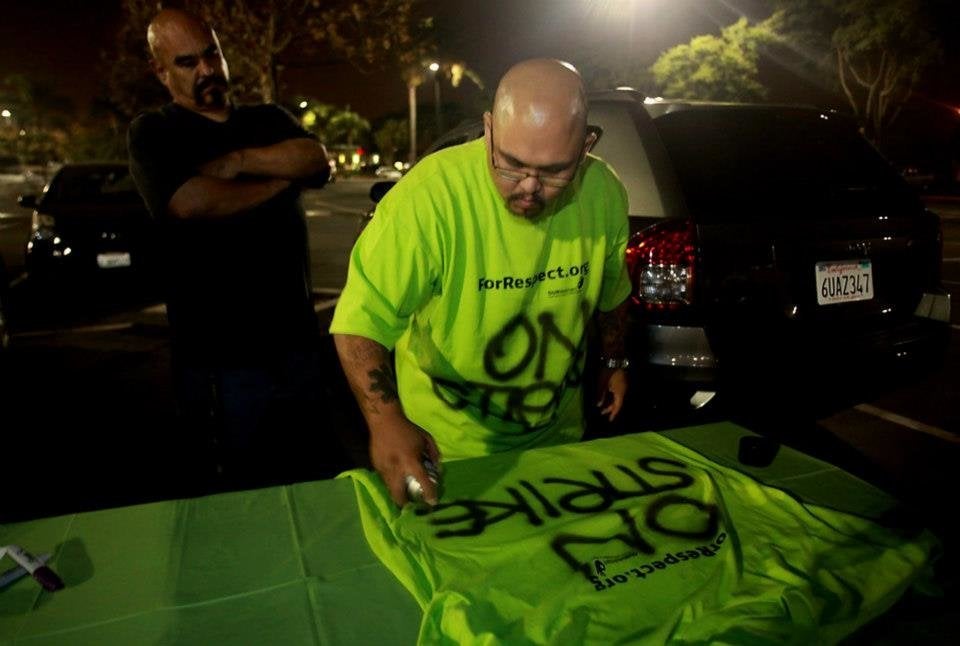 First-Ever Walmart Strike, Oct. 2012, LA
Popular in the Community