Walmart is accusing two labor organizations of "disorderly conduct" during a protest at a Los Angeles-area Walmart last year that helped set off a chain of demonstrations nationwide against the retail giant.
In a lawsuit filed last week, the retailer claims that the United Food and Commercial Workers International Union and the Organization United for Respect at Walmart participated in disruptive labor activities in its California stores, even though Walmart asked the groups to cease and desist their activities. The retailer accused the labor organizers of trespassing, confronting store managers, setting balloons free inside the store and blocking customer traffic, among other claims.
Walmart claims that store personnel had to call police on multiple occasions to remove protesters from the stores, but that police often arrive after the alleged disruptions have already taken place. The retail giant hence filed the lawsuit in hopes the court will take legal action to stop the protests.
"Their unlawful actions are disrespectful to both our associates and our customers, and they have to stop," Walmart spokesman Dan Fogleman told The Huffington Post.
The California lawsuit isn't Walmart's first attempt to use the courts to fight demonstrations. Walmart filed a similar lawsuit in Florida against the UFCW and OURWalmart earlier this year. In that case, the retailer accused the protesters of breaking state law by coordinating statewide acts of trespass in Florida stores, according to Reuters. Walmart asked for a legal ruling to stop future trespassing.
Venanzi Luna, a member of OURWalmart, wrote in an email statement to The Huffington Post that though the organization has yet to see the lawsuit, "it sounds like another attempt by Walmart to try to silence our concerns."
"Walmart has also tried this same over-the-top legal maneuver in Florida and Washington. And why? All because we are speaking out for better jobs, better hours and a better Walmart, and neither a lawsuit nor other illegal threats the company is making will stop us from speaking out," Luna wrote.
The new lawsuit cites several incidents, including a protest in October that demonstrators claimed was the first strike in Walmart's history. The demonstration sparked other protests later that month in 12 states, according to The New York Times. Walmart claimed in the lawsuit that during the October demonstration at the L.A.-area store, protesters marched through the retailer carrying banners and flats.
According to a NYT account of the protest, several dozen workers walked out of the California stores in protest of alleged retaliation against workers who spoke out about poor working conditions. Many of the workers also said they were also demonstrating against short hours and low wages.
While Walmart's workers aren't unionized, OURWalmart, an organization composed of current and former Walmart workers that is not technically a union, has been organizing the retailers' staffers in recent months with the help of the UFCW.
UPDATE: This post has been updated to include a statement from OURWalmart.
Before You Go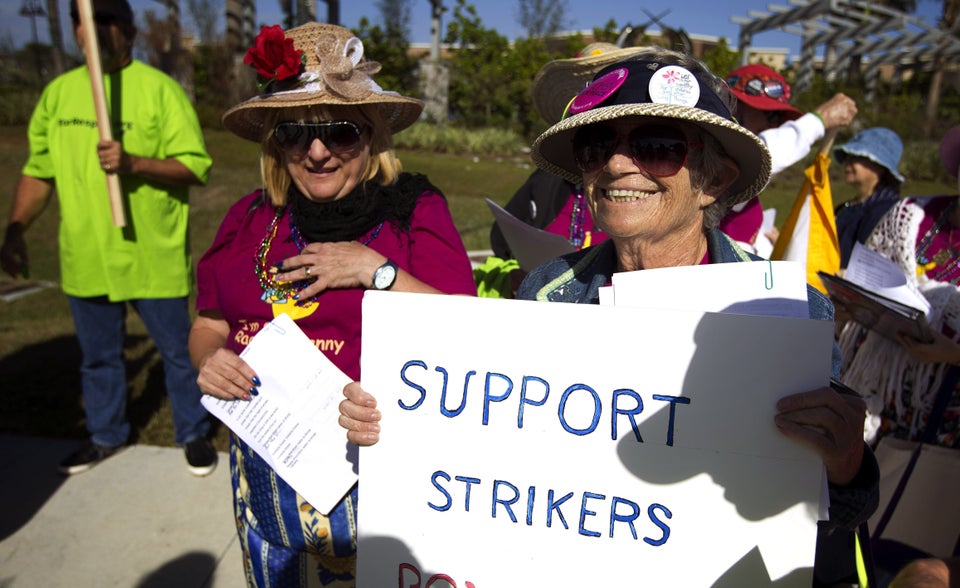 Walmart's 'Black Friday' Protests
Popular in the Community