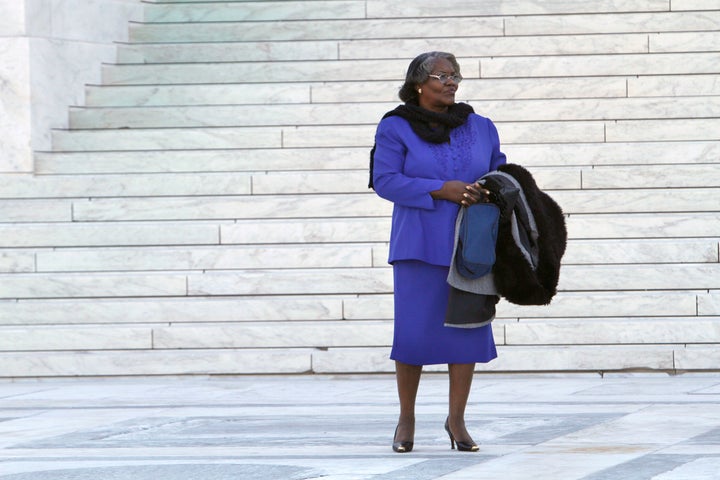 Walmart Stores, the world's largest retailer, went before the Supreme Court on Tuesday to argue that the court should halt a class action anti-discrimination lawsuit brought by female employees that could cost the retailer billions. In the works for the last 10 years, the suit could be the largest class action civil rights case in U.S. history.
Beginning in 2001, more than 100 female employees accused Walmart, which pulled in $14.1 billion in profits last year despite lagging U.S. sales, of paying its female employees less than men in equivalent positions and favoring men in promotions at 3,400 U.S. stores since late 1998. Walmart has denied any wrongdoing and emphasizes that its corporate policy forbids discrimination, encourages diversity and ensures fair treatment.
A Walmart win would be a terrible blow to civil rights, legal experts say, compromising the mechanism that allows employees to unveil and protect themselves against workplace discrimination.
"Some employers have made the economic calculus that they'll never be held accountable for discrimination, if it exists, and they might as well continue the status quo until someone holds them accountable for it," said Marcia Greenberger, co-president of the National Women's Law Center. "I think a victory [against] Walmart would change that."
The legal question the Supreme Court is considering is not whether the world's largest retailer discriminated, but instead a technical question: Are the statistics sufficient such that these women who began the lawsuit a decade ago should be able to represent a huge nationwide class of current and former employees in a class action suit? Walmart will argue before the court that the female employees at different stores don't have enough in common to be a single class action lawsuit.
But class action suits like the one against Walmart have been an important way to enforce anti-discrimination laws, experts say, because they allow employees to group together to share the costs of litigation and information about the case, and to apply more pressure to employers than an individual could on his or her own.
"If this class action mechanism is undermined, I fear that it could mean massive amounts of discrimination that would remain undiscovered and un-remedied," Greenberger said. "And that means that the budgets of American families all across the country would be cheated of the hard earned wages that those family members actually deserved. These are hardly the times for employees and their families to be discriminated against in pay and to be shortchanged."
More than 20 U.S. companies -- including General Electric, Microsoft and Bank of America -- have filed court papers supporting Walmart's position. The U.S. Chamber of Commerce also filed a letter of support, arguing that if Walmart loses, the "West Coast will become a haven for bet-the-business class actions."
The case, Dukes v. Wal-mart (the company changed the spelling of its name in 2008), is named after Betty Dukes, a Walmart cashier in Pittsburg, Calif., who originally sued the company in 2001, claiming that she was denied opportunities to advance despite good performance reviews. Ten years later, the case now involves sworn testimony from more than 100 female employees.
Christine Kwapno, who had worked at the Walmart-owned Sam's Club for 25 years, testified that she was advised by a male manager to "blow the cobwebs off my makeup and to doll up" if she wanted to advance at the company. A website devoted to the case provides the full testimonies of all women involved in the suit.

The Supreme Court has been historically more likely to side with businesses and against class actions.
Popular in the Community