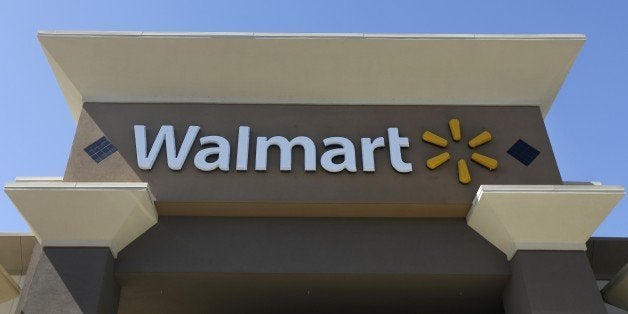 This tax season, Walmart is luring shoppers into stores with cash -- their own cash.
The retail giant is offering people the chance to pick up their state and federal tax refunds in cash at its stores across the country, it announced on Tuesday.
The program, called Direct2Cash, is the first of its kind at any retailer, according to Walmart. In order to use it, customers must get their taxes done by a participating tax preparer, including some in Walmart stores.
Typically, tax filers get their refunds either through a check or a direct deposit to their bank account. But those options create problems for the so-called "unbanked" -- the 10 million U.S. households that don't use banks.
"Leveraging our size and scale to take on big challenges and create better ways to serve our customers is something we're always working on," Daniel Eckert, senior vice president of services for Walmart U.S., said on a conference call with reporters announcing the program.
The service won't necessarily be free: Though Walmart will charge nothing for it, participating tax preparers can charge up to $7 for helping with Direct2Cash, Walmart said. And tax preparers often charge a fee for preparing and filing returns. Right now, the Walmart cash option isn't available to e-filers or people who file themselves.
Still, it will be cheaper than many other options. Unbanked Americans, who are likely to be low-income, often rely on expensive check-cashing services or borrow against expected refunds at "usurious" rates, according to Mehrsa Baradaran, a professor at the University of Georgia School of Law.
"Walmart is definitely doing more for the unbanked than the government at this point," said Baradaran -- adding that, ideally, a government entity not motivated purely by profit, such as the Post Office, would offer this service.
It fits with the retailer's mission to be a one-stop shop for basically everything. Shoppers can already cash checks, get their taxes prepared, see a health-care professional or get their hair done inside Walmart stores.
By offering the unbanked a cheap way to get their refunds in cash, Walmart can lure these people into its stores, where they might want to spend that cash.
Walmart could use the traffic. Until its most recent quarterly earnings report, Walmart U.S. had gone nearly two years without an increase in sales at stores open at least a year, an important retail metric.
Tax-refund time is typically a good one for Walmart and other retailers who cater to low-income customers, because shoppers often use the extra income to make big purchases they may have been putting off. Walmart executives blamed a less-than-stellar first quarter in 2014 partly on delayed and reduced tax refunds.
"It's always a good thing, we believe, to have customers in our stores that have a jingle in their purses and in their wallets," Eckert said. "That's something we like to see."

Popular in the Community