Walmart is kicking off Black Friday 6 p.m. on Thanksgiving Day -- two hours earlier than last year, the company announced Tuesday.
The retailer joins 9 others, including Target, Kmart and Best Buy, in opening its doors and starting Black Friday deals on Thanksgiving. It continues a recent industry trend of moving Black Friday earlier and earlier -- ultimately to Thanksgiving Day. Chains are looking squeeze more out of the hugely profitable holiday shopping season, especially this year, when calendar quirks have made it six days shorter.
"Black Friday is our Super Bowl of retail, and it's very important to us," Duncan Mac Naughton, the company's U.S. chief merchandising and marketing officer, told reporters on a conference call Monday. "Almost everybody to date has moved up, at least one hour, if not more. We thought 6 o'clock was the exact right time to win the weekend."
Shoppers who show up at Walmart shortly after their Thanksgiving dinner (between 6 and 7 p.m.) will get the chance to score deals on Black Friday favorites like electronics and toys that are guaranteed to arrive at their local stores in time for Christmas. Starting at 8 p.m. on Thursday, the retailer will offer another round of discounts on favorite items, in addition to deals throughout the store on Thanksgiving and Black Friday.
Mac Naughton said on the call that Walmart decided to push up the Black Friday due to shopper demand. But reactions to previous announcements of this sort have brought a backlash from customers and workers.
After Kmart announced earlier this month that it would be staying open for 41 hours straight, starting at 6 a.m. Thanksgiving Day, customers blasted the company on its Facebook page. Kmart workers complained to The Huffington Post about the stresses of staffing Thanksgiving Day.
Most Walmarts are typically open on Thanksgiving Day, but the company only started kicking off the Black Friday frenzy on the holiday in recent years.
This year, the more than 1 million Walmart workers staffing the holiday are "really excited to work that day," Mac Naughton said on the call. Walmart employees who work Thanksgiving will get paid extra for their services and get a 25 percent discount on any one transaction Dec. 5 and 6.
They'll also get "a nice Thanksgiving dinner at work," Mac Naughton said. "We appreciate each of our associates and the time that they dedicate."
Walmart workers may end up getting attention for more than their work during the holiday. Last year, protesters showed up at more than 100 stores in 46 cities on Thanksgiving and Black Friday, demanding higher wages and better working conditions for employees.
Organizers are likely planning similar actions this year. They kicked off a series of protests leading up to the holiday season with strikes at Los Angeles-area Walmarts last week. The protests were the largest display of civil disobedience in Walmart history and resulted in more than 50 arrests.
CORRECTION: An earlier version of the story and headline incorrectly implied Walmart isn't typically open on Thanksgiving. Most Walmart stores are open on the Thanksgiving, but the retailer only decided to start offering Black Friday deals on the holiday in recent years.
Related
Before You Go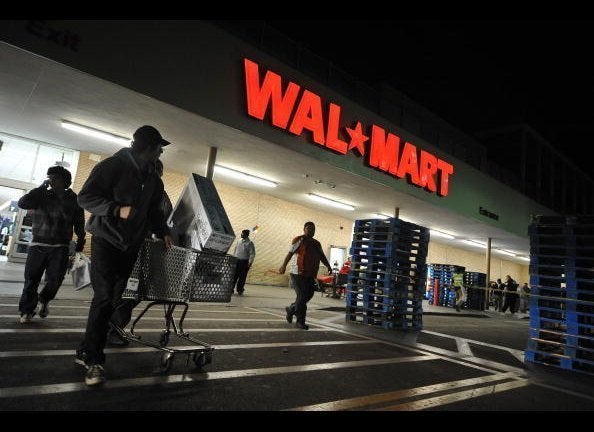 Thanksgiving 2013 Store Hours
Popular in the Community