 More than 1 million people will be spending part of Thanksgiving Day at Walmart -- and they won't be looking for deals.
The company estimates that more than 1 million associates will staff Walmarts around the country during Thanksgiving, according to an email sent to reporters Wednesday. That's about 71 percent of the 1.4 million people the retailer employs in the U.S. overall.
The so-called "Black Friday creep" is nothing new, but the stakes are higher this year as retailers look to squeeze profits out of a holiday season that's six days shorter than usual. Stores make anywhere between 20 and 40 percent of their annual sales during the holiday shopping season, according to the National Retail Federation.
Shortly after the stores announced their Black Friday plans, shoppers and workers took to Facebook and online petitions, slamming the retailers for injecting consumerism into a holiday typically reserved for family. They also criticized the companies for forcing workers to show up on Thanksgiving.
Like other retailers, Walmart is offering its associates who work Thanksgiving special compensation. They'll get extra pay that the company says is equal to an additional day's work, a 25 percent discount on purchases they make during a designated period in early December and a Thanksgiving dinner at Walmart.
HuffPost Readers: Will you be working retail on Thanksgiving Day? Email us here to share your story. Tell us where you work, what you'll be doing that day, and how you feel about working on Thanksgiving. Let us know if you want to remain anonymous.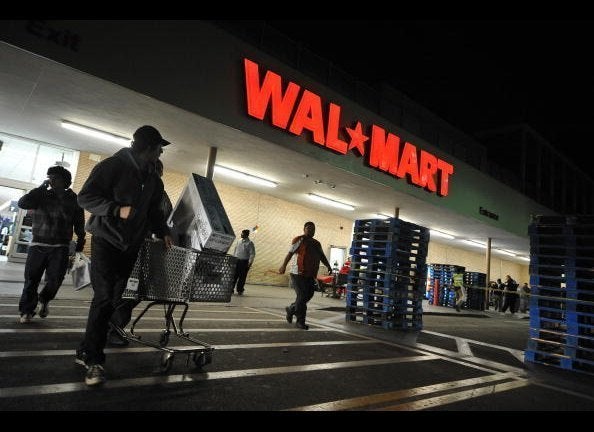 Thanksgiving 2013 Store Hours
Popular in the Community