Just over a decade ago, EDF and Walmart launched a groundbreaking partnership -- one that's delivering powerful results and helping to scale sustainability across the retail supply chain.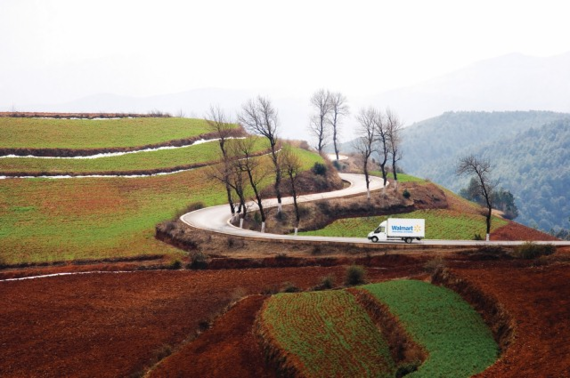 About 20 years ago, I got on a plane to Bentonville, Arkansas, home of Walmart. Buoyed by the success of EDF's pioneering partnership with McDonald's, which did away with the company's polystyrene packaging and reduced waste by 300 million pounds in the first decade, and by our continued success with other leading brands, I hoped that the world's largest retailer might become our next big corporate partner.
Big companies can leverage big changes.
But the visit flopped. The leaders I spoke with at the time wanted to focus on their core business, so we didn't get the partnership going for another 10 years. By 2005, however, a new generation of Walmart leaders had become convinced that sustainability should be a core business principle, right alongside low prices and great customer service. EDF helped awaken Walmart to the possibilities.
I invited Lee Scott, Walmart's CEO at the time, to join me on a climate study tour. It began in New Hampshire, with a trip to the summit of Mount Washington. For decades, scientists there had braved minus-50-degree temperatures to chip ice off gauges hourly to get good readings, 24/7, even in gale force winds and ferocious storms. As we ascended the mountain, the temperature dropped 50 degrees. At the top, safely indoors, we had a simple supper with the observatory's scientists and talked about how Walmart could become a force for environmental progress. I wasn't sure what Lee would decide, but out of that evening came his welcome commitment to lead on these issues.
Though it had taken some time to begin working with Walmart, we soon learned that the company generally moves quickly. To get things done, we had to be in the room. So we opened up our own office in Bentonville, which remains an effective base of operations to this day.
In the early days of the partnership, we were eager to demonstrate that big goals could drive big innovation, and big results. This was too rare a convergence of market power and environmental opportunity to approach timidly.
Walmart, to its credit, stepped up and set ambitious goals: to power its operations with 100 percent renewable energy, to create zero waste and to sell products that sustain people and the environment. EDF also convinced the company to publicly embrace an initial climate goal: to reduce 20 million metric tons of greenhouse gas emissions from its global supply chain by 2015.
True to EDF form, we stuck around after the public commitments. And we've been on the ground with Walmart for the past ten years, driving results through an extensive process of trial and error. We started out by looking at Walmart's retail operations, but soon recognized that the biggest opportunities were to be found in its vast network of suppliers.
Supply chain accounts for 90 percent of the company's total greenhouse gas impact. EDF helped the company realize that by taking simple steps, such as encouraging suppliers to make efficient use of raw materials, it could drive change on a grand scale. One example: optimizing fertilizer use on farms that grow the corn used in so many Walmart products. This idea proved to be contagious. Six major brands, including Coca-Cola, Smithfield Foods and Cargill have now committed to optimize fertilizer use on 20 million acres of U.S. farmland by 2020.
Walmart's purchasing and convening power creates a ripple effect across the retail sector. Three years ago, EDF helped Walmart create a first-of-its-kind chemicals policy that led to the phasing-out of ten chemicals of concern in over 10,000 home and personal care products sold by Walmart. The phase-out soon expanded to major manufacturers like Johnson & Johnson and Colgate-Palmolive, and even led to a collaboration with Target to encourage industry-wide adoption of safer products. This private sector leadership was critical in driving support for the strong chemical-safety reform legislation that recently passed the U.S. Senate and could reach the President's desk this year. Our work with Walmart is still gaining momentum. While we surpassed by 30 percent our goal of reducing 20 MMT of GHG from Walmart's supply chain, we see the potential for much greater reductions. And the partnership is just beginning to go global: from improving energy efficiency in supplier factories in China through our Climate Corps program, which trains graduate students to help companies mange energy use, to sustainably sourcing commodities from deforestation free zones.
Walmart is no stranger to controversy, and EDF's decision to enter into this long-term partnership has not gone unchallenged. But the scale and purchasing power of Walmart couldn't be ignored 10 years ago, and it can't be denied today. By working with Walmart we are driving a level of environmental progress that has surpassed our original expectations.
I am proud of the persistence and ambition that both EDF and Walmart have displayed over the past ten years, and I look forward to the even more ambitious goals that Walmart will set for the next ten. If history is any guide, the decade ahead will prove transformative.
This article originally appeared on the EDF Business blog and is reprinted with permission.

Related