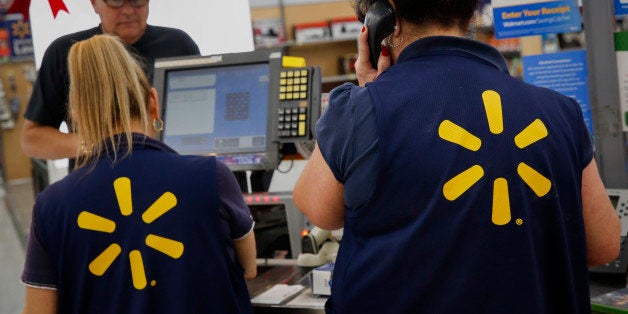 (Reuters) - An administrative law judge found Walmart threatened employees trying to organize workers at two stores in California, in a victory for workers' rights groups challenging labor practices at the retail giant.
The ruling issued on Tuesday stems from complaints raised by workers at Walmart stores in Placerville and Richmond, California, arguing they were unfairly disciplined for trying to organize employees.
Geoffrey Carter, National Labor Relations Board Administrative law judge in Washington, D.C., told the company to stop applying pressure on employees to discourage work stoppages, adding the Richmond, California, Walmart managers told workers they would"shoot the union" and said that employees returning from a strike "would be looking for new jobs."
The judge also ordered the company to change its dress code for California employees that restricted employees' ability to wear union shirts.
Walmart, based in Bentonville, Arkansas, could appeal Carter's decision, but company spokesman Kory Lundberg would only say that Walmart was still evaluating its next steps.
"We do not agree with some of the administrative law judge's conclusions," Lundberg said.
The decision is a victory for the campaign by OUR Walmart, or Organization United for Respect at Walmart, which has been fighting for better pay and health benefits for workers at the company's more than 4,000 stores in the United States.
While OUR Walmart is not a union that represents workers for collective bargaining, it has received extensive advice and support from the United Food and Commercial Workers union, according to Carter's opinion.
Complaints about labor practices at stores around the country have been consolidated into a nationwide complaint that is ongoing.
Carter's ruling - focused only on the two California stores - is the first opinion to be issued by a NLRB judge over labor concerns at the retailer since OUR Walmart started organizing in 2010, said John Logan, an employment expert at San Francisco State University.
Carter said the dress code enforced at the California stores prohibited workers from wearing most logos except for Walmart logos and clothing manufacturer logos, which barred workers wanting to wear clothing that expressed their cause.
"I find that Walmart's July 2010 dress code is facially unlawful because it is overbroad and unduly infringes on the rights of associates to wear union insignia," Carter wrote.
In its briefs on the case, Walmart said the logo restrictions were needed to maintain the company's public image. (Additional reporting by Nathan Layne; Editing by Ken Wills)

Related
Popular in the Community