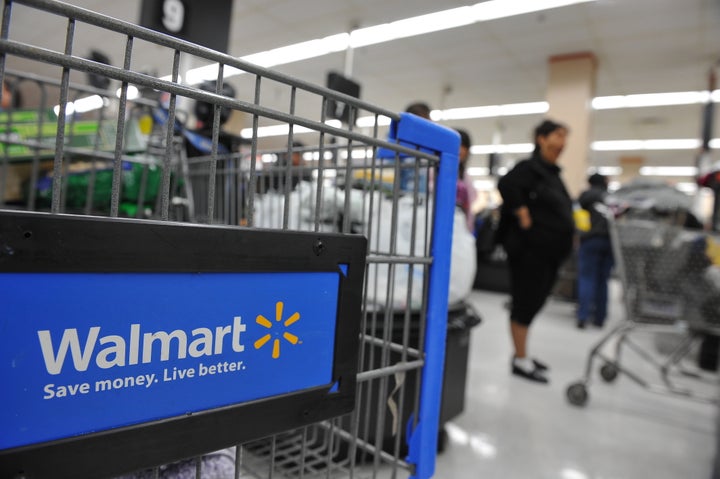 WASHINGTON -- Investigators in California have discovered numerous labor law violations at a massive warehouse handling Walmart goods, according to state officials.
At the warehouse in Riverside County, Calif., operated by Walmart contractor Schneider Logistics, inspectors with the state labor department found that two of the temporary staffing agencies who supply manual labor have not been keeping track of how much money workers are owed.
One firm, Impact Logistics, Inc., was issued a $499,000 fine for not providing itemized wage statements to the workers who unload and load products at the facility. The company was also issued a warning for failing to maintain time records, and another staffing agency, Premier Warehousing Ventures, was issued a similar warning. There are around 200 workers at the warehouse.
A spokesman for Impact Logistics said in a statement that the company is cooperating with the investigation. "It is our utmost goal to be one hundred percent complaint with the state's laws concerning wage requirements for employees, and we consider our people to be our company's greatest asset."
Jim Pittman, chief operating officer of Premier, said the company plans on proving that it was actually in full compliance with the law. "My employees mean the world to me," Pittman said. "It is our intent to abide by all of the labor laws whether it be in California or the other states we work in."
None of the workers in the warehouse are employed directly by Walmart, but labor department officials said the products inside were bound for Walmart stores. Dan Fogleman, a Walmart spokesman, said the company has reached out to Schneider to assess the situation.
"This facility is run by a third party, and this is an issue involving some of their subcontractors," Fogleman said. "Although we're not involved in this matter, the contracts we have in place with third parties require that they follow the law, and that's something we fully expect."
State Labor Commissioner Julie A. Su told HuffPost that many workers were not given proper pay stubs, and it appears that some may not have been paid for all the time they worked. Although many workers have already been interviewed on-site and off, she said the agency will be carrying out a fuller investigation in the coming weeks.
Su added that the layers of subcontracting in warehouse work can make it difficult to enforce labor law.
"Certainly that's one of the challenges," she said. "Warehouses are one example of the ever-increasing contracting out of labor. It's difficult for enforcement, and in many instances it's a deliberate effort to avoid compliance."
Wage and safety complaints are not uncommon in American warehouses. The Morning Call recently chronicled the sweatshop-like conditions for workers toiling in an Amazon distribution center in Pennsylvania. Workers there said the supervisors refused to open bay doors citing the possibility of employee theft, and the warehouse grew so hot on some days that ambulances waited outside at the ready to treat workers for heat exhaustion.
Schneider, the Walmart contractor, was not cited in the California inspection, since the workers are employed directly by the labor staffing agencies and not by the warehouse company.
A Schneider spokeswoman told HuffPost in a statement that the company has cooperated with the investigation: "We expect the agencies we work with to comply with all California and federal labor laws. We believe that we are in full compliance with applicable laws and regulations. We expect our vendors to fulfill their responsibilities as well."
The Riverside facility is one in a massive network of warehouses in California's Inland Empire region. Many of the facilities receive clothing, electronics and other dry goods coming from China that are bound for retail stores throughout the United States. Some of the country's biggest retailers use warehouses in the area, but workers in the warehouses are often employed through layers of subcontracting, blurring the lines of accountability.
Sheheryar Kaoosji, research and policy director at the worker advocacy group Warehouse Workers United, told HuffPost that the allegations against the temp companies operating in the Riverside facility are common in Inland Empire warehouses. He said the mostly Latino workers are often hired on a temporary basis and end up earning around the minimum wage.
Temp workers are more vulnerable to alleged abuses than direct hires, he said, and many of them are paid according to a confusing piece-rate schedule.
"Workers don't know how much they're being paid -- they're not showed on their paychecks," Kaoosji said. "Five or six years ago, there was a higher percentage of direct hires. That's been slowly eroding. Every year there are more people employed through the agency."
In addition to the Riverside facility, Schneider Logistics operates an extensive Walmart distribution center outside Chicago, Ill. Earlier this year, workers at that facility filed a class-action lawsuit against Schneider accusing the company of violating labor laws.
At the time, Robert Hines, who has worked on a temporary basis in Chicago-area warehouses for years, told HuffPost that he wasn't compensated for what was often grueling work in the Schneider-operated facility.
"I noticed after a couple of weeks that my checks didn't match my hours," said Hines, who claims he was shorted on overtime as well. "People are breaking their backs, trying to feed their families and be right."
Citing the California case, Su said that without proper pay stubs it can be impossible for a worker to know whether or not he's been paid appropriately.
"In this industry and others like it, this example makes it very clear that the failure to provide a wage statement is part and parcel of an effort to exploit workers," she said.
Related
Popular in the Community