In Southern California, warehouse workers who load goods for delivery to Walmart have reached a boiling point. For the first time in their history, they have walked off the job, even though their jobs are not protected by a union.
And they're still walking. The Inland Empire group began on Thursday a six-day, 50-mile march, which they are calling a "pilgrimage," to draw attention to the poor working conditions that they say they can no longer tolerate.
About 30 workers walked out of the large warehouse where they were employed in Mira Loma, Calif., and about half of them have committed to marching the full six days, Elizabeth Brennan, a spokeswoman for Warehouse Workers United, told The Huffington Post. Joining them on the march are workers from other Southern California warehouses who either have days off or have been injured on the job.
About 50 workers each day are marching the route taken by the trucks that carry the goods they load -- from Riverside, Calif., to Downtown Los Angeles. Sleeping each night along the way on church floors and relying on supporters for meals (see photos below), the marchers will deliver a letter outlining the alleged abuses they have suffered.
Addressed to Walmart executives, the letter says that workers are forced to work in 120 degree heat without a fan, that the heat and pollutants make the workers vomit and get bloody noses, and that workers are made to work without clean water or regular breaks and with faulty, dangerous equipment.
David Garcia, who worked at the warehouse in Mira Loma for about a year, told HuffPost that the decision to walk off the job for the pilgrimage was not an easy one. "It's risky because I have a family, five kids and a house that I can't afford to lose," he said. "But it got to the point where there wasn't an option anymore. We're fighting for basic human rights."
Garcia and other workers say they are also given inhumane work quotas. Garcia was recently off the job for six weeks after being hit by a forklift, which he said he warned supervisors was a likely scenario given the speed at which they are pressured to work.
Another worker, Marta Medina, said she was pushed to the edge when, eight months pregnant, she was given 2,000 boxes to ship in one hour, according to the Inland Empire Weekly. "Media [sic] could barely lift the boxes and felt like she might lose her baby. She kept working as she held her midsection, and said a silent prayer in her head, with thoughts of her 11-year-old son in El Salvador. After giving birth via cesarian, Media says she came back to work and was told by her supervisor to work hard -- or be replaced," the paper reported.
The letter, which will be delivered to Walmart offices in Chicago, New York, San Jose, Irvine and downtown LA Monday, asks for a meeting with Walmart executives to discuss the warehouse workers' concerns. "Inland Empire workers have taken the lead but this would be for thousands of warehouse workers nationally," Brennan explained. She said the letter has been signed by more than 25,000 supporters so far.
Although the workers are employed by subcontractors NFI and Warestaff, Walmart has control over the subcontractors' working conditions, according to a study by the labor-backed National Employment Law Project. The study found that the pressure Walmart puts on its supply-chain providers to keep costs low encourages "cutting corners on safety and violating wage laws." Neither NFI or Warestaff have released a statement in response to the protest.
Walmart spokesman Dan Fogleman told HuffPost, "Part of the union playbook is to drag Walmart's name in the discussion to get the media to pay attention to them."

"The fact is we hold all of our service providers and their subcontractors to the highest standards ... and expect them to comply with the law," he said. "Based on our conversation with our providers and visits to many of the facilities, we believe the complaints are either unfounded or, if legitimate, have been addressed."
The warehouse workers make $8 per hour and $250 a week, or $12,000 per year, and workplace injuries are common, according to the Warehouse Workers United (WWU). In a recent study, WWU and the University of California interviewed 101 workers and found that 83 of them said they had suffered a job-related illness.
Organizers say the decision to stage a pilgrimage, or "Walmarch," was inspired by the 340-mile march that Cesar Chavez, co-founder of the United Farm Workers, led from the fields of Central California to the steps of the state Capitol in Sacramento. The march resulted in the first union contract in the U.S. between a grower and farmworker.
Several events are planned along the route of the march, including a health clinic on Friday, a rally with Walmart associates on Saturday, a faith event on Sunday and a rally outside of City Hall in downtown LA on Tuesday morning.
Warehouse Workers United, which helped coordinate the march, does not officially represent the workers, although workers who support their efforts can pay $5 a month to be members. The union believes that Walmart has purposely set up a system of multiple subcontractors and temporary staffing agencies in an effort to make organizing difficult, Brennan said.
She said the pilgrimage is about making the warehouse workers visible. "There are literally tumbleweeds that roll by the warehouses, and the workers feel invisible," she said. "This is a way for them to walk out of the shadows and into the government center so people understand and support them."
Check out photos of the first day and night of the pilgrimage:
All images courtesy of Warehouse Workers United.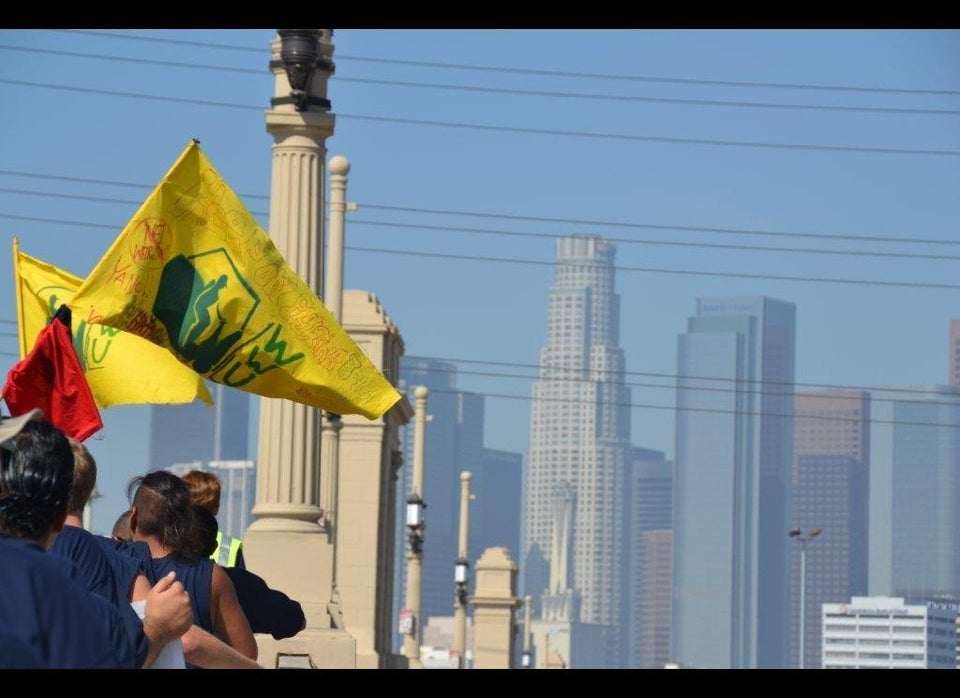 Walmart Warehouse Workers' 6-Day Pilgrimage
Related
Popular in the Community