 After braving 103-degree heat as they marched over the past six days, warehouse workers who deliver goods for Walmart concluded their 50-mile pilgrimage protesting working conditions with a rally in downtown Los Angeles on Tuesday. Met by hundreds of supporters on the steps of LA City Hall, the weary workers told the crowd that conditions in the Inland Empire warehouses where they work are even worse than the heat and exhaustion they experienced over the past six days.
"The march, walking in the heat, was very easy compared to working in the warehouse," Raymond Castillo, a 23-year-old warehouse worker who marched with the group, told The Huffington Post.
Castillo is one of about 30 warehouse workers who walked out of the large warehousewhere they were employed in Mira Loma, Calif., last week, even though their jobs are not protected by a union. On Thursday, he and about 50 other warehouse workers began a six-day pilgrimage to draw attention to working conditions that they said they can no longer tolerate.
On Monday, the workers delivered a letter, with more than 37,000 signatures, to the Walmart office in downtown LA, Elizabeth Brennan, a spokeswoman for Warehouse Workers United, told HuffPost. The letter says that workers are forced to work in 120-degree heat without a fan, that the heat and pollutants make the workers vomit and get bloody noses, and that workers are made to work without clean water or regular breaks and with faulty, dangerous equipment.
The six-day pilgrimage followed the route taken by the trucks that carry the goods they load -- from Riverside, Calif., to downtown Los Angeles. The workers and supporters slept on church floors along the way and relied on supporters for meals (see photos below).
"I felt joy because of all the supporters that walked with us and that lasted the whole time right by our sides. And I felt proud of myself because I'm fighting for something that I believe in," Castillo told HuffPost.
Even though Castillo has a wife and 1-year-old, he said working in the warehouse was "not worth risking my life." At the end of the pilgrimage, he said he felt inspired and rejuvenated. "I still feel like running more. Right now, I'm bouncing up and down because I'm excited. I'm not even paying attention to my blisters on my feet," he exclaimed.
Speakers supporting the workers at the rally downtown included Rep. Judy Chu, Assemblywoman Bonnie Lowenthal and Councilman Ed Reyes. Dolores Huerta, who, along with César Chávez, co-founded the National Farmworkers Association; Marty Morgenstern, California secretary of labor; and Elena Durazo, secretary-treasurer of LA County Federation of Labor Maria, also spoke.
The six-day pilgrimage included events along the way. On Friday, volunteer health professionals held a health clinic (see photos below), providing screening for asthma, glucose, body mass index, and blood pressure tests for the workers, most of whom do not have health insurance.
On Sunday, about 100 farm workers from Central Valley and Oxnard traveled by bus to march in solidarity with the warehouse workers. Warehouse Workers United, which coordinated the pilgrimage, said the event, or "Walmarch," was inspired by the 340-mile march that Cesar Chavez, co-founder of the United Farm Workers, led from the fields of Central California to the steps of the state capitol in Sacramento.
On Monday, one warehouse worker flew to San Jose in northern California to go with about 30 Walmart retail associates and supporters to Walmart board member Greg Penner's home in Silicon Valley to demand humane conditions for warehouse workers, according to Brennan. Penner's wife, Carrie Walton-Penner, refused to accept their petition, and the workers were asked to leave her property, according to Brenner.

Instead, outside the Penners' gate, they built a pyramid of decorated boxes to symbolize the boxes that they deliver to Walmart (see photos below).
Neither Warestaff, which employed the 30 workers on strike, nor Walmart responded to HuffPost's request for comment. NFI, which employs some of the workers at the Mira Loma warehouse, told HuffPost that the workers' allegations are "inaccurate."
"Everybody on the shift meets with the managers on a regular basis, and they're supposed to bring to their attention anything that will get in the way of their jobs, such as safety," Kathleen Hessert, an NFI spokeswoman, told HuffPost.
Last year, two staff companies at the Mira Loma warehouse were fined $499,000 and $600,000 for wage and hour violations.
The workers' letter, also delivered to Walmart offices in Chicago, New York, San Jose and Irvine on Monday, asks for a meeting with Walmart executives on behalf of warehouse workers nationally. The Southern California workers said they had to resort to the pilgrimage to deliver the letter because their previous complaints about working conditions have been met with threats, suspensions and terminations.
The warehouse workers make $8 per hour and $250 a week, or $12,000 per year, and workplace injuries are common, according to the Warehouse Workers United. In a recent study, the union and the University of California interviewed 101 workers and found that 83 of them said they had suffered a job-related illness.
Warehouse Workers United does not officially represent the workers, although workers may pay $5 a month to join. Union leaders believe Walmart has purposely set up a system of multiple subcontractors and temporary staffing agencies in an effort to make organizing difficult, Brennan said.
Tomorrow, the 30 or so warehouse workers who walked out of the large warehouse where they were employed in Mira Loma will return to picket in front of the building. So far, they have not gotten a response from the warehouse staffing companies or Walmart about a meeting.
UPDATE: Dan Fogleman, Walmart spokesman, told HuffPost that Walmart executives have toured many of the company's contracted warehouses. Regarding the concern about heat, Fogleman wrote in an email, "It's important to understand that the work area for warehousing and cross dock operations is an ambient environment – a high percentage of dock doors are open at any given time, so the temperature inside will reflect the weather conditions of the day."
He claimed that all the facilities contracted to Walmart have "free and easy access to water, fans in the work area and an air conditioned break room."
He said that Walmart is developing a protocol of random inspections by third-party organizations and "conducting contract reviews with our service providers with an eye towards implementing specific health and safety requirements."
Finally, Fogleman wrote, "The working conditions observed are fairly standard across the facilities utilized by Walmart service providers and are consistent with the conditions in our own warehouses."
When asked whether Walmart would meet with the workers as requested in the delivered letter, Fogleman responded, "We will evaluate any new concerns raised in the letter, and we'll pass along the contents of the letter to the service providers as they would be in the best position to address any direct employment matters the letter may contain."
Check out photos of the rally and pilgrimage:
Images courtesy of Warehouse Workers United and Brian Iiyama.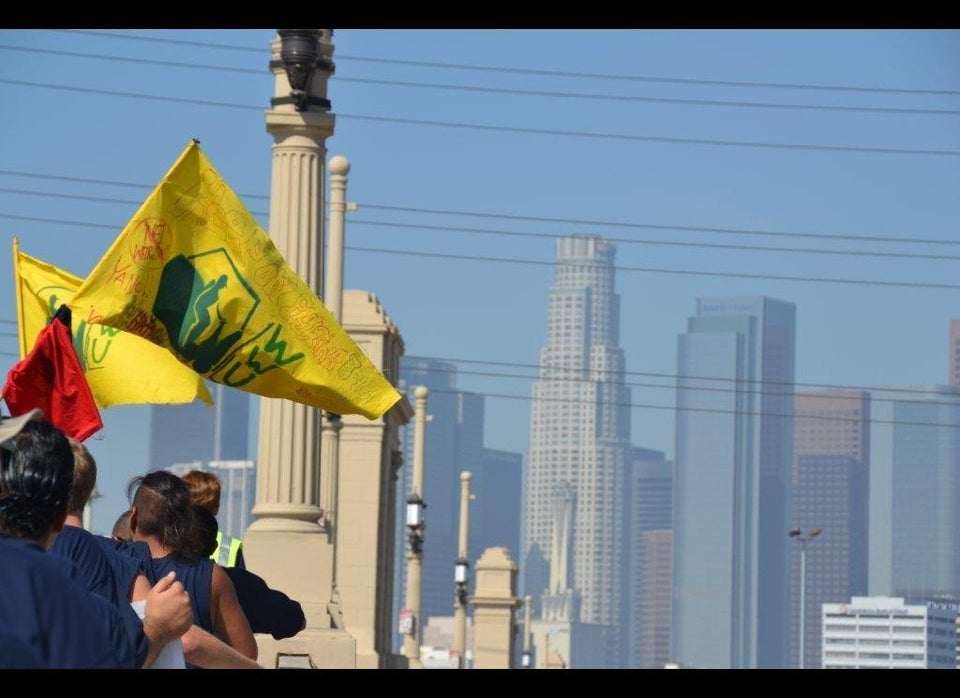 Walmart Warehouse Workers' 6-Day Pilgrimage
Popular in the Community