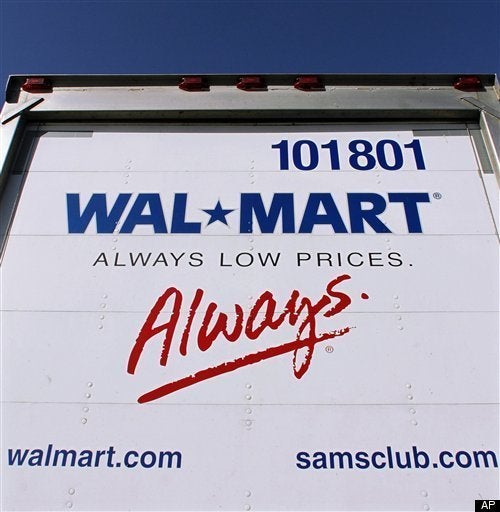 In the face of the controversy that has quickly swelled around Walmart's plans to open its first ever stores in New York City, the Bentonville Behemoth has tried to sell New Yorkers on the promise that the company will solve the city's most pressing social ills in ways that New Yorkers themselves could never dream of doing.
Citing plans to open megastores selling cheap produce in some of the city's most underserved neighborhoods, the company would have us believe that it will eradicate poverty, unemployment, and solve the food desert problem to boot. We are in a jam, the story goes, but just trust Walmart, and they'll swoop in and make all of our problems go away.
The very notion is as insulting as it is untrue.
With our city struggling with persistent unemployment and 3 million New Yorkers lacking access to fresh produce in their neighborhoods, the jobs problem and food desert problem are unquestionably real. But asking Walmart to fix those problems is like asking a fox to fix a henhouse.
Across the country, we've seen that when Walmart sets up shop in poor neighborhoods, they do more harm than good. Nationally, when Walmart enters a new market, it kills three jobs for every two jobs it "creates," The jobs it creates pay 18 percent less than the jobs it destroys. When Walmart recently opened its first store in Chicago, they quickly shut down one in four surrounding small businesses.
So much for Walmart's jobs promises. What about the idea that they will solve the food desert problem? It's pretty obvious that if you take a neighborhood that is already hard pressed for places to buy food and put 25 percent of those places out of business, you'll wind up with larger food deserts than the ones we already have - not to mention far fewer consumer choices.
But most importantly, we don't need Walmart to fix food deserts. In fact, we can do it better ourselves.
Over the years, New York Jobs with Justice has worked side by side with a broad coalition of workers, community members, and elected officials from across the city to produce a home-grown solution to the food desert problem. After a lengthy process of grassroots organizing and community input, the coalition succeeded in creating a program called FRESH (Food Retail Expansion to Support Health), which offers zoning and tax incentives to full-service grocery stores to create jobs and sell affordable produce in underserved communities.
FRESH was signed into law in 2009, and already it's making a difference. Still just in its pilot phase, the program has opened three stores, providing residents in chronically underserved areas of the Bronx with access to good jobs and healthy food. Our task now is to make sure the program is improved to better meet the needs of communities and improved to help responsible employers take advantage of it.
Just days ago, ShopRite - a responsible employer with a long track record of paying living wage jobs and supporting its surrounding communities - announced it would be eager to operate at the East New York site on which Walmart has set its sites. If New Yorkers are serious about solving the food desert problem, we should pour our energy into improving and expanding programs like FRESH and recruiting companies like ShopRite to participate in them rather than inviting Walmart in to fix problems they will only make worse.
For the last few months Walmart has spent untold amounts on fancy consultants and glitzy ads to make us believe that they want what's best for us. They've tried to dupe us into believing that what's good for Walmart is good for New York. They've tried to substitute their marketing budget for our voice. But the tables are about to turn.
Today, the City Council is holding its first hearing to investigate the job-killing effects that Walmart openings have had on other cities across the country. Not surprisingly, Walmart has declined to attend. But my organization and hundreds of concerned community members, workers, and small business owners will be there.
We'll make it clear that we understand our city has problems, but also that New York is capable of coming up with better solutions than Walmart could even imagine. We'll make sure Walmart knows New Yorkers have no intention of sitting back and watching as they destroy the years of work we've put into building a healthy, sustainable city. And, when all is said and done, we will stop Walmart from doing the irreparable harm to our city that they have done to so many other cities and towns across the country.
Popular in the Community