Walmart workers from three separate stores in the Chicago area went on strike Wednesday. The walkouts are the latest in a series of worker demonstrations in protest of what associates describe as the retailer's low wages, unpredictable hours and unjust retaliation against workers.
The Chicago protests will culminate with a rally scheduled for 4 p.m., Evan Yeats from Making Change At Walmart, a coalition group with ties to the United Food and Commercial Workers Union, told The Huffington Post.
Walmart spokesman Kory Lundberg said he expects the protests in Chicago to have very little impact on the company. Stores will still be fully staffed and associates will be busy taking care of customers, he added.
Richard Wilson, a 27-year-old lead associate at a Walmart in Chicago, was among those who walked off the job Wednesday. Wilson has worked for Walmart for two years and earns roughly $12,000 a year for around 32 hours of work a week. He said he would like to work more and make a living wage, but Walmart's unpredictable scheduling makes it difficult for him to get more hours on a consistent basis.
The Chicago protests, which are organized by OUR Walmart, an advocacy organization also affiliated with UFCW, come one day after two hundred community members and workers staged a similar one-day strike in the Seattle area, according to UFCW Communications in Seattle Tom Geiger.
Last week, Walmart protests in California led to the arrest of more than 50 Walmart workers and supporters in downtown Los Angeles, the largest civil disobedience case in the company's history.
Walmart is among a number of retailers who will open on Thanksgiving, and the retailer will begin its Black Friday deals at 6 p.m. on Thursday. The decision has led several people to take to the Internet in protest of the Black Friday "creep."
UPDATE: This story has been updated to include comments from a striking Walmart worker.
Related
Before You Go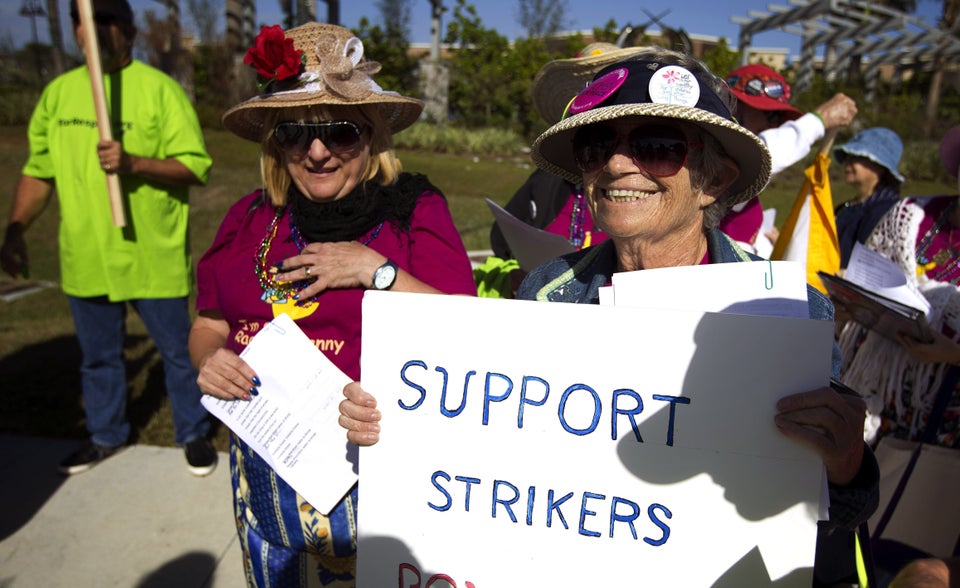 Walmart's 'Black Friday' Protests
Popular in the Community