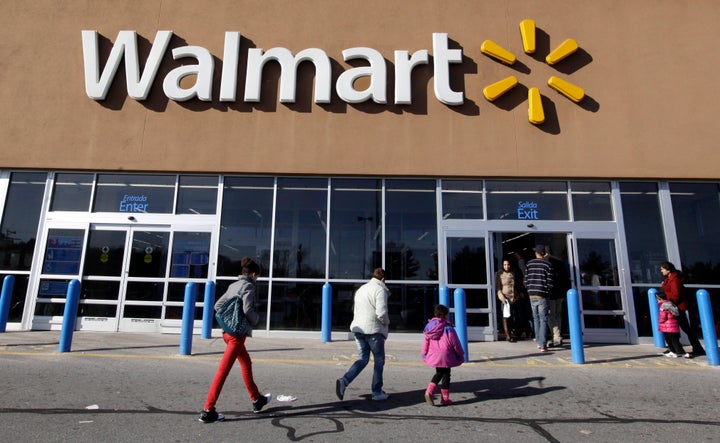 Wal-Mart has done it again, giving the media, local politicians, and ordinary citizens more fuel for their anti-Wal-Mart fire. This time it's news that the company's Mexican subsidiary, Wal-Mart de Mexico, allegedly used bribery -- $24 million dollars worth -- to obtain building permits across the country and help pave the way for market dominance.
What's worse is that it appears that after a brief investigation back in 2005, executives at Wal-Mart's Bentonville, Arkansas, headquarters did little to uproot the wrongdoing uncovered by their own internal investigators. Instead, they covered up the scandal in an attempt at damage control. But now, following a New York Times expose, the company has had to fess up, announcing a reopening of the case and full-scale internal investigation.
Not surprisingly, Wal-Mart's stock took a nose-dive the morning after the story broke, with the price of Wal-Mart Stores shares dropping 4.7% on the New York Stock Exchange and those of Wal-Mart de Mexico plunging 13% on the Mexican exchange. The alleged crime and cover-up has also drawn the attention of both the Department of Justice and the Security and Exchange Commission. Then, of course, there's the court of public opinion, where Wal-Mart regularly loses cases on issues ranging from sex discrimination and employee wages and benefits to bullying suppliers and driving small businesses out of local communities.
Losing public support is problematic. Because when Wal-Mart loses in the court of public opinion -- as it rightfully should in this instance -- so will millions of Americans whose lives benefit from the company's presence. And we're not just talking about the 2,000,000+ people it employs. The direct result of Wal-Mart's wrongdoings is that Americans won't want the company in their neighborhoods anymore. In some parts of the country, anti-Wal-Mart protestors have already succeeded in keeping stores out. The result is a lost opportunity not only to bring jobs to economically depressed communities, but also to bring lower prices and greater product assortment to low income, inner-city residents who typically pay more and have access to less variety than their suburban counterparts.
What's more, when Wal-Mart gets itself into trouble, it makes it that much harder for ordinary people to accept the company's good deeds.
Yes -- you read that right: good deeds. Most people don't realize it, but Wal-Mart is actually hugely philanthropic. Take, for example, the company's $2 billion cash and product pledge for hunger relief, which includes efforts to empower its individual stores to fight hunger locally. Or its partnership with Achieving the Dream, a national nonprofit organization dedicated to helping more community college students -- particularly low-income students and students of color -- stay in school and earn a college certificate or degree.
Thanks to initiatives like these, Wal-Mart earned top ranking in a 2006 survey asking Americans to name a socially responsible U.S. company. It has also won a slew of social responsibility awards -- over 70 across at least 10 countries in 2010 alone.
Yet even more directly, in its regular course of business, Wal-Mart stores have a positive impact on the lives of the customers they serve daily. According to V-Positive, a quarterly survey by Fordham University's Center for Positive Marketing, Wal-Mart's positive impact on overall consumer well-being is greater than that of nearly all other major brands, Google, Amazon, Facebook and Coca-Cola included. In the survey, consumers credited Wal-Mart with helping to satisfy their most basic needs for nourishment, while also lending a feeling of safety and security during turbulent economic times. Moreover, consumers say that the brand brings happiness to their lives.
And even those of us who are not Wal-Mart shoppers benefit from their positive practices. Passionate about saving the planet? Well, Wal-Mart nearly single-handedly brought the compact-fluorescent light (CFL) bulb to prominence over the far less energy efficient incandescent bulbs now destined to take their rightful place as a historical footnote to the genius of Thomas Edison. And as if that's not enough, Wal-Mart convinced (okay, some would say strong-armed) its CFL suppliers into reducing the mercury content of the bulbs, making them even more eco-friendly. Purchases of these new bulbs by people like us, whether at Wal-Mart or elsewhere, secured a social good, helping drive down energy consumption related to lighting.
The company announced a similarly enlightened initiative last year, when it announced plans to reduce sodium by a quarter and cut added sugar in many of its store branded food items. At the same time, Wal-Mart reported plans to track improvements in the healthfulness of its suppliers' products. As long as Wal-Mart customers reply in kind by purchasing and supporting these products, this should translate to a society less burdened by obesity and nutrition-related health problems.
But people can't accept all this good if it also fills them with guilt for supporting bad practices and unethical behavior. It's high time that Wal-Mart clean up the more unsightly parts of its operations. Let's hope the Mexico scandal acts as a much-needed call for Wal-Mart to do just that. Only by exorcising its demons can Wal-Mart liberate its good deeds to benefit itself, individual consumers and society at large.
Dr. Dawn Lerman is professor and director of the Center for Positive Marketing and chair of the marketing department at Fordham University.
Dr. Luke Kachersky is assistant professor and project coordinator at the Center for Positive Marketing at Fordham University.
Related
Popular in the Community