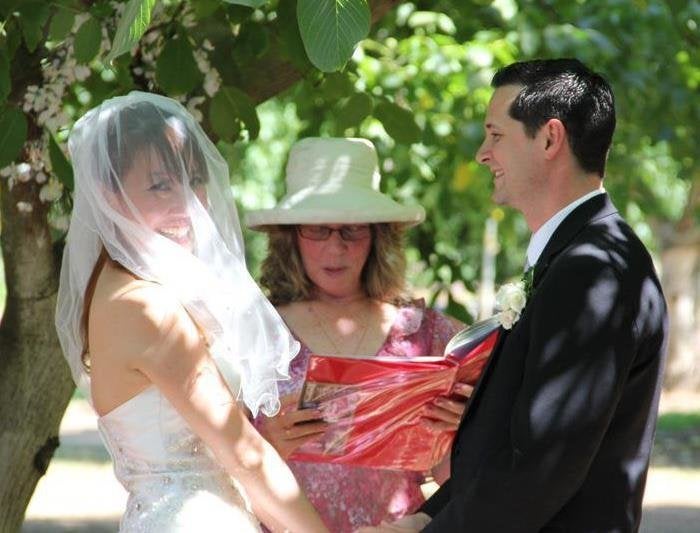 I love my wife very much. That is the ultimate basis for why we men do the things we do when helping to plan a wedding ceremony, and why it isn't always the most expensive weddings that end up being the most special or memorable for both husband, wife and all involved.
This is why walnut weddings can work.
We had our official marriage ceremony at New York City Hall in the Fall of last year. My wife was here on a fiance visa from Hong Kong, and we had three months to tie the knot before the U.S. government would ship her back.
We elected to have the quick NYC City Hall ceremony, and wait to have the family celebration in May, 2012. The seven month time frame would theoretically be enough to plan our festivities in California. It ended up being just enough. Down to 30 minutes before the start of the ceremony actually.
The wedding day ended up being an incredibly special day for both of us and our families. In fact, they they still can't stop talking about it. It worked on just about every level possible.
So how did we pull it off? With a small budget? From across the country? In under seven months?
There was only one place where we could have our ceremony, and that was at my family's walnut Ranch near Linden, Calif. Our ranch has been run by family since being created by family in the early 1900s. I spent a good portion of my childhood among those grand trees. Watching them grow. Watching the oldest get pulled out of the ground, then to have young walnut trees planted in their place.
I played in irrigation ditches, had adventures on the 400-some acres of land, have worked as a ranch hand for three months and feel a deep connection to what it means to be an Anderson when I'm out there.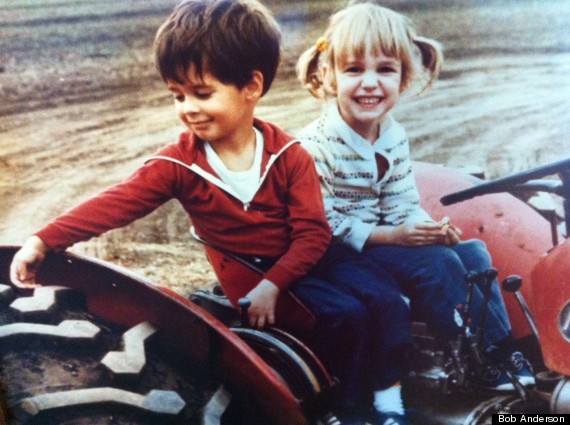 Here I am as a child with my best friend sitting on a tractor at the Anderson Barngrover Ranch.
I asked my wife what she thought about having the wedding on our ranch and she immediately loved the idea and suggested having the reception in the packing shed even though she is a city girl at heart, having lived in Hong Kong and London.
Not all family members were at first taken with the idea of the ceremony being held there as *gasp* it wasn't in a church or a more "traditional" setting. But after a while, the doubters began to see it for the special place that it was and started to see the potential we saw.
Initial Planning And Cost
We didn't do much particular planning before January 2012 aside from booking our flight out there from New York ($600 for two.) But once February hit, there was no getting around the details. It was time to get to the following (costs included because I know you're wondering):
1. Book a shuttle for my wife's family to take them from San Francisco to the ranch for the day ($1,600 for full day 10am to 11pm)
2. Hire catering ($796 for full buffet plus some serving, clearing)
3. Book a photographer (A rookie photographer at $400, plus additional photographer in family at no cost)
4. Figure out the cake. (Baked by my cousin, so free of cost!)
5. Get the flowers sorted (Ordered online for $250, inspected by Customs, damaged)
6. Find a place for the new in-laws to stay in San Francisco (No cost, they paid for their week long accommodation)
7. Decide on tableware, table, and glassware rentals and delivery ($650)
8. Figure out how many guests
9. Wedding Dress (No cost, paid for by parents of the bride)
10. Tuxedo ($179)
11. Order the alcohol ($400 for a keg of Sierra Nevada, and 18 bottles of wine and champagne)
12. Send out guest invites (Printing and mailing cost... not sure! But not much)
13. Determine where to hold the ceremony (No cost for holding on family ranch!)
14. Decorate the packing shed for reception (Decorations around $700. Thank you string lights and fabric. Thank you)
15. Plan the rehearsal dinner
16. Get the DJ (Free! My step dad did the DJ honors, so no cost)
17. A million other little things
18. A million more little things
19. Argh!
Time to muster the troops! Sound the trumpets! When trying to organize all of these things from across the country, this is where family comes to the rescue. My mother, brother, father, aunts, cousin, step dad, step mom and various other family members all had duties.
I gave them a budget as to what to spend on a particular duty such as catering, and they would work to make it happen then come back to me with a number. If not a number, then something they could help with. For example my cousin made the cake, my mother did the table arrangements and flowers with my aunt, my other aunt performed the ceremony, and my step dad DJed.
This kept the total cost under $7,000. This included hotels for the week we were in California, dinners, gas, and everything else.
The guest list was relatively small at just 51 people, and that helped keep costs under some control.
Everybody came together during the week leading up to the wedding to get all of the final details sorted, and the packing shed ready for a wedding reception. It was an amazing effort by many people. We were working up until the last few minutes on the day of the wedding to finish things up before the guests started arriving.
I myself had only 30 minutes to go home and get changed into my tux before the start of the wedding. I made it back five minutes before it started. Perfect timing.
The Ceremony Under The Trees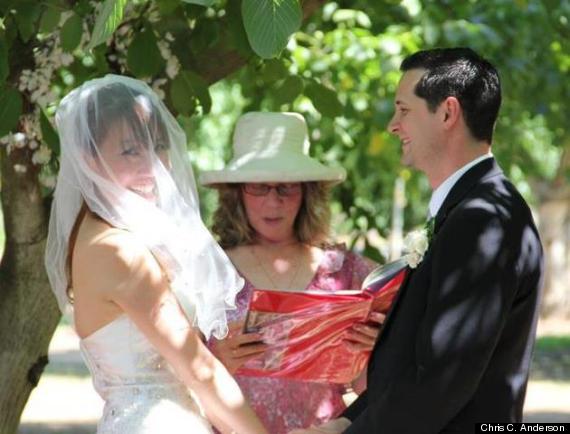 We picked a spot with a small clearing in the trees for our ceremony. There was no special significance to the exact location aside from being walking distance to the packing shed where the reception would be, but there will be now. Family and friends gathered under the 20-year-old trees that I remembered being planted, and my wife and I bonded in that small clearing under that tree. Those trees are are now as much hers and her family's as it is mine.
The Packing Shed Reception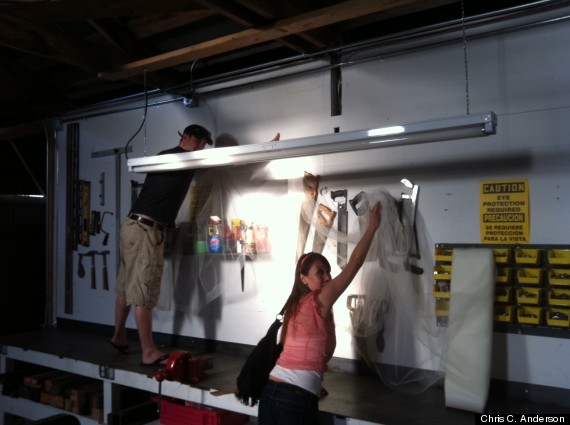 Where oh where shall the fabric go? Maybe cover up a few of those tools...
Not the most traditional of choices for a wedding reception, this being a shed where walnuts are processed, but after a solid week of clearing out (thanks to the ranch manager and workers) taking measurements, stringing over 35 boxes of 20ft long fairy lights, setting up tables, hanging fabric and general setting up, we were able to transform the shed into something beautiful.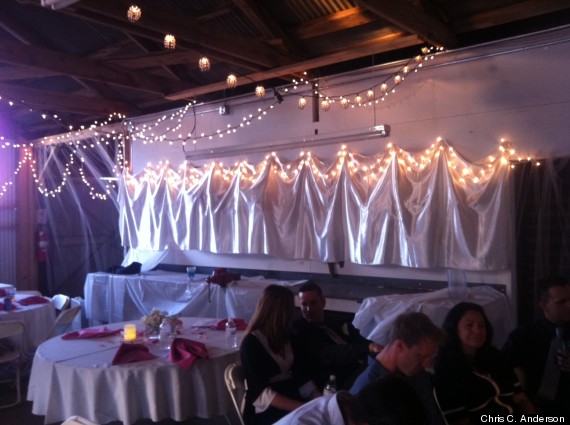 Not too shabby.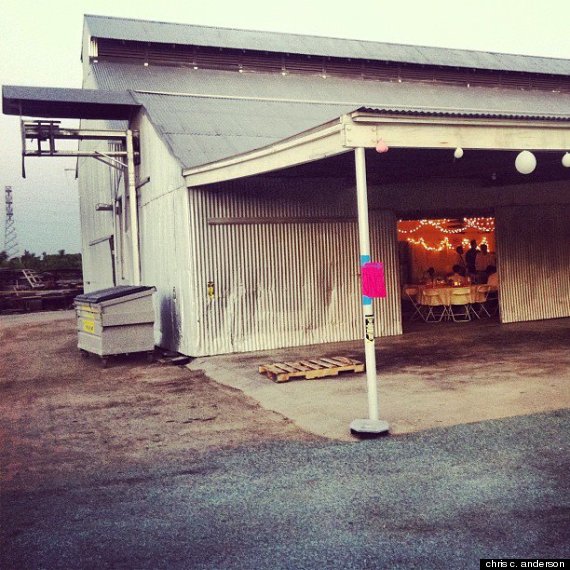 Not the intended use, but it sure turned out something.
During the reception there were actually birds chirping in the rafters (luckily we were not met with any white droppings.)
Ever since the ranch came into existence, it has never seen a transformation or event like that, and it will be a day that stays in the memory of our families for generations to come. This was a wedding that was planned across the country, had people brought in from across the Pacific and Atlantic and didn't break the bank. This was a wedding that will be held close my heart and my wife's, and it was a wedding that brought together families from across the world.
Want to see how it all turned out? Check out the slideshow below. Of course I'm biased, but it is safe to say there were lots of hugs and happy faces.
The main motivation for this post is to maybe inspire some of you new fiances out there looking to start planning a wedding and who might be freaking out a little bit. With help from family and friends, a special location and a modest budget, you can have a day that you'll remember for the rest of your lives...in a good way.