It's Friday. The end of the work week for a lot of folks. Which means that they're finally able to get away from jobs that they don't necessarily enjoy.
But what if there was a way to take an unpleasant employment situation like that and then transform that chore into a joy? And not by physically transforming one's workplace. But - rather - by changing the way that you view said workplace.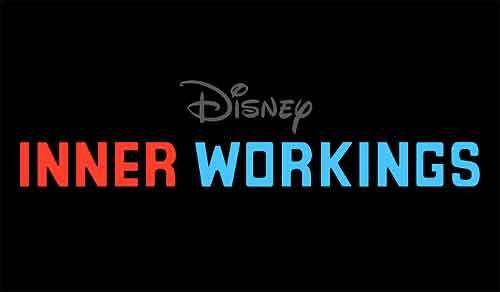 Okay. Given that Disney introduced the world to "Whistl(ing) While You Work" back in 1937, this is not exactly a new idea from the Mouse House. But what is new & fun about Inner Workings is the way that first-time director Leo Matsuda decided to tell this story. Which shows officer worker Paul's internal struggle. His pragmatic logical side wants Paul to show up on time for his job at Boring, Boring & Glum. Whereas his more free-spirited adventurous side wants Paul to spend the day at the beach or scarf down a big breakfast calorie-laden pancakes.
So how does this 6-minute-and-23-seconds-long tale end? Not in the way that you might expect. And to hear Matsuda talk, that has a lot to do with the fact that his Japanese parents decided to raise Leo in Brazil.
"So there's the Japanese part of me that loves order. It's very strict, logical, systematic," Matsuda explained during a recent phone interview." But I also have this Brazilian side to me that loves the fun things in life like parties and carnival. So because I live Japanese but have a Brazilian soul, I have this constant culture clash going on in my life."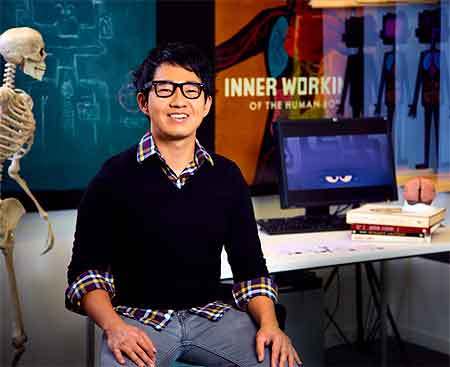 Between these two extremes, Leo thought that there might be the makings of a fun animated short. And the Story Trust at Walt Disney Animation Studios obviously agreed. Given that - out of the 73 people who pitched projects to them back in 2014 - Matsuda was the one that they then selected to make his directorial debut.
"One of the main reasons that WDAS' Story Trust really sparked to Leo's pitch was the story idea at the very core of this animated short. Which is that - while we all have jobs that we need to do - it's also important to make time in your life for the things that really make you happy," explained Inner Workings producer Sean Lurie. "That - coupled with his genuinely unique design sensibilities and storytelling style - is why this particular pitch was ultimately put into production."
And given that Inner Workings was supposed to blend CG and traditional hand-drawn animation as it told a fast-paced tale ... Well, that meant that this animated short quickly became an all-hands-on-deck situation. With not only WDAS veterans like Mark Henn & Dale Baer lending their expertise to this project but also talented newcomers like Ami Thompson. (According to Matsuda & Lurie, Thompson's "Little Golden Books" -inspired versions of Paul's brain visions are some of the comic high points of this new short.)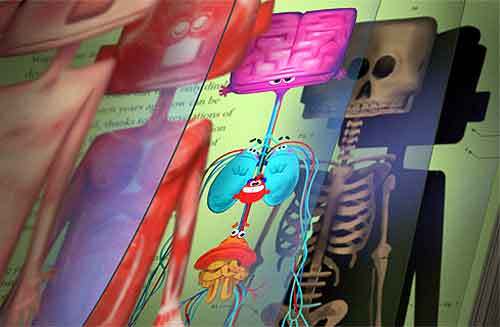 After six months of production, "Inner Workings" had its world premiere in Annecy's Bonlieu Grande salle earlier today. It was screened as part of a presentation for Moana, the feature-length Walt Disney Animation Studios production that this new animated short will be paired with later this Fall. And based on the reaction of those in the room (as well as all those who crowded into the Bonlieu Forum post-screening in order to get Leo & Sean's autograph), WDAS may just have another Best-Animated-Short contender on its hands.
Fresh from this short's world premiere, Matsuda & Lurie reached out from France to say "The reaction of the Annecy audience was really heartwarming. We are so grateful for the opportunity to premiere Inner Workings in such a wonderful place, and we were blown away by the crowd's enthusiastic response."
Inner Workings bows in U.S. theaters on November 23, 2016, in front of Walt Disney Animation Studios' Moana.
Popular in the Community