Walt Disney's life has been chronicled in the remarkable PBS American Experience documentary that first aired in two parts on Monday and Tuesday nights.
All of my adult life I have been a Disney collector. I limit myself to the earliest form of Mickey Mouse and his gang, circa 1928 to 1938. I have never seen art or objects that appeals to my eye more than the earliest form of Mickey Mouse. He is a low brow cartoon character that is the highest level of abstract art.
Mickey Mouse was officially born in 1928, and Disney parlayed him into an entertainment conglomerate, including an acclaimed movie and television studio, unparalleled theme parks, and other visionary projects.
Within two years of his debut, Mickey nested himself comfortably in the merchandise market of America, and thereafter in the rest of the world. Through the genius of ad man and licensing agent Herman "Kay" Kamen, a wide variety of manufacturers set out to build better mouse traps by reproducing Mickey's image on a vast assortment of items never paralleled by any other comic character--games, toys, dolls, figurines, books, furniture, clothing, school supplies, radios, record players, clocks, watches, jewelry, tea sets, tableware, tablets, banks, balls, balloons, pencil boxes, handkerchiefs, cameras, greeting cards, playing cards, pails, shovels, and even ashtrays were mass produced and marketed to meet the ever-growing demand of his adoring public. Armies of Mickeys invaded retail venues big and small. He was a money making machine mouse, and helped finance Disney's every expanding empire.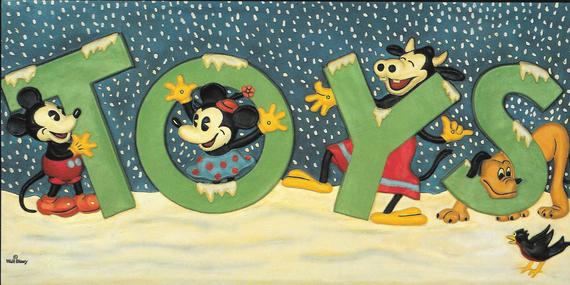 Circa 1935 bas relief papier-mâché 3' X 4' store display sign made by the Old King Cole Co. of Canton, Ohio. From the personal collection of the author.
(Characters © The Walt Disney Company.)
Mickey was Walt's alter ego, with Walt even providing the voice-over for Mickey in cartoons. Their stories have certain parallels. Both are American success tales of humble beginnings, upward struggles, and great successes.
Mickey in his earliest form was a mischievous and crude looking character, not completely animal and not completely human. He was a heroic little field mouse who met every challenge with energy, laughter, and enthusiasm. He was bold, brash, daring, primitive and pure. In his youth, Mickey did not yet have the burden of being an American institution and he acted as he pleased.
The same could be said for his creator, Walt Disney. Walt was only 27 years old when Mickey was born. The average age of the early studio personnel was in the mid-twenties. There was a youthful brilliance and charm to both the creator and the creation. Walt too was free from the trappings of corporate responsibility and success.
In the 1930s, Mickey's appearance was more rodent-like. He had large black circles for eyes, usually with little white wedges to form "pie-eyes." They looked like black pies from which one slice had been removed. He had a powder white face and rat-like tail. He seldom bothered to cover his bare chest, and his wardrobe was limited to shorts, gloves and shoes.
As with all beasts, the evolutionary process civilized Mickey. By 1939 he became a polished role model. He face was humanized by the addition of flesh color, and he modestly began wearing a short-sleeve polo shirt. Final touches of civilization were achieved by a tail amputation and the addition of pupils to his eyes. The field mouse went suburban.
And then there was Walt. He too went through multiple incarnations, from the youthful, creative, friendly, and fearless Midwest cartoonist to the avuncular public face of Walt Disney Productions. He abandoned his opened collar shirt for a corporate suit and tie. His passion for larger and greater projects was his gift and his burden.
Starting with Snow White and ending with EPCOT, Walt kept upping the ante on his visions. Both Mickey and Walt endured good times and bad, but ultimately Mickey survived his creator. Walt had a vice. He was a smoker and died of lung cancer in 1966.
"I only hope that we don't lose sight of one thing - that it was all started by a mouse." - Walt Disney
For more information:
Check your local PBS station for additional airings of the American Experience "Walt Disney" documentary or click here to watch online: Part 1 and Part 2. I also highly recommend a visit to the Walt Disney Family Museum in San Francisco. I had the privilege of attending the gala grand opening event in October of 2009, at the gracious invitation of Walt's daughter, the late Diane Disney Miller. It is a breathtakingly beautiful tribute to Walt and his legacy.