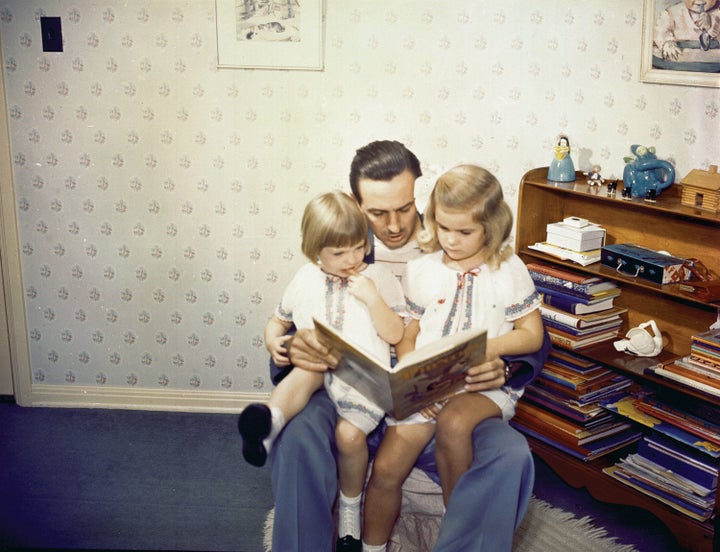 Above the little red fire station on Main Street USA, a light flickers in a window. It's hardly recognizable in a modern day Disneyland filled with colorful marquees, laser light shows and nightly fireworks, but it's there, shining around the clock. Its soft glow illuminates a small apartment that's decorated with antiques, cranberry red glass lampshades, vintage instruments and a grandfather clock. It still looks today as it did when Walt Disney kept it as his personal home inside Disneyland.
The apartment isn't open to the public, but one frequent visitor is ready to open up about her fond memories of Walt's personal escape. Diane Disney Miller, Walt's daughter, is the founder and head of the Walt Disney Family Museum in San Francisco. To celebrate the DVD/Blu-ray re-release of "The Lady and the Tramp" and mark the 57th anniversary of the opening of Disneyland, she spoke to the Huffington Post about her father, the secret apartment and life with the world's most famous surname.
Could you tell me a little bit about the apartment? What your favorite part was, the important features?
It was their refuge, it was their little place. The decor, it was all little things that they picked up when they were traveling around the country various times, and it was decorated by Emile Kuri, who had decorated many of the films, including "20,000 Leagues Under the Sea," and it was lovingly done. It was really a very cozy, family place.
Did a lot of people get to go up there, or it was a very private place?
Very private. It was for them. It was their residence there and they would invite people up, if there were special people in the park, mother and dad would go out and they would invite them up. Early, it was during "Davy Crockett," I remember there was some event there that day and Fess Parker and Buddy Ebsen were both out there for it, and dad was looking out that window and saw them and he said, "Hey, come on up!"
He told them how to get around, back behind, and get up to the apartment and there was a fire pole in it, it's not there now, but there was a door into the closet area that had a fire pole, like the firemen would have, and he showed it to them and said, "Why don't you guys slide down that?" And they did! People would say, did your father ever do that? I'm sure he didn't.
You had a screening room in your house, right?
Yes. He put it in when he started to do the live action films. The first one was "So Dear To My Heart," and then "Songs of the South," the Uncle Remus stories. That's when he put it in, because he wanted to come in and watch dailies.
What movies do you remember watching in the house?
All of those. I remember the early screenings of Bobby Driscoll and all of that. And actually he sent me out of the room because I was being too critical. I was only about ten years old. He didn't need my criticism.
What was his favorite ride?
They were all favorites to him, and he was always tweaking them, but he really was into Tomorrowland. The Monsanto House of the Future he thought was very interesting, he took my husband and I there and said you might want to get some ideas here for a home, and I'd never want to live in a house like that, but again, he got into all the animatronics when they did the New York World's Fair in 1963, they did the Tiki Bird room around that time in Disneyland.
And he was delighted with the new audio animatronics; that, for a while was definitely his favorite. And then they did another audio animatronics, and I don't think they have it any more, the Country Bear Jamboree, he was very excited about that, and then he was very excited about the haunted house, the Pirates of the Caribbean ride, and none of those things were completed until after his death. But he was always looking to the thing he was doing to be the furthest thing.
Speaking of progress, some of the best animated movies today are computer animated. What do you think he would think of that?
Oh, he'd be delighted. Anything that he could use in any way, he would reach out and grab it. He'd love all these guys at Pixar, he'd love it.
A lot of people have said that your dad saw Mickey Mouse as his sort of animated self, an extension of himself.
I think eventually he did. We'd say that, my mother even said it. He did Mickey's voice for years and as Mickey became more of a celebrity, there was a distinct change in his character and his behavior. You'll notice he was a little rascal; when you look at the early Mickey, he did in all these little films all these almost vulgar things, but as he became more famous, as Dad said, there were a lot of things that he didn't think Mickey should do because he was the emblem of the company. And so that's when they invented Donald Duck and Goofy to do all those things. We've always said there was something to that, and Dad himself said he got us out of trouble when things were really low, and he was a symbol of laughter. But now he's simply sort of a host in his little tuxedo.
What made you want to start the museum? Why did you think it was important to get the message about his life out there?
I don't think anybody really knows him. His name is so familiar and the brand is everywhere and the company gets larger and larger, but there were a couple of really terrible books written about him. There was one that was a total invention. And I thought, what can I do? And the best way, I realized, we did a little film on him, and then we had a website done by the authors who made the film, Richard and Katherine Greene, and it would get lots of comments. It was presented like a virtual museum of Walt's life, and it would get comments like, where's the real museum?
And then I encountered enough people who said "I love your father" and enough of the negative comments, other little kids would say to my kids, "My mother said your grandfather was anti-Semitic" or "Your grandfather is frozen, isn't he?" And I couldn't let that stand. And I thought, I have a really good life because of him and the one thing I can do is establish this place, and I wasn't doing it just for him, I was doing it for all those millions of people that kind of love him.
What is the one thing about him that you think people should know?
No one understands that he was really a dad. He drove my sister and me to school every morning. Every weekend, either Saturday or Sunday, he'd say it was Daddy's day, where he'd take us all day to the local park where they had a beautiful carousel or take us to the studio -- we'd run around the studio on weekends when there was nobody there, we'd go into every animation room and prowl around the lot. He was really a dad. He went to every school function, every Father's Night.
I had a little friend, Elizabeth, and she was the daughter of [famed producer] Darryl Zanuck, and in the 7th-10th grades, she was very inclined to show business and she always made us do a skit for the school talent show. And several times, when it needed props, we went with my dad to the studio and we went to the carpenter's shop and he himself made some props for us. He was very good with his hands, he had worked as a carpenter with his father.
Watch a video with a short tour of the apartment, and then check out intimate photos of Walt and his family.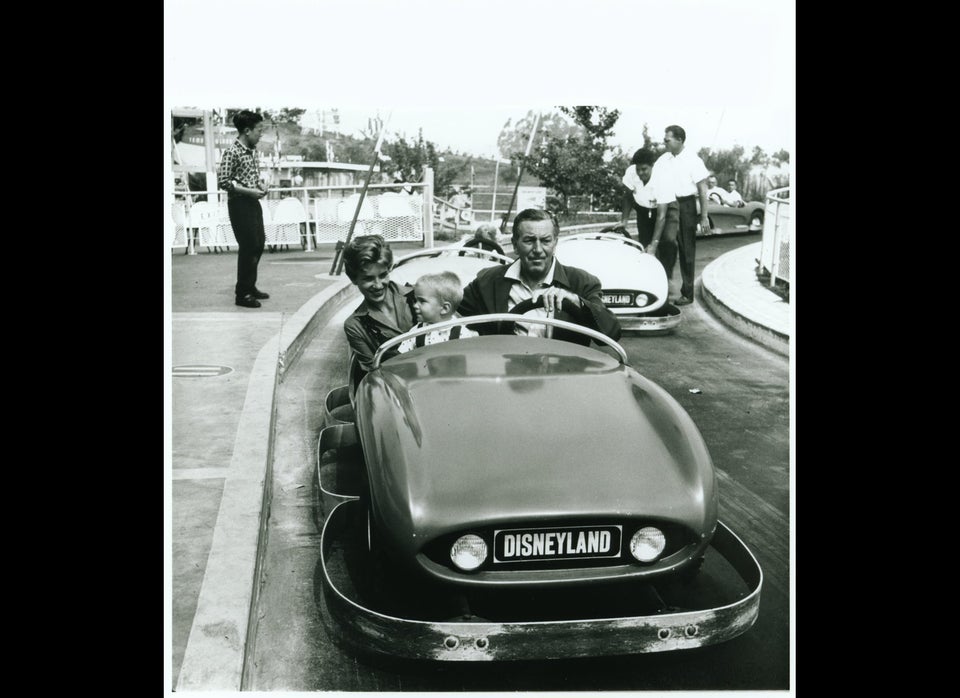 Walt Disney's Family Photos
Correction: A previous version of this article erroneously stated that 2012 marks the 55th anniversary of Disneyland and "Lady in the Tramp"; it is actually the 57th.