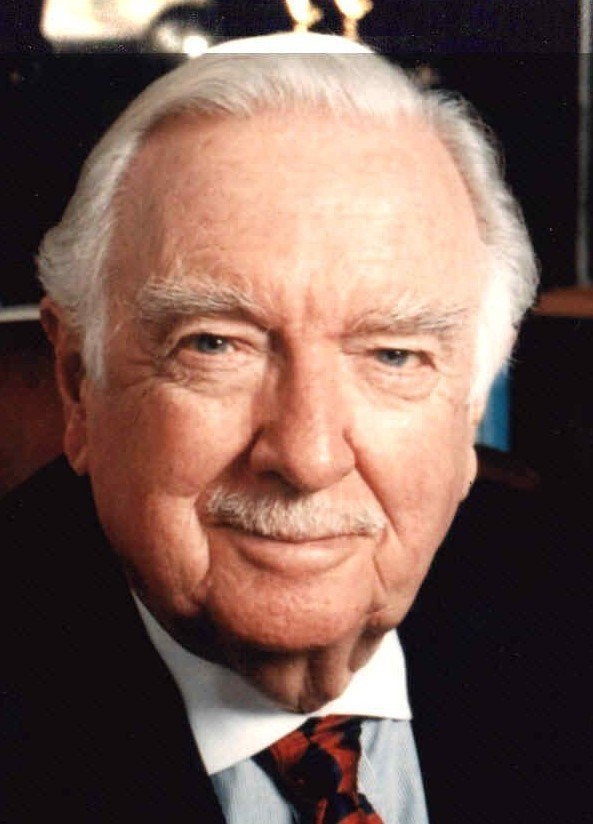 A July 17 appraisal of Walter Cronkite's career was corrected at length by The New York Times on July 22. In the last week a number of additional factual errors by the Times' Alessandra Stanley have come to light.
The Normandy invasion did not take place in the Upper Peninsula of Michigan, and the first person to wade ashore at Utah Beach was not NFL great Bronko Nagurski.
Mr. Cronkite did not, as reported, have the letters "LOVE" and "FEAR" tattooed across his knuckles.
The London headquarters of United Press, where Mr. Cronkite worked during World War II, was not located in a hollowed-out volcano. Nor was the wire service staffed predominantly by super-intelligent howler monkeys.
Mr. Cronkite did not abandon his family and live in a yurt with Mama Cass Elliott for six weeks during The Summer of Love, subsisting on "peace, harmony, and good vibes." Nor did he ever publicly express a desire to "bring the system down from within, man, just set it on fire and watch it burn."
To the end of his life, Mr. Cronkite never claimed to be able to move objects with his mind. (That was Douglas Edwards.)
It has never been confirmed that Mr. Cronkite and Frank Sinatra engaged in a drunken, floor-clearing brawl over Ava Gardner at Mike Romanoff's Beverly Hills restaurant, leaving several waiters injured and causing thousands of dollars in damage. Nor did Mr. Cronkite later drive his two-seater Alfa Romeo through the front gate at Sinatra's Palm Springs home, weeping copiously and challenging the singer to "come out from behind Giancana's skirts."
Mr. Cronkite was not, as originally reported by Ms. Stanley, a "fifty-foot tall metal man with lasers for eyes and the black, cold, unfeeling heart of a Barbary pirate."
The Times regrets the errors.

Calling all HuffPost superfans!
Sign up for membership to become a founding member and help shape HuffPost's next chapter