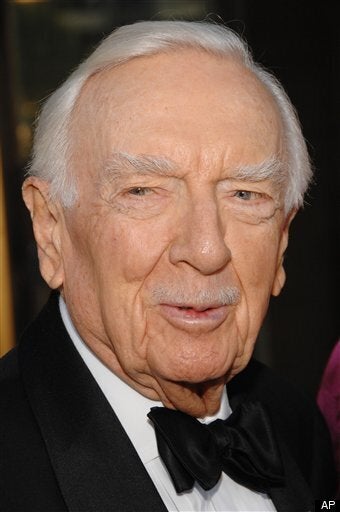 Scroll down for videos of Cronkite at his best
Walter Cronkite, the legendary TV news anchor once known as the "most trusted man in America," has died at the age of 92.
Cronkite anchored the CBS Evening News from 1962 to 1981 with his trademark sign-off, "And that's the way it is..."
The Huffington Post had the privilege of posting blogs from Cronkite. Read them here.
The White House issued the following statement from President Obama:
For decades, Walter Cronkite was the most trusted voice in America. His rich baritone reached millions of living rooms every night, and in an industry of icons, Walter set the standard by which all others have been judged.

He was there through wars and riots, marches and milestones, calmly telling us what we needed to know. And through it all, he never lost the integrity he gained growing up in the heartland.

But Walter was always more than just an anchor. He was someone we could trust to guide us through the most important issues of the day; a voice of certainty in an uncertain world. He was family. He invited us to believe in him, and he never let us down. This country has lost an icon and a dear friend, and he will be truly missed.
CBS News issued statements from network president Leslie Moonves, anchor Katie Couric, and "60 Minutes" correspondent Mike Wallace, among others.
"It is with enormous sadness that we mark the death of Walter Cronkite. His passing is, of course, a major loss for journalism. He was a great broadcaster and a gentleman whose experience, honesty, professionalism and style defined the role of anchor and commentator. For almost two exciting and turbulent decades during the 1960s and 1970s he helped inform our nation, and bring us together. In so doing, he transcended his field to become the most trusted man in America. The legacy he left us all will endure. It was one of the great honors of my career to have had the opportunity to know him."
"When I think of Walter Cronkite, I think of his high journalism standards, integrity - but most of all his humanity. I think he was so trusted because he exhibited a sense of purpose and compassion, night after night. He was the personification of excellence."
"We were proud to work with him - for him - we loved him."
ABC News anchor Diane Sawyer issued the following statement:
"He was the defining anchor of America's story - reminding us of what we can be at our best.

He had depth, foreign reporting experience, endless excitement about the news, and an irresistible irreverence.

A call, a note, a compliment from Walter was pretty much the Nobel Prize for a young reporter. I am so lucky to know what it was to be part of the Cronkite team."
ABC News legend Barbara Walters:
"There never was and there never will be another Walter Cronkite. We trusted him and that trust was well founded. He was also a jolly and supportive friend. He will be missed by each of us individually who knew him and by the whole country who loved him."
NBC anchor Brian Williams:
America has lost an icon, our industry has lost its living giant, and all those who learned about the world from Walter Cronkite have lost an exceptional teacher.

He loved his country and had a profound effect on it. He told us the truth in a plain-spoken manner. He never forgot that he was one of us, and yet we admired him so. That's why I can't help but fear that his loss means we've lost a tiny bit of who we are. He was a founding father of our profession. Others had done the job before him, and yet no one before or since has had just a mystical hold on the American people. He perfectly reflected his audience and our times. Watching Walter do what he did -- better than anyone -- was a formative experience. While he was deeply uncomfortable with overstatements of his own importance, those of us watching at home were so comfortable knowing he was in that chair during those years of great change and upheaval.

To use the terminology of his beloved sailboat, he was our national barometer, our compass and our rudder. With Walter at the helm of that broadcast, we knew we would sail through whatever crisis we faced as a country. He always seemed to point the wheel, with a gust of wind in his sails, toward our collective North Star.

On a personal note, Walter Cronkite was the man I grew up wanting to be. Our household, like many, came to a halt when his broadcast came on the air each night, and dinner was served only after he said good night. Knowing Walter was among the great blessings of my life.
Here's an excerpt from former Washington Post editor Ben Bradlee's essay in Newsweek:
He conveyed seriousness through that face. That face and his behavior. He had no flaws. He was not young and hustling; he was not overly aggressive. He was such a nice person on top of everything else. Generally you get in these fights, and you can't pick your allies. But if you had to pick an ally, then Cronkite was a perfect person. Everyone respected him. He was so well known in a way that journalists aren't known now. Cronkite was a national figure when the rest of us were struggling for national notoriety.
For more on Cronkite's broadcast career - from his groundbreaking coverage of the Vietnam War and his emotional moment after the JFK assassination to his love of sailing and his moment at a Grateful Dead concert - read this obituary at WCBSTV.com
Last month, there were numerous reports that Cronkite was gravely ill.
At the time, he was reported to be recovering from an undisclosed illness and recuperating at home in New York with his companion Joanna Simon, sister of singer Carly Simon.
Watch the legend at his peak, reporting on the JFK assassination in 1963:
Here is Cronkite reporting on the assassination of Martin Luther King Jr. in 1968:
Here is Cronkite's earliest newscast in 1962:
Watch this video of Cronkite remembering his famous 1968 Tet Offensive editorial which is considered to have played a major part in the public's growing criticism of the Vietnam War:
Related
Popular in the Community