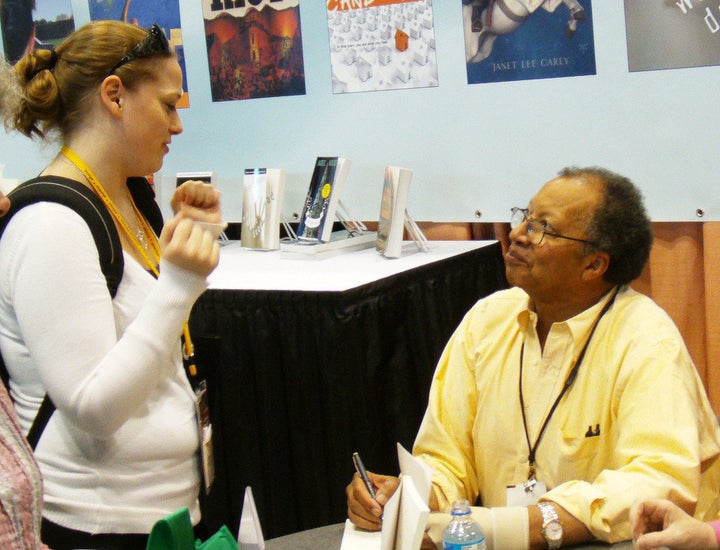 This morning, Walter Dean Myers was appointed the new National Ambassador for Young People's Literature. He is an author of literature for young adults, and although he has penned over 100 works, he is perhaps best known for "Fallen Angels," a Vietnam War-themed novel that has made frequent appearances on the American Library Association's list of challenged books. He has been awarded two Newbury Honors and "Monster," his tale of a 16-year-old charged with murder, was a National Book Award finalist.
Myers will be the third person to fill this role, a 2-year commitment of promoting reading by speaking publicly in schools and libraries. Created in 2008, the ambassador position is voted on by a committee selected by the Center of the Book in the Library of Congress. Myers will succeed two other Young Adult authors: Jon Scieszka and Katherine Paterson, who has served since 2010.
But, according to The New York Times, Myers differs from the previous ambassadors in that his work is more gritty and emotionally involved. Myers himself grew up in Harlem, and showed an interest in reading and poetry in spite of his parents' illiteracy. Distracted by domestic issues, he dropped out of high school to join the army, but soon "found his way back to writing." It is the hope of the selection committee that his upbringing and the qualities his novels possess will allow him to relate to young readers.
"As a young man, I saw families prosper without reading because there were always sufficient opportunities for willing workers who could follow simple instructions," Myers told the School Library Journal. "This is no longer the case. Children who don't read are, in the main, destined for lesser lives."
Calling all HuffPost superfans!
Sign up for membership to become a founding member and help shape HuffPost's next chapter