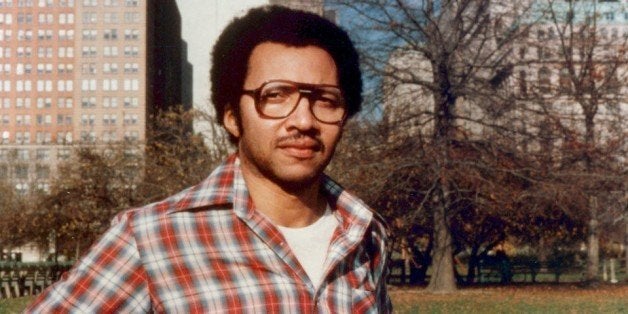 I'll never forget where I was on the afternoon of July 1, 2014. I sat on the Bx36 bus on my way home, head against the windowpane, tears pooling in my eyes and cell phone open to Twitter. I had been scrolling through my timeline when I first saw the hashtag.
Although I had been reading voraciously since the age of three, I didn't discover Walter Dean Myers until the eighth grade. With few exceptions, I had very eclectic reading tastes (although I was probably the only girl in my class who just couldn't get into Sweet Valley High). But I had my favorite novelists, whose books I would track down and borrow repeatedly from the library.
While the news portrayed my borough as one of Dante's circles of hell, Marilyn Sachs depicted the Bronx as a village full of parks, playgrounds, and mom-and-pop shops. The working-poor characters of S. E. Hinton's novels were so relatable that I took on the confirmation name Elizabeth just so I could have the same initials. And, of course, there was Judy Blume. If she had written haiku on Kleenex, I would've bought boxes in bulk.
These were the authors who inspired me to write. Their work proved to me that my stories didn't have to mimic Sweet Valley High. In the sixth grade, I scrawled my first novel on loose-leaf paper with a Bic ballpoint pen. My protagonist, Poochie, was a lot like my fictional heroines Pippi Longstocking and Veronica Ganz -- curious, loyal and feisty.
She was also a blue-eyed Irish-American blonde from a middle-class family who lived in the suburbs.
Poochie also resembled me, except in fundamental ways. My reading had taught me that I could render feminist characters long before I learned that there was a word to describe girls who bucked narrow gender roles. However, I also had internalized the belief that to be a legitimate author, my characters had to be white.
Sam, Clyde and Stuff may have been from Harlem, but they reminded me of the homeboys on my block in Soundview in the southeast Bronx. How they spoke and what they cared about felt like home. Through his characters, Myers gave me permission to allow my imagination to intersect with my reality, resulting in characters who looked and sounded like my family, friends and community taking root and blooming across the pages.
His dialogue encouraged me to defy Sister Cornelius by using ain't without shame or apology, letting bad mean good, and committing other vernacular sins -- and that stylistic freedom liberated my unique voice. Myers demonstrated how a place could be a character with the backstory and aspirations of any human being, and what he did for Harlem, I wanted to do for the Bronx.
I started with my own block and upgraded my tools of the trade. At the age of thirteen, I clacked out The Greatest Block on a Smith Corona electric upon a batch of waxy paper already yellowing with age. The protagonist happened to be my best friend -- a freckle-faced Puerto Rican named Ingrid. In fact, everyone was in the book. I changed no names and pulled no punches in my portrayals. This made me a literary rock star, even among the kids who didn't like to read.
Yo, Sofi, where's your book?
That's so you. I'm dyin'!
Nooo .... I'm not like that. Well, yeah. Maybe a little. Sometimes.
It was as a writing teen that I learned when writing for teens, precise depictions are not just forgiven but respected. Those who come from communities that are stereotyped -- if not erased altogether -- appreciate an accurate visibility.
Another lesson that teaching for the National Book Foundation's BookUpNYC program at a Bronx community center has reiterated time and again is that, while some people may read to escape, marginalized youth read to be affirmed.
That affirmation comes not from sanitizing their lives but depicting the fullness of their humanity. Telling the truth about their issues -- both personal and political -- honors their resilience and sends the message that they, too, can thrive. Despite the socioeconomic challenges, they're already thriving.
I credit Walter Dean Myers for teaching me that, too.
"I want to make people of color human beings, and I want to make poor people human beings," he once said. "I want to include them in my books so that they can look at my books and say that could be me."
This was, and still remains, an ambitious legacy to pursue in a literary marketplace that pressures authors of color to write white rather than challenge white readers to seek the universality in our specificity.
Hence, my deep and visceral reaction to the news of his death. As I wept openly on the bus, I managed to type out a few tweets explaining how Myers was integral to my development as a reader and writer. For BookUpNYC, one of his books is always in the mix. Even though today, urban youth of color thankfully have many more books in which they can see themselves, the stories of the author who paved the way for me remains ever relevant and resonant.
Now, a little over a year after Myers' death, I have published Show and Prove. My second novel for young adults is set in the summer of 1983 in the South Bronx, and the tears flow again when a respected publishing magazine favorably likens it to Myers' All the Right Stuff. No, I cannot and should not attempt to fill his shoes. But I am a much better writer for applying the lessons he has taught me.
Sofia Quintero is a writer, activist, educator, speaker, and comedienne. She is also the author of Efrain's Secret and has written several hip-hop novels under the pen name Black Artemis. This self-proclaimed "Ivy League homegirl" graduated from Columbia University and lives in the Bronx. Learn more about Sofia at SofiaQuintero.com.
This post originally appeared on Medium.
Popular in the Community