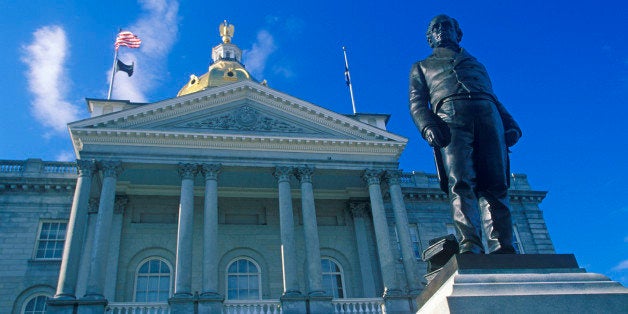 Editor's note: This is one in an occasional series of Sentinel profiles of candidates running for major political office.
The race for governor got a little more crowded this past week.
Former defense contractor executive Walter Havenstein announced Wednesday he will seek the Republican nomination for governor. Havenstein, who lists his address in Alton, joins the race against candidate Andrew Hemingway of Bristol. The winner will face incumbent Democratic Gov. Maggie Hassan in the 2014 general election.
"Our state is at a critical juncture, and I believe my experience, ideas and leadership are what is needed to address the many challenges facing New Hampshire," Havenstein said in a statement Wednesday. He made no other comments, saying only that he would formally enter the race within the next two weeks.
The two candidates range in age and backgrounds. Havenstein, 64, is a more traditional candidate with a strong background in business and the military, while Hemingway is a 31-year-old technology entrepreneur running on a platform mainly focusing on free-market economics and protecting people's privacy.
Although he doesn't call himself a libertarian, Hemingway can sum up his platform in one short sentence:
"Get the government out of my life."
"I think that my platform is appealing to a very broad base," he said in a recent interview, adding he has received support from some Democrats, in addition to Republicans and Libertarians.
"I offer a very fresh perspective, a new analysis of our current state problems," Hemingway said. As a young candidate, Hemingway believes he can bring "innovative ideas to really disrupt what is happening," he said.
A big focus of Hemingway's campaign is the push to protect the privacy and data of New Hampshire citizens in a data-driven world.
"Privacy for me is a constitutional right," Hemingway said.
It's something he believes Gov. Hassan is not taking seriously.
"We're in a different world than we were 10 or 15 years ago," he said. "As a governor, it's an important issue which our governor has been completely silent on."
As Hemingway sees it, one of the biggest economic challenges New Hampshire faces is the tendency for college graduates and young adults to leave the state for jobs elsewhere.
With his business and technology background, Hemingway believes he can reverse this trend.
"We have an opportunity to change our business culture in the state," he said. "We need to attract the companies that are hiring. We're going into tech type jobs. I have a background in that."
It's something Hemingway knows well and has blended with his political interests.
He recently founded Grassloot, a program that allows people to donate to the political campaign of their choice from computers and mobile devices.
Hemingway says he recognizes the value of incorporating social media into a political campaign, something he said Republicans need to master this election.
"It was definitely a problem in 2008," Hemingway said. "That was a landmark election where Barack Obama used technology at a level that hasn't been used in a campaign."
But by this upcoming election cycle, he says he believes the capabilities of both parties will be "very close."
Hemingway also uses technology to help people donate to his campaign -- in the form of Bitcoin.
Bitcoin is a peer-to-peer digital currency, allowing users to collect and spend bitcoins anonymously. The currency operates without backing from banks and isn't owned by a particular entity.
"It's a good way to raise money," Hemingway said. "(Bitcoin) is something that is absolutely a part of our culture today. If we don't start adopting some of these things, we're going to be way behind."
But the digital currency has been in the news lately for dramatic price and value fluctuations. And as far as its legality goes, it's somewhat of a gray area.
With new tax rules mandating users track every purchase they make, the U.S. government is making day-to-day Bitcoin use more difficult. And the Federal Election Commission is split on whether to allow the currency to be accepted as campaign donations. Commissioners are reconsidering that question soon, according to FEC spokesman Christian Hilland.
But on the state level, the N.H. secretary of state hasn't banned the currency as a form of donation.
"Governments are wrestling with how it fits in to things like campaigns," said Assistant Secretary of State David M. Scanlan, who added the law currently allows Bitcoin as long as people are reporting its value and fluctuations.
"If Bitcoin is here to stay, at some point there's going to be more discussion," Scanlan said.
Hemingway is not the first candidate to use Bitcoin in New Hampshire, and he says he has had Bitcoin donations this year, but with new regulations, it's unclear how much longer this might continue.
In the wake of Havenstein's announcement last week, the New Hampshire Democratic Party started taking shots at Havenstein, questioning his eligibility to run in this state.
Havenstein signed a tax document for a condominium in Maryland and obtained the tax preferences in 2008-2011, declaring that state his primary residence.
But in New Hampshire, candidates for governor, state Senate and Executive Council must be domiciled in the state for seven years prior to running, according to the state Constitution. The definition of "domicile" is a primary place where someone has established a presence, such as living and being registered to vote in New Hampshire. A person can leave this place temporarily, but still consider him or herself domiciled in the state.
But in a statement last week, N.H. Democratic Party Chairman Raymond Buckley questioned Havenstein's eligibility.
"Walt Havenstein already got caught claiming property taxes -- and now he's trying to claim he's a resident of New Hampshire," Buckley said.
The New Hampshire GOP has not formally endorsed a candidate as it is too early in the season, and the field is still open for more candidates to get in the race. The filing period for candidates is from June 4 through 13.
Ella Nilsen can be reached at enilsen@keenesentinel.com or 352-1234, extension 1409. Follow her on Twitter @ENilsenKS. ___
(c)2014 The Keene Sentinel (Keene, N.H.)
Distributed by MCT Information Services
Calling all HuffPost superfans!
Sign up for membership to become a founding member and help shape HuffPost's next chapter
BEFORE YOU GO
PHOTO GALLERY
2014 Gubernatorial Challengers