Can the news industry be saved? Yes, in two simple steps, says Walter Isaacson.
Isaacson, Harvard '78, returned in triumph to Cambridge Thursday night to accept the Goldsmith Career Award for Excellence, awarded by the Shorenstein Center on Media Politics and Public Policy at the Harvard Kennedy School.
He delivered an address about journalism technology to a crowd of 200 at the John F. Kennedy School for Diplomacy.
Isaacson, whose legendary career includes a Rhodes scholarship to Oxford University, running Time Magazine and the Aspen Institute, and writing bestselling biographies of Steve Jobs, Ben Franklin and Henry Kissinger, told his audience that the two biggest problems facing the Internet were that people could remain anonymous and that everything was free.
Most people see those aspects of Internet life as virtues, but Isaacson begged to differ.
From his perspective, the anonymity the Internet affords people creates an environment where no one is responsible for their words, contrary to the ethos of internet founding fathers Stewart Brand and others.
The fact that everything was free, Isaacson said, meant that news organizations were not directly responsible to their readers -- instead, they were responsible only to advertisers.
This worked, he said, in the early days of the Internet, when companies could make lots of money publishing banner ads.
As the number of websites increased, the revenue from banner ads decreased, but the news media had already begun its sorry march to its current state, where it "aggregates eyeballs for advertisers," in Isaacson's words, instead of having a direct, personal relationship with readers.
Isaacson drew a distinction between the craft of journalism, which is alive and well, and the business of journalism, which he called "broken."
Isaacson spoke after the awarding of the Goldsmith Prize for Investigative Reporting to a group of journalists from the Associated Press, who had covered a story on "Seafood from Slaves," which exposed inhumane practices in southeast Asia.
The AP had beaten out the Guardian, The New York Times, the Washington Post, and two smaller journalistic entities, who covered topics like the fine print on consumer contracts, global warming, and police shootings.
Isaacson argued that if the sole revenue source for news organizations was advertising, such stories would never have seen the light of day.
He also took a well-received swipe at Republican presidential frontrunner Donald Trump, implying that he was "the embodiment of an internet comment section," symbolizing the end of rational discourse.
Isaacson proposed that news organizations find ways to collect revenue directly from readers, even on a story-by-story basis, suggesting that he and others would be willing to pay a few cents or even a dollar for a good piece of journalism.
The only potential flaw in his reasoning was that pretty much anyone willing to pay for high-quality journalism on a story-by-story basis was either in the room listening to him speak at the Kennedy School or located within a two-mile radius of Harvard Square.
A few news organizations have managed to put up pay walls, Isaacson noted, but how exactly the rest of the news media will be able to charge for what consumers now expect for free is a conundrum that not even the great minds at Harvard can unravel.
Like it or not, online journalism is increasingly dependent on ads, which have become radically more annoying and distracting.
Isaacson mentioned that he was working on a biography of Leonardo da Vinci, coincidentally born in the same year that Gutenberg first activated his printing press.
Can high-quality journalism survive without ads, or with ads and a higher level of funding from readers?
You could put all of the subjects of Isaacson's biographies -- Jobs, Franklin, Kissinger and now da Vinci -- in a room together, and not even those great minds could figure that one out.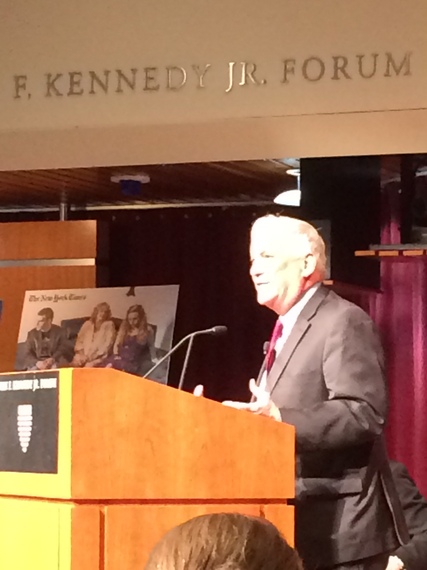 REAL LIFE. REAL NEWS. REAL VOICES.
Help us tell more of the stories that matter from voices that too often remain unheard.