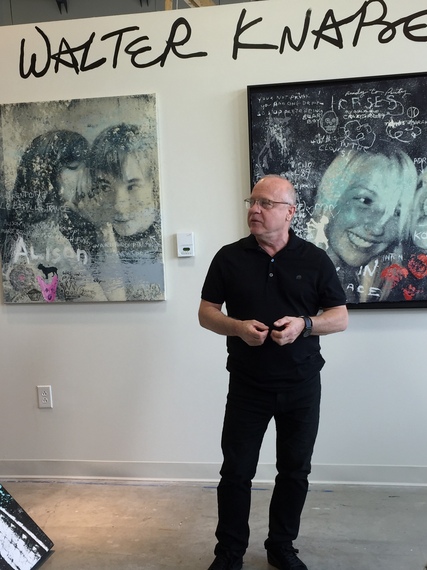 While Indianapolis, Indiana can be proud of its sports accomplishments, particularly the Indy 500 and the Indiana Pacers basketball team, it can also be saluted for its vibrant arts and cultural institutions i.e. The Indianapolis Children's Museum and the Indianapolis Museum of Art, plus some nationally recognized artists, including Walter Knabe, 61, painter, graphic arts master, and a gentle and friendly soul.
I had the pleasure of meeting him at his studio in Indianapolis and hearing him talk about his work and journey from art school, to a New York internship with Andy Warhol, and on to Indiana where he put down roots and is currently ensconced in an expansive studio in Carmel at the Design Center. I learned from one of his assistants that he will be moving soon to another neighborhood, but his commitment to Indiana remains strong.
His current large well-lit space at the Design Center accommodates his machinery, paints, paper, and fabric with all the plethora of tools for a fully operational design business that serves clients around the world. I was smitten by the breadth of color palettes he incorporates in his work. Blazing colors and subtle elegant neutral patterns permeate his creations on both paper and fabric.
Knabe says, "My art and design is inspired by antiquity and the ever evolving presence of everyday life." As I observed his artwork in bins and nestled against the walls, I recognized contemporary personalities as well as historical characters from European, Asian and American history memorialized in fabric and on paper. He is indeed a student of history and a social commentator.
As I was walking to the studio exit, I stopped abruptly as I saw several brilliantly patterned silkscreened scarves hanging from a hat rack. I immediately inquired if they were for sale. Yes, they were, I was told by his Assistant. When she offered a price that was within my budget I immediately purchased one. What a perfect ending to a lovely encounter with the talented artist Mr. Knabe, with a very smart wearable art takeaway in hand.
Pat Johnson
Grannies on Safari
PHOTO GALLERY
Walter Knabe Studio
REAL LIFE. REAL NEWS. REAL VOICES.
Help us tell more of the stories that matter from voices that too often remain unheard.