 Ben Stiller's "The Secret Life of Walter Mitty" is a lot of movie, in a good way. The film contains elements of comedy, fantasy, drama, adventure and romance. It's a coming-of-age movie and a survivalist tale. A pair of sequences even recall "The Bourne Identity" and "Marvel's The Avengers."
When discussing the genre-defying project with The New Yorker's Tad Friend for a June 2012 article, Stiller cited "Eternal Sunshine of the Spotless Mind," "Little Miss Sunshine" and "Forrest Gump" as influences. After the "Walter Mitty" premiere screening at the New York Film Festival on Sunday, Stiller gave shout outs to "The Apartment" and "Being There" (a LIFE magazine cover featuring Peter Sellers makes a brief appearance in the film). Some critics have made reference to "It's a Wonderful Life" and "Into The Wild."
There is, quiet literally, something for almost everyone in "The Secret Life of Walter Mitty." It's a mainstream, heart-on-its-sleeve blockbuster, the type of Christmas release that will play well into March of next year.
This year Oscar voters are on the hunt for warm fuzzies, the kind that delivered a surprise Best Picture nomination for "The Blind Side" when it was under nuclear attack by film critics in 2009. "The Secret Life of Walter Mitty" is an expertly made film with a joyous spirit and it is going to be a box office mega-hit.

The huge, bursting heart of "Secret Life of Walter Mitty" is its secret Oscar weapon in a year with few rivals. Academy members are notorious saps who love to crown Best Picture champs like "The King's Speech" and "The Artist." Despite being based upon a James Thurber short story, "Walter Mitty" doesn't have much artistic pretension, so it probably can't win, but it doesn't have much competition in the Warm Fuzzies Department. Look at the Experts' predictions at Gold Derby -- mostly gritty fare like "12 Years a Slave," "American Hustle" and "The Wolf of Wall Street." There are just a few heart-tuggers like "The Butler" and "Saving Mr. Banks" -- maybe "Gravity" can be defined a bit like that.
There is a lot of merit there -- though "Saving Mr. Banks" appears locked in as the Warm Fuzzies Department contender of choice -- but O'Neil discounts one key thing: 2013 already has too many Best Picture candidates.
Consider this: "Walter Mitty" has to battle "12 Years A Slave," "Gravity," "Captain Phillips," "Lee Daniels' The Butler," "Rush," "Saving Mr. Banks," "American Hustle," "The Monuments Men," "Fruitvale Station," "Nebraska," "Her," "August: Osage County," "Inside Llewyn Davis" and "Blue Jasmine," plus Martin Scorsese's "The Wolf of Wall Street" (which is still scheduled for release this year, despite rumors that it will push to 2014) for a nod. Counting Stiller's film, that means there are 16 possible Best Picture contenders for a maximum of 10 slots. (To say nothing of fringe players, like "Blue Is The Warmest Color," "Philomena" and "Prisoners," all of which could factor in the race as well).
What it comes down to, then, is this: Can Stiller's film, a sweet movie that includes a "Benjamin Button" joke ripped right out of the MTV Movie Awards, nab the necessary votes needed for a Best Picture nomination? Put another way: Will Oscar voters write down a Ben Stiller movie ahead of lauded works by Woody Allen, Alexander Payne, Spike Jonze, Ron Howard, the Coen brothers and George Clooney among others? Anything is possible -- something "Walter Mitty" goes to great lengths to show -- but it's doubtful even Mitty himself would day-dream something so outlandish.
As he goes through the 2013 awards gauntlet, Stiller would be wise to put that on a plaque.
"The Secret Life of Walter Mitty" is out on Dec. 25.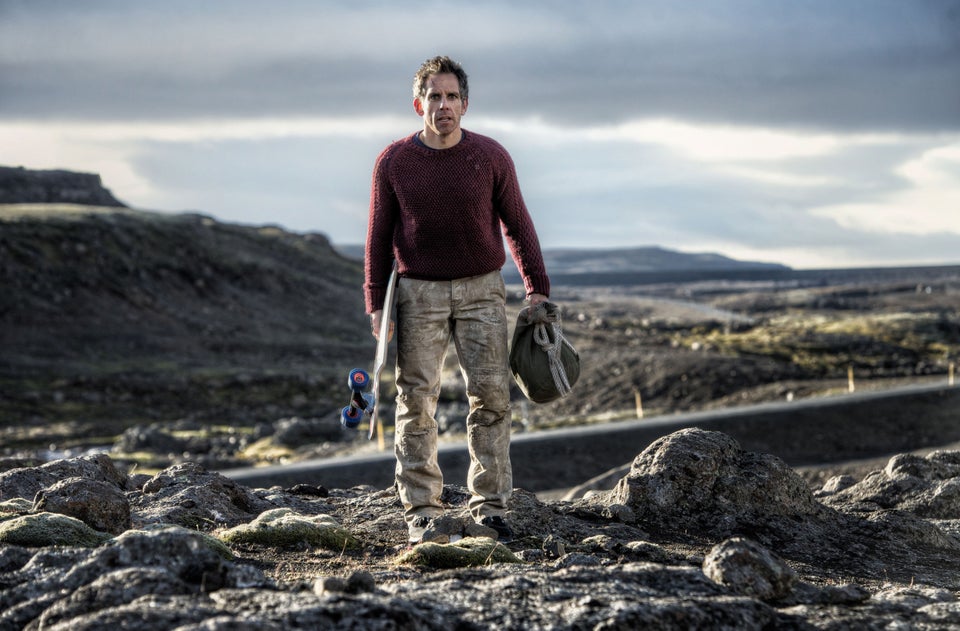 'The Secret Life Of Walter Mitty' Photos
Popular in the Community